Republican Utah Senator Blocks Memorial For Internment Camp Site
A Republican Senator is getting backlash for holding up the creation of a national historic site that's not even being built in his state.
Sen. Mike Lee of Utah, one of Donald Trump's most vocal supporters, has also been one of the Republican Party's most vocal opponents of the expansive power that federal agencies have to manage public lands in Western states. Sen. Michael Bennet, a Colorado Democrat, says he has the support of 99 of the chamber's 100 senators to pass the Amache National Historic Site Act, which would make the remote southeastern Colorado landmark a national historic site eligible for additional preservation assistance. But his bill, co-sponsored by Colorado Democratic Sen. John Hickenlooper, failed to pass by unanimous consent last week due to the lone objection from Lee, who opposes adding new federal lands without adequate funding and in the past has advocated for "swaps" to prevent expanding federal land ownership.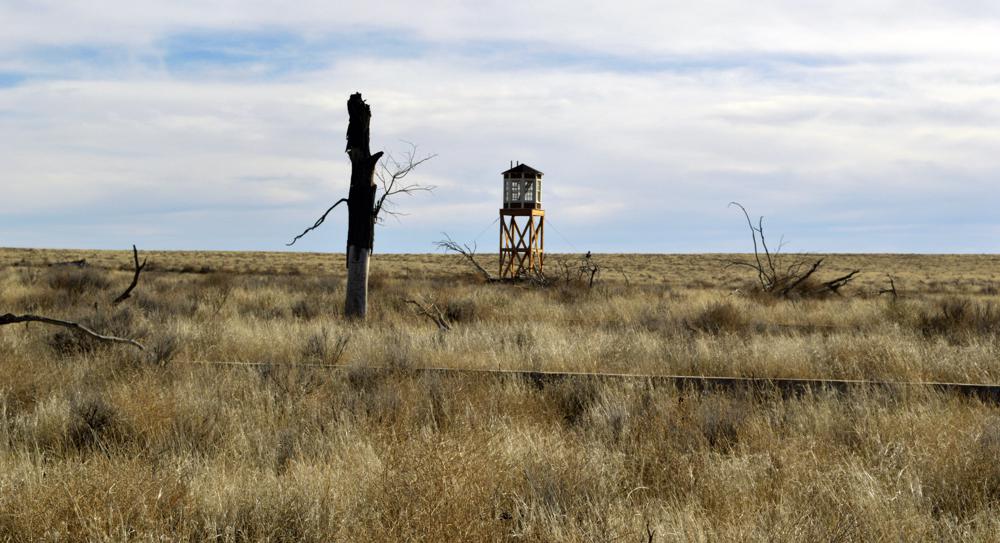 In 1942, Japanese Americans were held in 10 camps in California, Arizona, Wyoming, Utah, Arkansas, and Colorado, expelled from their homes near the West Coast under an executive order issued by President Franklin Roosevelt. More than 7,000 people were interned at Amache — the camp's unofficial name, after a Cheyenne chief's daughter — between 1942 and 1945. According to the National Park Service, a cemetery, reservoir, water well and tank, and trees planted by internees remain at the site, which is managed by a non-profit, the Amache Preservation Society.
BREAKING Senate Committee passes Amache National Historic Site Act, bringing us one step closer to a national park honoring the legacy of Japanese Americans imprisoned there in WWII . Next, the full Senate must pass the bill so it can move to Biden's desk. https://t.co/6ipA1WHAAJ pic.twitter.com/5QGk6wJvSz

— National Parks Conservation Association (@NPCA) November 18, 2021
"Senator Lee does not object to this specific historical site. He does object to any increase in the total amount of land owned by the federal government as the federal government fails to adequately care for the land already in its vast holdings," Lee's spokesman said in a press statement.
ICYMI: @SenatorBennet came to the floor to pass the Amache National Historic Site Act to make the WWII-era Japanese American incarceration facility in Colorado a part of the National Park System.

This has broad bipartisan support.

Let's get this done. pic.twitter.com/q0YU3GaSej

— Senate Democrats (@SenateDems) February 7, 2022
The dispute comes amid a broader reckoning about race in U.S. history as Japanese Americans strive to spread awareness about the gross injustices committed by the U.S. government against their community during World War II. Calling the Japanese American internment one of "the most disgraceful chapters in our nation's history" fed by "racist fear," Bennet said in a floor speech on February 3rd. The bill is intended to honor people "who never gave up on the United States of America, even as it was interning them on their own soil."
.@RepRonEstes @JerryMoran @RogerMarshallMD
The Amache National Historic Site Act is especially meaningful amid recent hate crimes against the AAPI community. A national park will help ensure Amache's history, survivors, descendants & legacy is never forgotten. #FutureoftheParks

— Naomi Shapiro (@superdumb) May 31, 2021
Lee's stance has drawn outrage from numerous organizations, including the Japanese American Citizens League and the National Parks Conservation Association, which advocates for the National Park System. The citizens league, its local Southern Colorado affiliate, and other groups plan a Day of Remembrance on February 19th that will, in part, demand passage of Bennet's bill.
Comments by James Y. Sakamoto published in the @seattletimes #OTD 1941, one day after the attack on Pearl Harbor. Sakamoto was a prominent Nisei community leader, activist, and newspaper publisher who helped establish the Japanese American Citizens League in Seattle in 1930. pic.twitter.com/2SiqebF4n7

— Washington State Archives (@WAStateArchives) December 8, 2021
Lee received plenty of criticism on Twitter for this and his other transgressions against minority communities.
Mike Lee to his queer constituents: https://t.co/0929PHrfgQ pic.twitter.com/IfJrstLSVJ

— your canadian girlfriend (@allitude) February 10, 2022
Yet again, Mike Lee meets with the elite while leaving average Utahns on read. He doesn't do enough or really anything for that matter for this to be tolerated. Utah deserves better than six more years of this Washington fat cat. #utpol https://t.co/hYyr4tsENG

— Allen Glines for US Senate and Utah (@AllenBGlines) February 11, 2022
Mike Lee is buddying up to the most polarizing faction of the far-right.

It's no wonder he hasn't been focused on finding solutions to address the real problems facing Utahns.

He's too busy drumming up conspiracy and controversy. pic.twitter.com/bzlCvJkEeQ

— Evan McMullin 🇺🇸 (@EvanMcMullin) February 11, 2022
It's so hard to exist in this community knowing that Mike Lee, who literally doesn't think my family should exist, has power this make laws for our entire country. Please don't sit this election out. We need you to help remove this man from a position of power. pic.twitter.com/vFVCV8Er5p

— Eli McCann (@EliMcCann) January 29, 2022