Putin's Invasion of Ukraine Has Megachurch Pastors Worrying About the 'End of Days' [VIDEO]
Russia's invasion of Ukraine has prompted some of America's most prominent evangelical leaders to raise a provocative question — asking if the world is now in the biblically prophesied "end of days" that might culminate with "the Apocalypse" and "the second coming of Christ".
There's no consensus on the answer, nor on any possible timetable.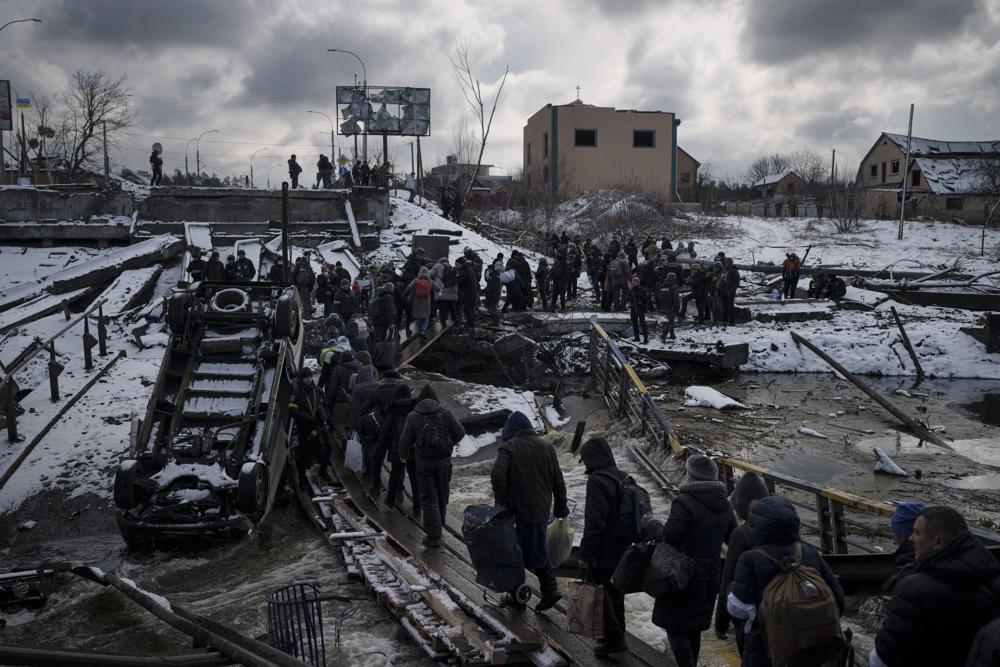 One of the most urgent alerts came from televangelist Pat Robertson, who came out of retirement on February 28th to assert on "The 700 Club" that Russian President Vladimir Putin was "compelled by God" to invade Ukraine as a prelude to an eventual climactic battle in Israel. Robertson said verses of the Old Testament Book of Ezekiel support this scenario. "You can say, well, Putin's out of his mind. Yes, maybe so," Robertson said. "But at the same time, he's being compelled by God. He went into the Ukraine [sic], but that wasn't his goal. His goal was to move against Israel, ultimately. It's all there," added Robertson, who has an obvious history of inaccurately predicting apocalyptic events on previous occasions. "And God is getting ready to do something amazing and that will be fulfilled."
The dumbest statement came from Pat Robertson. The "700 Club" host, who recently came out of retirement (don't ask me how) claimed that God—GOD!—ordered Putin to invade Ukraine because He wanted Us to be prepared for the invasion of Israel in the End Times.pic.twitter.com/wsmswTJkHN

— Jesse Coffey Asks You to Get Vaccinated Today!💙💛 (@JesseCoffey15) March 4, 2022
Megachurch pastor Robert Jeffress, addressing his congregation at First Baptist Dallas, said many Christians are wondering, in the face of carnage in Ukraine, "Why does God permit evil like this to continue? …. Are we near Armageddon and the end of the world? We are living in the last days," Jeffress warned. "We've been living in the last days for the last 2000 years. We don't know, is this the end? Is this the beginning of the end, or the end of the beginning?"
Sometimes I think about how prominent Baptist pastor Robert Jeffress defended supporting Mitt Romney in 2012 because, while Mormonism is a "cult," it is a "theological cult" and not a "sociological one," and I'm pretty sure that summarizes the Religious Right pretty well.

— Benjamin Park (@BenjaminEPark) March 11, 2022
Also evoking Ezekiel, as well as a possible attack on Israel, was Greg Laurie, senior pastor at a California megachurch whose books and radio programs have a wide following. Citing the war in Ukraine and the COVID-19 pandemic, he said biblical prophecies "are being fulfilled in our lifetime" in a video posted on YouTube. "I believe we're living in the last days. I believe Christ could come back at any moment," Laurie said. "We are seeing more things happen in real time, closer together, as the scriptures said they would be," Laurie continued, "so what should we do? We should look up. We should remember that God is in control."
But Russell Moore, a public theologian at the evangelical magazine Christianity Today, said it's wrong to try to connect world events to end-times prophecy, noting that Jesus himself said his second coming would be unexpected and unconnected with "wars and rumors of wars." Moore said most Christians he's talked with are more concerned about Ukraine's well-being. "It's not consistent with the Bible and it's harmful to the witness of the church," said Moore, noting that the world has outlived many episodes of end-times speculation.
What a glorious new addition to my block collage #FakeChristian pic.twitter.com/SZXo0bBD6A

— Tara Dublin 🇺🇦🌻 (@taradublinrocks) March 12, 2022