Putin Appears At Big Rally As His Troops Attack Civilian Targets in Ukraine
Vladimir Putin had his own MAGA rally in Russia.
The Russian dictator spoke at a packed Moscow stadium Friday in a rare public appearance to lavish praise on his troops fighting in Ukraine who continued to rain lethal fire on the capital, Kyiv, targeting hospitals and other places where civilians were hiding. Putin's army also pounded an aircraft repair installation on the outskirts of Lviv, close to the Polish border, a full three weeks into the invasion that has led to heavier-than-expected Russian losses on the battlefield and increasingly authoritarian rule at home. But Putin focused his attention on gaslighting the crowd, speaking of his troops as if they were on the defense instead of the other way around. "Shoulder to shoulder, they help and support each other," Putin said of the Kremlin's forces in a rare public appearance since the start of the war. "We have not had unity like this for a long time," he added to cheers from the flag-waving crowd.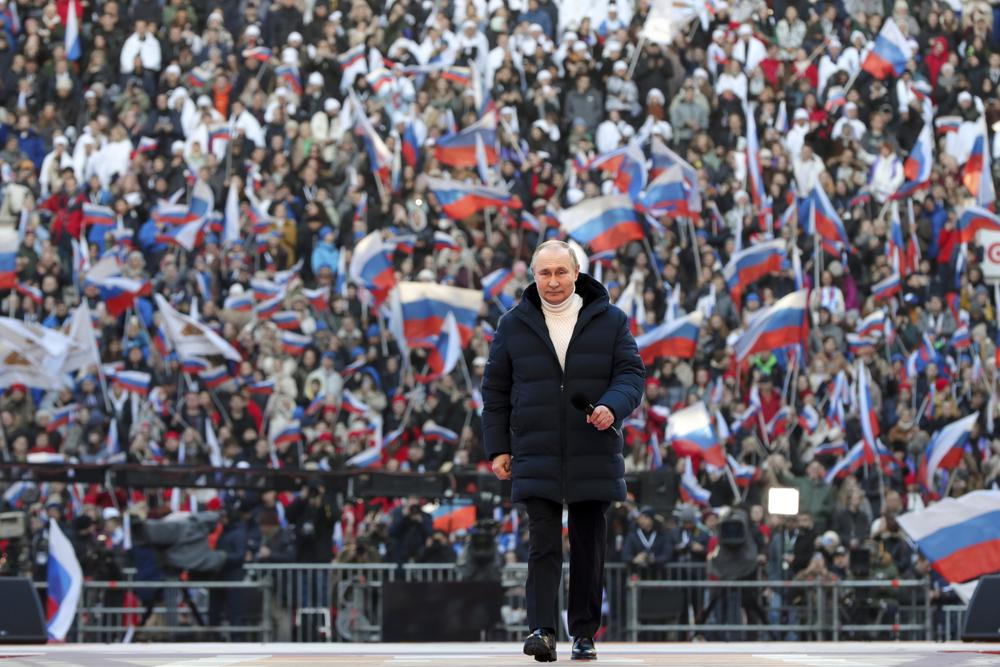 The rally, which was ostensibly held to mark the eighth anniversary of Moscow's annexation of Crimea, which was seized from Ukraine, was surrounded by suspicions it was a Kremlin-manufactured display of patriotism. The invasion has led to antiwar protests inside Russia, and hundreds have been arrested despite warnings from the government. Moscow police said more than 200,000 people were in and around the Luzhniki stadium. The event included patriotic songs, including a performance of "Made in the U.S.S.R.," with the opening lines "Ukraine and Crimea, Belarus and Moldova, it's all my country."
Russian President Vladimir Putin has hailed the country's "special operation" in Ukraine at a rally marking the anniversary of the 2014 annexation of Crimea.

Read more here: https://t.co/2fRs05Wew9 pic.twitter.com/nYYJSco9Nz

— Sky News (@SkyNews) March 18, 2022
Putin stood on a stage where a sign read "For a world without Nazism," as he railed against his foes in Ukraine as "neo-Nazis" and continued to insist his actions were necessary to prevent "genocide" — a claim flatly denied by leaders around the globe. Seeking to portray the war as just, Putin paraphrased the Bible to say of Russia's troops: "There is no greater love than giving up one's soul for one's friends."
Just now: Russian State TV appears to abruptly cut away while Putin is speaking at packed stadium during pro-war rally. Kremlin press secretary cites 'server issue' as cause.pic.twitter.com/gAdY3rUPPo

— MeidasTouch.com (@MeidasTouch) March 18, 2022
In the wake of the invasion, the Kremlin has clamped down harder on dissent and the flow of information, arresting thousands of antiwar protesters, banning sites such as Facebook and Twitter, and instituting tough prison sentences for what is deemed to be false reporting on the war, which Moscow refers to as a "special military operation."
PLEASE: Don't share live footage of the pro-war rally in Russia.

BBC reporters say many attendees were public employees who'd been pressured to attend or students tricked into thinking it was a "concert".

Putin's photo opp. Don't spread his propaganda. #DemocracyNotAutocracy pic.twitter.com/GSYDF9NDAT

— Nick Knudsen 🇺🇸🇺🇦 (@NickKnudsenUS) March 18, 2022
Meanwhile, the leader of Russia's delegation in diplomatic talks with Ukraine said the sides have narrowed their differences. The Ukrainian side said its position remained "unchanged."