Protesters Gather Outside Texas Jail After Woman Arrested For Abortion
Lizelle Herrera was arrested on Thursday by the Sheriff's Office of Starr County, Texas after it was learned she "intentionally and knowingly caused the death of an individual by self-induced abortion," according to local online news outlet Valley Central.com.
Herrera's arrest is believed to be the first under the new restrictive abortion laws passed in Texas late last year. Her bond has been set for $500,000.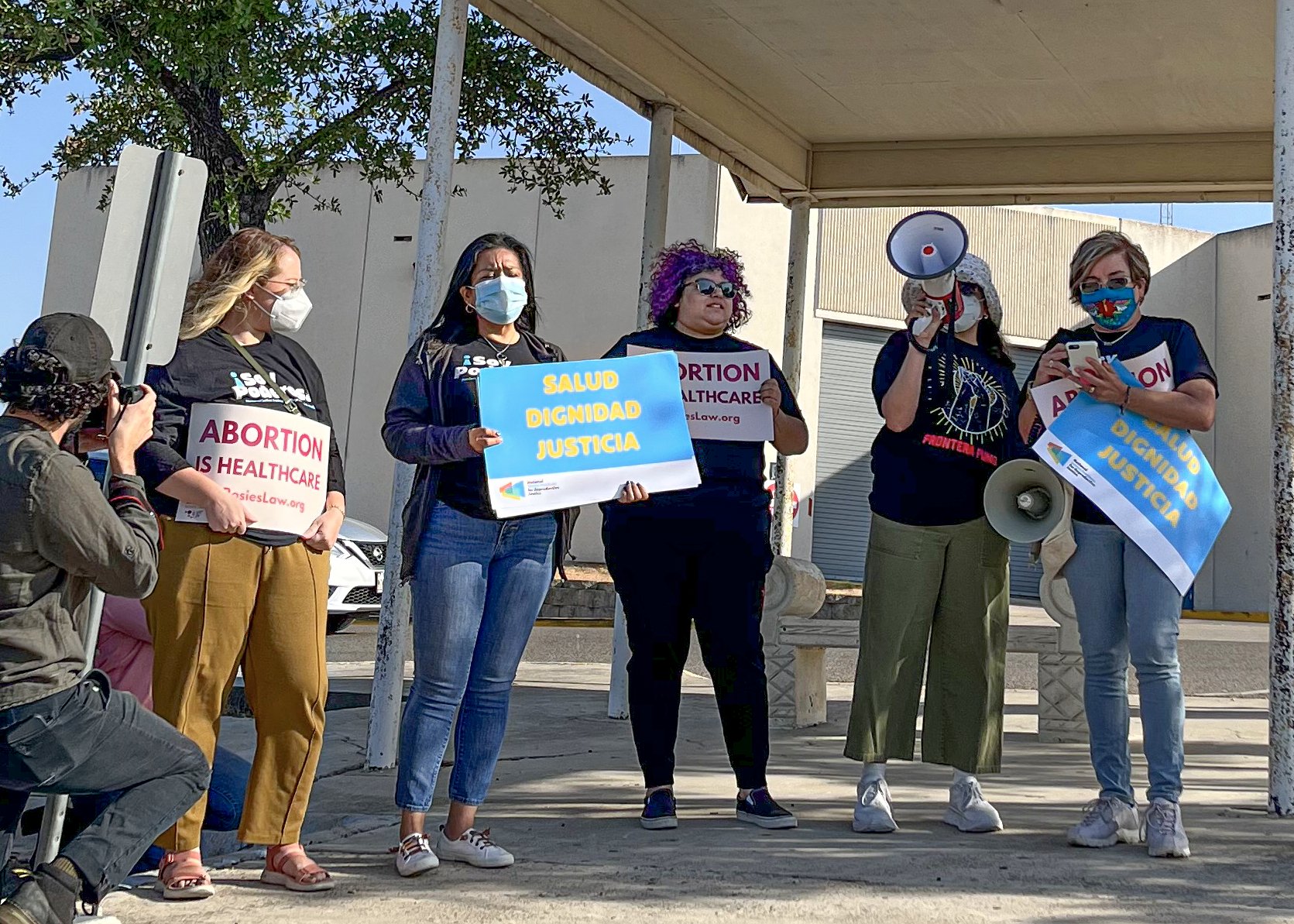 Texas law now bans abortions at around six weeks, a point when many women do not yet realize they are pregnant, with no exception for pregnancies resulting from rape or incest. The law also enables private citizens to sue anyone who performs or assists a woman in getting an abortion after embryo cardiac activity is detected. Individual citizens can be awarded a minimum of $10,000 for successful lawsuits.
✅🇺🇸. Let's support Lizelle Herrera and all women seeking healthcare. We must also immediately stop the Texas state government-sanctioned, ignorant, malicious, and violent culture of rape and forced birth. https://t.co/GFowr07w1s

— Paul Sullivan (@CavScoutGulfWar) April 9, 2022
About 20 people gathered outside the Starr County Jail on Saturday morning in a protest organized by La Frontera Fund, an abortion assistance group in the Rio Grande Valley. "She miscarried at a hospital and allegedly confided to hospital staff that she had attempted to induce her own abortion and she was reported to the authorities by hospital administration or staff," Rickie Gonzalez, the group's founder, said on Saturday. "This arrest is inhumane. We are demanding the immediate release of Lizelle Herrera."
🚨URGENT ACTION🚨

Show up in support of Lizelle Herrera who is being wrongfully charged with murder.

Join us TOMORROW, 4/9/22 at 9AM, at Starr County Jail to call out the unjust incarceration of Lizelle Herrera.#FreeLizelle #FronteraFundRGV #StopPolicingOurBodies pic.twitter.com/Kr25QU7z0s

— Frontera Fund (@LaFronteraFund) April 9, 2022
The Starr County grand jury's indictment, dated March 30, stated that Herrera "intentionally and knowingly cause the death of an individual J.A.H. by a self-induced abortion."
Unconfirmed: Spanish language media is reporting that Lizelle Herrera may have purchased an abortion drug in neighboring Mexico. After taking the drug in January at home in Texas, she was hospitalized. If this is true, that means she was arrested three months later.

— Aura Bogado (@aurabogado) April 9, 2022
There is only one abortion clinic within hundreds of miles of the expansive Rio Grande Valley, and its isolation makes it even harder for Valley residents like Herrera to access safe abortion services.
Protestors are chanting for abortion rights and the release of Lizelle Herrera. @TPRNews pic.twitter.com/qxzhhnqhng

— Carolina Cuellar Colmenares (@Wzrd_of_Lnlynss) April 9, 2022
Melissa Arjona, the co-founder of South Texans for Reproductive Justice, said Herrera's arrest is a consequence of Senate Bill 8, which criminalized abortion as early as five weeks and deputized private citizens to sue anyone who provides an abortion or "aids and abets" a procedure."I mean, they criminalized pregnancy, basically, and abortion access," she said. "And so we knew something like this was bound to happen eventually."