President Biden Talks Up Infrastructure Law at Collapsed Pittsburgh Bridge Site
President Joe Biden was planning a visit to Pittsburgh Friday to visit a bridge in dire need of repair as a visual example of why his infrastructure law is so essential to the country. Instead, the President delivered his message in front of what was left of the bridge after it collapsed early Friday morning.
Arriving just hours after the Frick Park Bridge collapse, the President pointed to the unavoidable evidence supporting his $1 trillion infrastructure law he already had planned to discuss on his trip to Pittsburgh.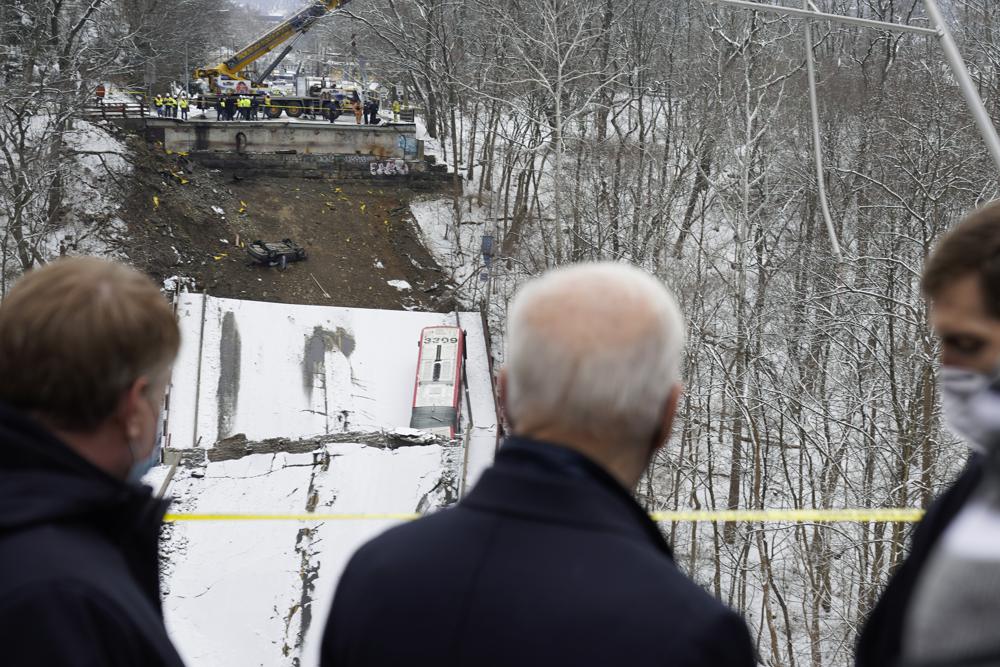 President Biden surveyed the gaping expanse left by the crumbled bridge as the smell of gas from a nearby leak filled the air. Standing before concrete barriers papered with yellow police tape, the President couldn't help but show his disbelief that the bridge had been left in such terrible conditions for so long.  "The idea that we've been so far behind on infrastructure for so many years, it's mind-boggling," President Biden said. The infrastructure law signed by President Biden has earmarked about $1.6 billion for Pennsylvania bridge maintenance, with tens of billions more for public transit, highway maintenance, and broadband internet expansion in the state.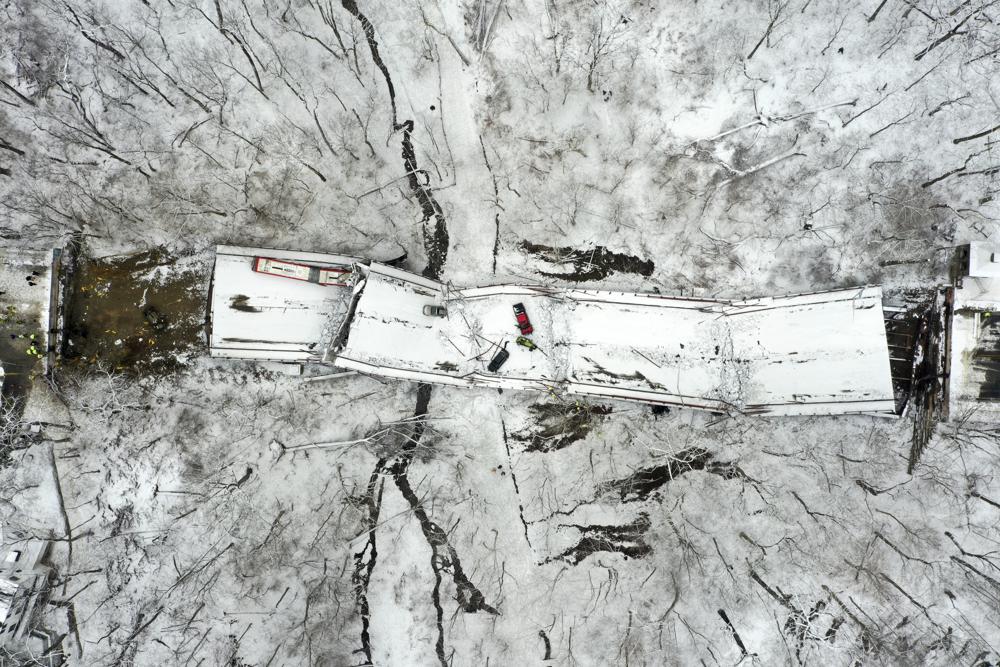 As for the rest of the nation's aging bridges, the President pledged, "We're gonna fix them all."
A bridge I frequently travel collapsed this morning in Pittsburgh, the same day Biden is coming to our city to talk about needing better & improved infrastructure, yet all Republicans want to talk about is Sesame Street characters, Minnie Mouse's outfit & Mr. fucking Potato Head.

— Kyla In The Burgh 🔥🏴‍☠️ (@KylaInTheBurgh) January 28, 2022
There were thankfully no fatalities in the bridge collapse, but rescuers had to form a human chain to retrieve people from a precariously perched bus, photos of which were shared all over social media.
Not for nothing but Trump had four years to get infrastructure done but was too busy playing golf on our dollar. When President Biden visits Pittsburgh today to talk about the bi partisan infrastructure bill, he won't have to look far too for the need. pic.twitter.com/GntUjLbwRR

— Barbara Malmet (@B52Malmet) January 28, 2022
Speaking later at a manufacturing research and development center, the President promised that money from the infrastructure law would help rebuild the collapsed Pittsburgh bridge and "thousands of other bridges across the country," but he also expressed urgency to get the funding distributed. "We've got to move," he said. "We don't need headlines that say someone was killed when the next bridge collapses."
This morning, the Frick Park Bridge collapsed in Pittsburgh. This afternoon, I visited the site and met with local officials. Jill and I are keeping those injured in our prayers, and we're grateful for the first responders. They deserve an incredible amount of credit. pic.twitter.com/s6JwRiFpRX

— President Biden (@POTUS) January 28, 2022
President Biden also announced during his speech that Union Pacific, one of the nation's largest railroads, will make the largest-ever purchase of battery-powered locomotives when it adds 20 of them to its fleet.
In Pittsburgh Friday, President Joe Biden says his administration has seen the greatest year of job growth in U.S. history. https://t.co/yRWN8cspi9 pic.twitter.com/eezmHMG1eo

— Mid-Michigan NOW (@midmichigannow) January 28, 2022