President Biden Speaks With Mexican President Obrador to Discuss Diplomacy and Migration
President Joe Biden and Mexico's President Andres Manuel López Obrador agreed in a phone call on Friday to do more to promote "just, humane and effective efforts to reduce irregular migration" at the southern border, the White House reported after their nearly hourlong conversation.
President López Obrador tweeted that the conversation was "cordial" and that they "spoke of issues of interest to the bilateral relationship." The agenda also included the upcoming Summit of the Americas in June in Los Angeles, but the conversation mostly focused on the end of Title 42 coronavirus restrictions on asylum seekers trying to come to the U.S.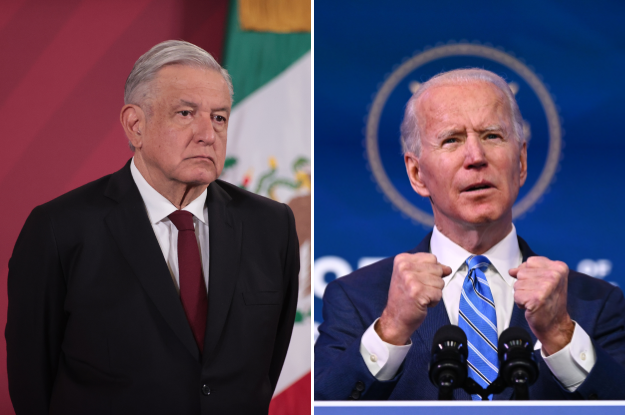 The two world leaders talked about the root causes of migration and working on them in the near future through development initiatives in Central America and Mexico, according to a statement from the Mexican president's office. They discussed the need to guarantee safe and sustainable ways of life for their citizens and migrants, as well as expanding legal pathways for migrants and refugees.
Tuvimos una cordial conversación con el presidente Biden. Tratamos temas de interés en la relación bilateral y acordamos que el secretario Marcelo Ebrard visitará Washington el lunes para avanzar en temas de cooperación para el desarrollo y sobre la Cumbre de las Américas. pic.twitter.com/IIWeLii7S7

— Andrés Manuel (@lopezobrador_) April 29, 2022
Both the U.S. and Mexico want to accelerate development and infrastructure projects along their shared border to continue strengthening North American supply chains and the cross-border agricultural and commercial activity, the White House statement said. But the two countries have different approaches to Putin's invasion of Ukraine. Mexico has condemned Russia's invasion but has so far refused to follow the U.S. and other countries in implementing sanctions. The Biden administration has imposed sanctions and frozen central bank assets with the goal of eroding Russia's military capabilities.
Today, I spoke with President López Obrador of Mexico. We discussed the importance of working together across our broad and deep agenda — including competitiveness, regional growth, and humane and effective efforts to reduce irregular migration.

— President Biden (@POTUS) April 30, 2022
Mexico is viewed as a key partner in managing the increase in migrants once the public health ban on asylum seekers is lifted on May 23rd. Some critics worry the end of Title 42 could trigger a rush of migrants to the U.S.-Mexico border and further exacerbate tensions over immigration ahead of the November midterm elections to decide if Democrats retain control of the House and Senate.
Title 42 is a public health title meant to stop the spread of disease.

Republicans can't have it both ways: they can't hold pandemic relief hostage by saying the pandemic is over AND call for Title 42 to remain in place. pic.twitter.com/kBN1Jetn8B

— Rep. Pramila Jayapal (@RepJayapal) April 29, 2022
The Trump administration imposed the so-called Title 42 restrictions on asylum seekers in March 2020 as the coronavirus pandemic began to accelerate. Officials said at the time that the ban was to protect public health, but immigration control advocates also saw it as a way to seal the border to migrants, a longstanding priority of Trump's.