President Biden Says Putin Should Face War Crimes Trial For Civilian Killings in Bucha
President Joe Biden called for Vladimir Putin to be tried for war crimes and said he'll seek more sanctions against Russia after what he described as "outrageous" atrocities around Kyiv. One of the President's top advisers said the Russians had exacted a horrible toll before making what he called a "pell-mell retreat" from around Ukraine's capital to regroup for dangerous missions elsewhere.
The President made the war crimes allegations to reporters after Ukraine President Volodymyr Zelenskyy visited Bucha, where Ukrainian officials say the bodies of civilians have been found in macabre scenes of brutality. Zelenskyy labeled the Russian actions "genocide" and called for the West to apply tougher sanctions against Russia.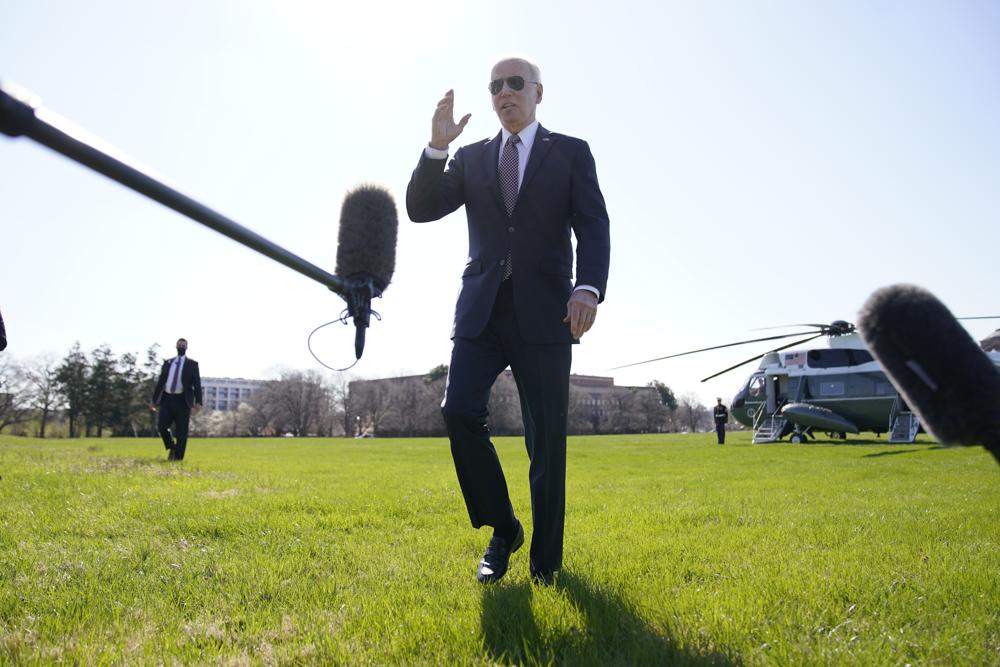 "We have to gather all the detail" for a war crimes trial, President Biden said on Monday, referencing one of the towns surrounding Kyiv where Ukrainian officials say the bodies of civilians have been found. "This guy is brutal, and what's happening in Bucha is outrageous and everyone's seen it," President Biden said.
Not true, Russia. Here's the evidence. https://t.co/MjaCcq764u https://t.co/J0fkwlE5Ja pic.twitter.com/cmSkKefVZk

— Malachy Browne (@malachybrowne) April 4, 2022
National Security Adviser Jake Sullivan later reminded reporters that the U.S. had unveiled intelligence in the lead-up to the February 24th invasion warning that Russia would seek to imprison or kill dissidents and others it viewed as threats to its attempted occupation of Ukraine. The grim scenes of civilians lying dead in the streets around the capital city show that the concern is now coming to pass, he said. However, both Sullivan and President Biden, as well as other U.S. officials, stopped short of calling the actions genocide.
BREAKING: Pres. Biden: "You may remember I got criticized for calling Putin a war criminal. Well, the truth of the matter—you saw what happened in Bucha…He is a war criminal. But we have to gather the information." https://t.co/qtLQYl7thr pic.twitter.com/mmFJDHBekH

— ABC News (@ABC) April 4, 2022
"We have seen atrocities, we have seen war crimes, we have not yet seen a level of systematic deprivation of life of the Ukrainian people to rise to the level of genocide," Sullivan said. But he warned that the world "should brace" for additional potential war crime revelations.
Zelensky on Bucha:

"Hundreds of people were killed. Tortured, executed civilians. Bodies on the streets."

"Murderers, torturers, rapists, looters, who call themselves the army, and who deserve only death after what they did."pic.twitter.com/ys59LqQGXW

— Oleksiy Sorokin (@mrsorokaa) April 3, 2022
White House officials said talks about implementing new sanctions against Russia further intensified after reports of the alleged atrocities emerged. President Biden told reporters on Monday that he would continue to add sanctions but did not detail what sectors the U.S. may target next. Sullivan said the additional sanctions would come this week.
Oh wow.

President #Zelenskyy
is in #Bucha 🇺🇦
pic.twitter.com/gDLcIFedIU

— Ann is still European🇬🇧🇺🇦PUTIN WAR CRIMINAL (@56blackcat) April 4, 2022