President Biden Reaches Out to GOP 'Friends' to Discuss SCOTUS Nomination
President Joe Biden reached out for Republican support for his Supreme Court nominee on Tuesday, inviting the GOP's top Judiciary Committee senator to the White House along with the panel's Democratic chairman and phoning Republican leader Mitch McConnell for a one-on-one discussion.
The President and fellow Democrats are working for a strong Republican backing for the still-to-be-named nominee to replace retiring Justice Stephen Breyer — a steep challenge in a Senate that has been sharply and bitterly divided over the past three confirmations. Senate confirmation of President Biden's nominee is far from assured, as advocates push him to nominate a strong liberal and some Senate Republicans criticize the President even before he makes his decision.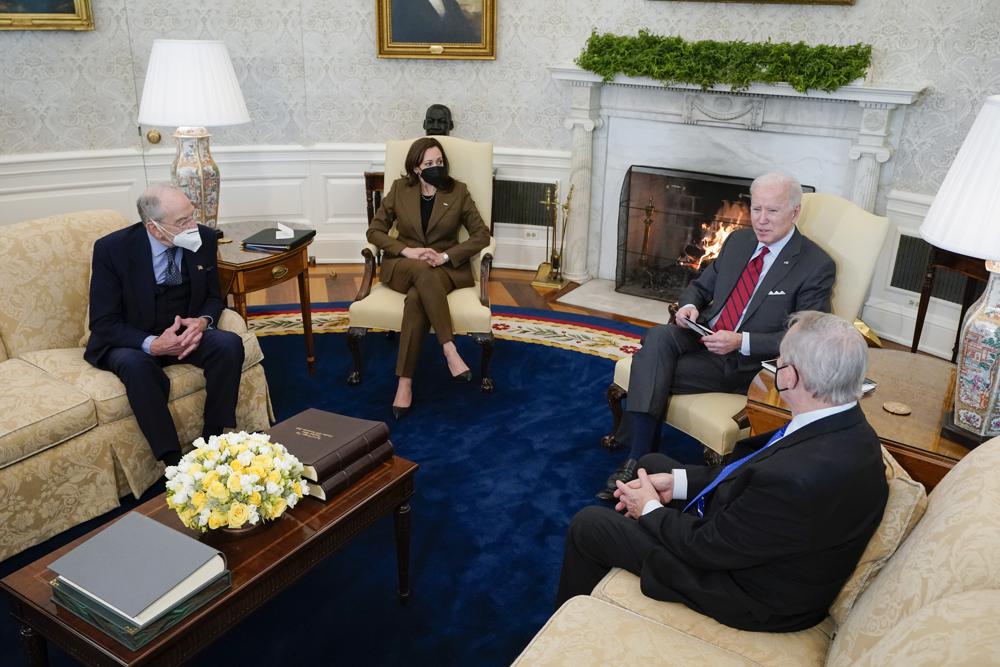 Durbin has noted that Republicans Ronald Reagan and Donald Trump both promised to pick women and were praised when they nominated Sandra Day O'Connor and Amy Coney Barrett, respectively. There have been only five female justices in U.S. history, while there have been 110 men.
How come nobody bitched even a little bit all those years they picked nobody but White guys for SCOTUS, all the sudden President Biden wants to give a Black Woman a shot, everybody found their voice.

SMDH.

— BrooklynDad_Defiant! (@mmpadellan) February 1, 2022
Ever since President Biden promised Breyer will be replaced by a Black woman, Sen. Durbin has been proposing a "ceasefire" of sorts after wrenching partisan fights over Donald Trump's politically polarizing three nominees. Democrats still bitter over the "jamming through" of Amy Coney Barrett in the waning weeks of Trump's administration are now fending off criticisms from their GOP counterparts about the President limiting his choices to only Black women.
Reporter: "How many Black women do you have on staff and how are they informing your decision" on Biden's SCOTUS nominee?

Senate Minority Leader Mitch McConnell: "I haven't checked, we don't have a racial quota in my office." pic.twitter.com/MdyuqDzwjc

— The Recount (@therecount) February 1, 2022
The President has already received support from Democratic centrist Sen. Joe Manchin of West Virginia, who has said he's not just open to a more liberal-leaning Justice to replace Breyer, he's "eager" to get President Biden's nominee on the bench. At the White House, former longtime Sen. Biden called Judiciary Chairman Dick Durbin of Illinois and the ranking Republican, Iowa Sen. Chuck Grassley, "two good friends" and noted that they had worked on many Supreme Court nominations together in their decades on the panel.
NEW: Ted Cruz just said President Biden's pledge to pick a Black woman is "offensive." "Black women are 6% of the U.S. population. He's saying to 94% of Americans, I don't give a damn about you… if you're a white guy, tough luck."

— No Lie with Brian Tyler Cohen (@NoLieWithBTC) January 31, 2022
Republicans have openly stoked a debate over President Biden's promise to nominate a Black woman. Mississippi Sen. Roger Wicker said he views the process as "affirmative action." Texas Sen. Ted Cruz said it's discriminatory because Biden is saying "wrong skin pigment and wrong Y chromosome" to white men and women.
Was anybody upset when Biden first promised in February 2020 to name a Black woman to SCOTUS if he won or were they just saving it for later? Because I don't remember anybody clutching pearls at the time.

— Aaron Rupar (@atrupar) February 1, 2022
At a committee meeting Tuesday morning, Grassley criticized Democratic advocates who pressured Breyer to retire, and he said nominees should be judged "solely on their qualifications." He said he told the President "that I want somebody that's going to interpret law, not make law."
SCOTUS should have the best qualified candidate with diverse experiences and perspectives.

SCOTUS has never had the voice, experience or perspective of an African-American woman before, therefore, it's time for the best qualified African-American woman to sit on that damn bench. https://t.co/GGHJEfhtmX

— Billy Baldwin (@BillyBaldwin) February 1, 2022
The court was made up entirely of white men for almost two centuries. Justice Clarence Thomas and the late Thurgood Marshall are the only two Black men who have served on the court. There has never been a Black woman, but now it will no longer be a question of if, but which Black woman will be the first. President Biden has promised to announce his pick by the end of the month.
.@WhipClyburn: "Michelle Childs has a background that would offer some diversity to this court. In the last 50 years, there's never been a person to serve on the Supreme Court that's a graduate of a public school. […] We've got to get beyond this notion of elitism." pic.twitter.com/GAyMnWAi2K

— The Hill (@thehill) February 1, 2022
She was second to Merrick Garland on Obama's Supreme Court pick list…she should be first this time.
Ketanji Brown Jackson pic.twitter.com/53V7nyrR3Y

— KT (@sloyoroll01973) January 26, 2022