President Biden Promises He'll 'Do Something' About Gun Violence During Uvalde Visit
President Joe Biden has had to comfort two communities reeling from unspeakable gun violence and unbearably tragic loss twice this month, first in Buffalo and then on Sunday in Uvalde, Texas. In both mass shooting events, the male teenage shooters were able to easily and legally obtain the assault weapons they used to slaughter their innocent human targets.
The ten victims of gun violence in the racially motivated shooting in Buffalo have now all been laid to rest, and now parents in Uvalde are preparing to endure the same unthinkable grief. President Biden, who lost his young daughter and first wife in a horrific car accident, as well as his adult son, Beau, to brain cancer, understands the impact of a child's sudden death, but nothing can truly prepare anyone to lose a loved one to senseless gun violence.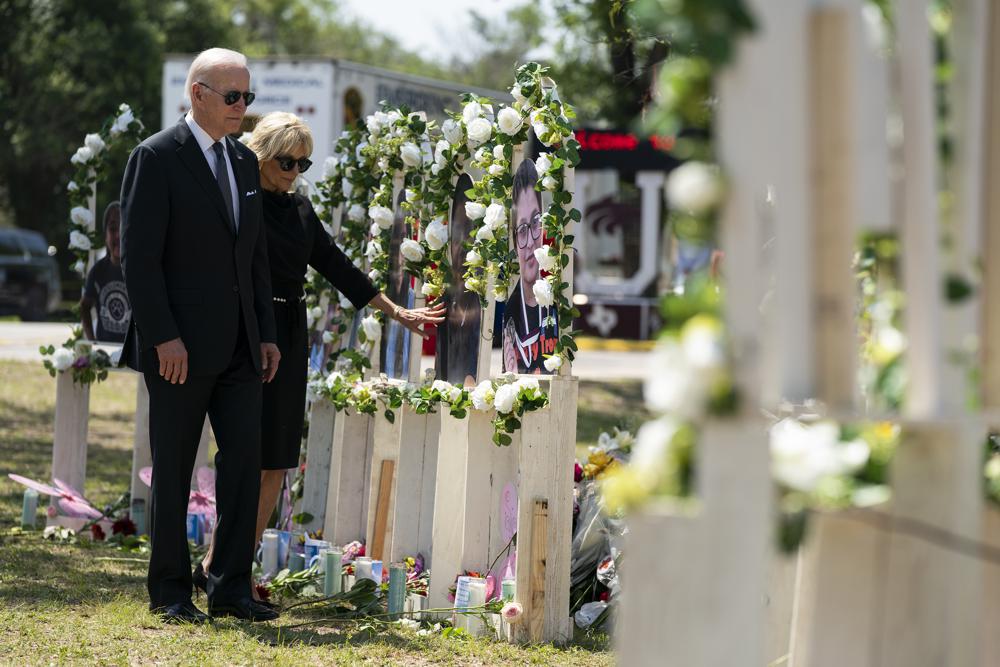 While Republicans point fingers at everything from doors to teachers to avoid the reality of lax gun regulations being at the center of every mass shooting, President Biden and First Lady Jill Biden traveled to Uvalde to offer what comfort they could to the parents and community who'll never fully recover from the loss of nineteen children and two teachers. At Robb Elementary School, the Bidens stopped at a memorial of 21 white crosses, one for each of those killed. The First Lady added a bouquet of white flowers to a pile in front of the school sign. They walked along to view the individual altars erected in memory of each student, and the First Lady touched the children's photos as the couple moved along the row.
Thank you @POTUS and @FLOTUS. This community and this country needs you now. pic.twitter.com/hnmeFIMJWr

— Fred Guttenberg (@fred_guttenberg) May 29, 2022
After visiting the memorial, President and Dr. Biden attended Mass at Sacred Heart Catholic Church, where some victims' families worship. As he departed to meet privately with family members, a crowd of about 100 people began chanting "do something." President Biden replied, "We will," as he got into his car.
On Sunday, Jill and I are traveling to Uvalde, Texas to grieve with the community that lost 21 lives in the horrific elementary school shooting.

— President Biden (@POTUS) May 26, 2022