President Biden Names Karine Jean-Pierre to Succeed Exiting Jen Psaki As Press Secretary
President Joe Biden continued to deliver on his promise that his administration would look like America on Thursday by naming the first Black and openly gay woman to serve in the role of the White House Press Secretary.
Karine Jean-Pierre will succeed the departing Jen Psaki, who will exit her role at the end of the month to host her own show on MSNBC. Jean-Pierre had been serving as the Deputy Press Secretary since the beginning of the Biden administration, often traveling with the President and occasionally standing in for Psaki. Prior to joining the White House, Jean-Pierre served as Chief of Staff for then-VP nominee Kamala Harris during the 2020 campaign and was also the national spokeswoman for MoveOn.org during the 2016 election. She previously worked on both of Barack Obama's presidential campaigns.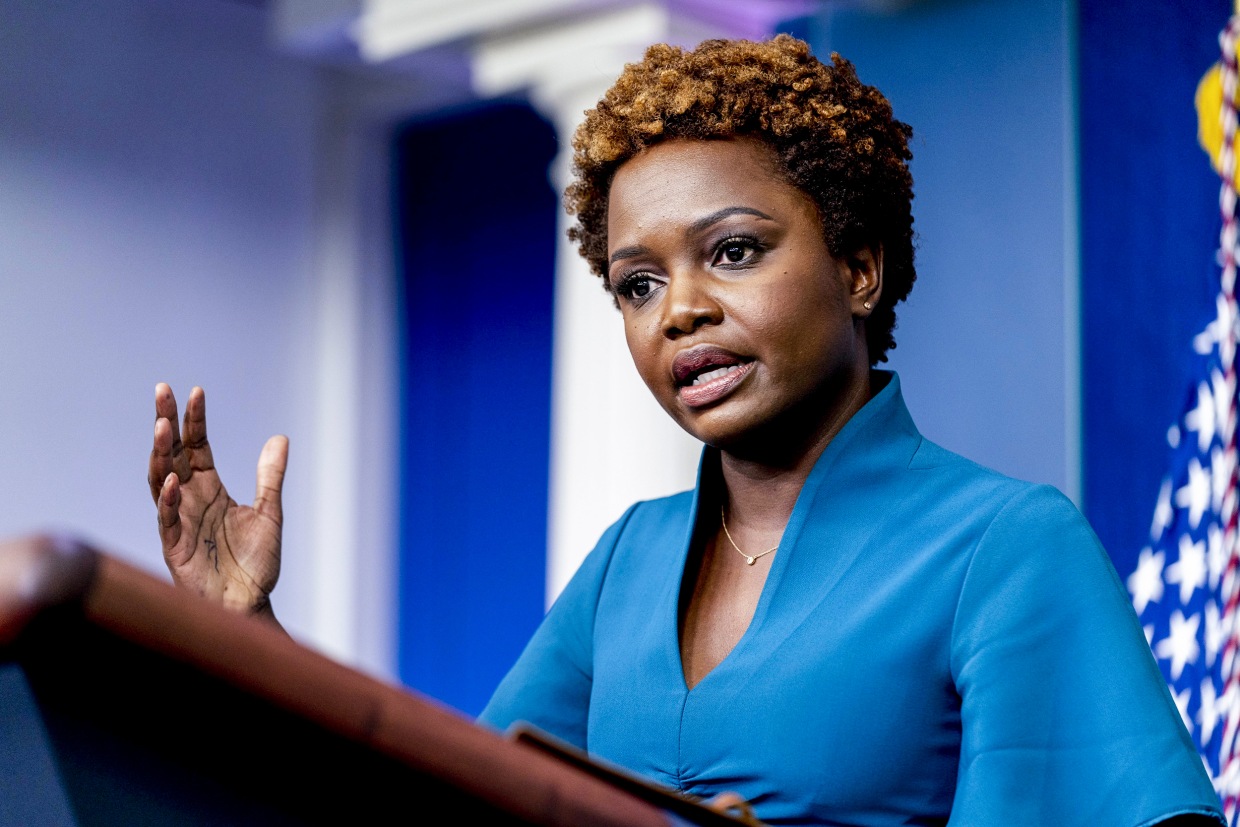 Psaki praised Jean-Pierre in a Twitter thread, calling her a "remarkable woman" and saying she "can't wait to see her shine as she brings her own style, brilliance and grace to the podium."
She will be the first black woman and the first openly LGBTQ+ person to serve as the White House Press Secretary. Representation matters and she will give a voice to many, but also make many dream big about what is truly possible.

— Jen Psaki (@PressSec) May 5, 2022
She is passionate. She is smart and she has a moral core that makes her not just a great colleague, but an amazing Mom and human. Plus, she has a great sense of humor.

— Jen Psaki (@PressSec) May 5, 2022
I can't wait to see her shine as she brings her own style, brilliance and grace to the podium.

— Jen Psaki (@PressSec) May 5, 2022
Jean-Pierre, who was born in Haiti and immigrated to the U.S. as a child, grew up in Queens, New York. "Karine not only brings the experience, talent, and integrity needed for this difficult job, but she will continue to lead the way in communicating about the work of the Biden-Harris Administration on behalf of the American people," the President said in a statement. "Jill and I have known and respected Karine for a long time and she will be a strong voice speaking for me and this Administration."
The day the Biden campaign announced the addition of Karine Jean-Pierre, I said she should be the WH press secretary for the #BidenAdministration & so I'm clearly a political pre-Cog, @MSNBC 😏 @K_JeanPierre #WednesdayWisdom https://t.co/EuAXFQeoel

— Tara Dublin 🇺🇦🌻 (@taradublinrocks) November 18, 2020
President Biden praised both women in his statement, saying that Psaki "has set the standard for returning decency, respect, and decorum to the White House Briefing Room," the President's statement read. "I want to say thank you to Jen for raising the bar, communicating directly and truthfully to the American people, and keeping her sense of humor while doing so. I thank Jen for her service to the country, and wish her the very best as she moves forward."
@POTUS President Biden Announces Karine Jean-Pierre as White House Press Secretary @KJP46 @PressSec pic.twitter.com/R6Rphxq7hL

— White House Photos (@photowhitehouse) May 5, 2022
It was also announced that Anita Dunn would return to the administration as a senior adviser and assistant to the President. Jen Psaki's last day will be May 13th.