President Biden Meets With Fed Chair Powell to Tackle Inflation Issues
Focused on relentlessly rising prices, President Joe Biden plotted with Chairman of the Federal Reserve Jerome Powell on Tuesday to create a new inflation-fighting strategy. It was only the fourth meeting between the President and the Federal Reserve chair, though Powell has breakfast as often as once a week with Treasury Secretary Janet Yellen, who also attended Tuesday's meeting along with Brian Deese, the White House National Economic Council director.
The President is very much attuned to Americans worrying about higher gasoline, grocery, and other prices as a result of Vladimir Putin's invasion of Ukraine impacting global markets along with the supply chain. While still insisting an independent Fed will act free from political pressure, Powell agrees with the President that the Fed needs to slow inflation without knocking the U.S. economy into recession, a highly sensitive mission that is to include increasing interest rates this summer. But President Biden said he "would not attempt to direct that course" as some of his predecessors have tried. "My plan to address inflation starts with a simple proposition: Respect the Fed, respect the Fed's independence," President Biden said.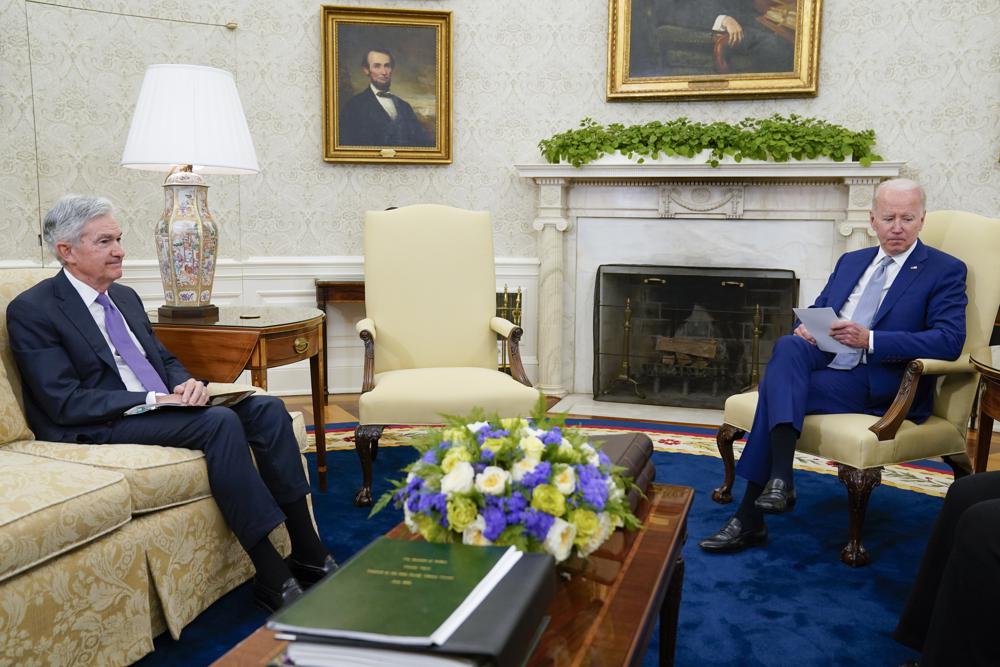 Inflation has shown signs of moderating but is likely to remain far above the Fed's 2% target through the end of this year. Gas prices are expected to keep rising, particularly now that the European Union has agreed to cut off 90% of its oil purchases from Russia. That will force the EU to buy more oil from elsewhere, and it drove oil prices to $115 a barrel Tuesday.
WATCH — President Biden Meets with Treasury Secretary Yellen and Federal Reserve Chair Powell on the Economyhttps://t.co/JUr7NbW8vm

— The Union Herald (@TheUnionHerald) May 31, 2022
"My predecessor demeaned the Fed, and past presidents have sought to influence its decisions inappropriately during periods of elevated inflation," President Biden said in an op-ed posted Monday by The Wall Street Journal. "I won't do this. I have appointed highly qualified people from both parties to lead that institution. I agree with their assessment that fighting inflation is our top economic challenge right now."
.⁦@POTUS⁩ wrote an op-ed for the WSJ about his plan to fight inflation.

I don't have a subscription and I was able to read it.

If we had a Republican president, he'd be pushing corporate talking points from the White House and doing nothing. https://t.co/85JV6CCcAl

— Brad Beauregard Jr 🇺🇸 (@BradBeauregardJ) May 31, 2022