President Biden Hails Former VP Mondale As a 'Giant of Political History' During Memorial
Fresh from his much-lauded speech at Saturday night's White House Correspondents Dinner, President Joe Biden took a more serious tone at a memorial in Minneapolis for the late Walter Mondale, who served as Vice President to Jimmy Carter in the 1970s.
Mondale, who died in April 2021 at age 93, is credited with transforming the office of the vice presidency, which President Biden himself held for eight years under President Barack Obama. Former VP Mondale expanded the responsibilities of the role, making himself a key adviser to President Carter. The memorial service, which was held at the University of Minnesota, had been delayed due to the Coronavirus pandemic.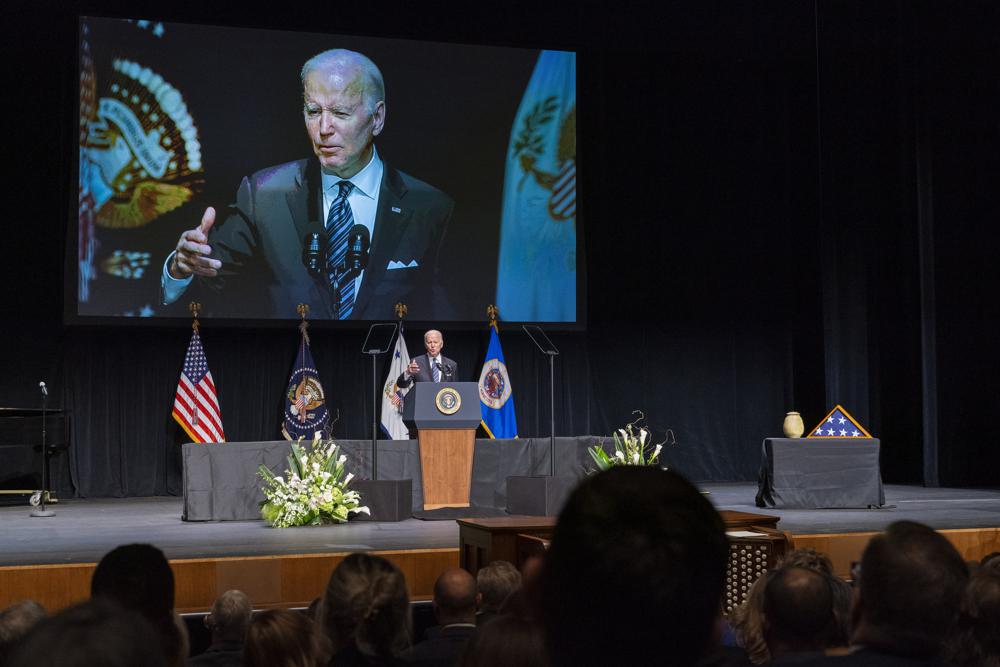 Mondale was a graduate of the University of Minnesota and its law school, which has a building named after him. During Sunday's remembrance, President Biden visibly wiped his eyes as a performance of "Tomorrow" from the musical "Annie" played, and the service closed with the university's marching band, which sent people away with the "Minnesota Rouser" fight song.
A reminder, former Vice President Walter Mondale died a little more than a year ago. Today, his family, @POTUS Biden and Minnesota honor him at a memorial service delayed by the pandemic. In his remarks, the president mentioned Mondale's letter to his former staff. https://t.co/8r8fXOqIcv

— Ed O'Keefe (@edokeefe) May 1, 2022
President Biden spoke warmly of his friend of five decades, saying Mondale "was a giant in American political history," and calling him by his nickname, "Fritz." The President added that Mondale was one of the "toughest, smartest men I've ever worked with" both as Senate colleagues and as a mentor when he, President Biden, was Obama's No. 2 and then later in his role as Chief Executive.
President Biden tells Northrop crowd that Walter Mondale believed in his gut the equality and dignity of all people, and lived that belief pic.twitter.com/tW5jq1h2mD

— John Croman (@JohnCroman) May 1, 2022
President Biden fondly recalled Mondale's legendary empathy, saying, "He united people sharing the light, the same hopes — even when we disagreed, he thought that was important," adding "It was Fritz who lit the way. Everybody is to be treated with dignity. Everybody. It's up to each of us to reflect that light that Fritz was all about."
At the Eulogy for Walter Mondale President Biden spoke. Such a heart warming and beautifully speech. What a decent and honorable man our President is. He is a throwback to the day's where honor and honesty matter. He doesn't get enough credit for what he has done for our Country

— Peggy Shaw (@Fall2891) May 1, 2022
Democratic Sen. Amy Klobuchar, a fellow Minnesotan, described once being an intern who climbed under chairs and a table to carry out a furniture inventory when Mondale was vice president. "That was my first job in Washington. And, thanks to Walter Mondale, this was my second," Klobuchar said of being a senator, noting that Mondale encouraged her to run and taught "the pundits in Washington how to say my name."
On the wall of the Carter Museum, there is a quote from Walter Mondale: "We told the truth. We obeyed the law. We kept the peace." Words he lived by. Fritz was a model of decency and dignity in life and in politics. I'm grateful to everyone who gathered to remember him today. pic.twitter.com/CWPvtSj4xb

— Amy Klobuchar (@amyklobuchar) May 1, 2022
A booklet was given to attendees for the "afternoon of remembrance and reflection" quoted from Mondale's 2010 book, "The Good Fight": "I believe that the values of the American people — our fundamental decency, our sense of justice and fairness, our love of freedom — are the country's greatest assets, and that steering by their lodestar is the only true course forward." Its back cover showed Mondale's face next to the slogan, "We told the truth. We obeyed the law. We kept the peace," which Sen. Klobuchar described as being memorialized after the then-vice president said them at the end of the Carter administration.