POTUS Warns Non-Essential American Workers Still In Ukraine That It 'Would Be Wise' to Leave ASAP
https://twitter.com/ZNHub/status/1490791747001065476
President Joe Biden said on Monday that "it would be wise" for Americans other than essential diplomats to leave Ukraine amid the Russian military threat. The State Department has already authorized nonessential employees to leave and has called on all family members of diplomats in Ukraine to do so.
The President made his comments during a joint press conference with German Chancellor Olaf Scholz at the White House shortly after the two leaders met for talks amid international efforts to defuse the standoff over Ukraine. French President Emmanuel Macron is also holding talks in Moscow as fears of a Russian invasion increased over the weekend.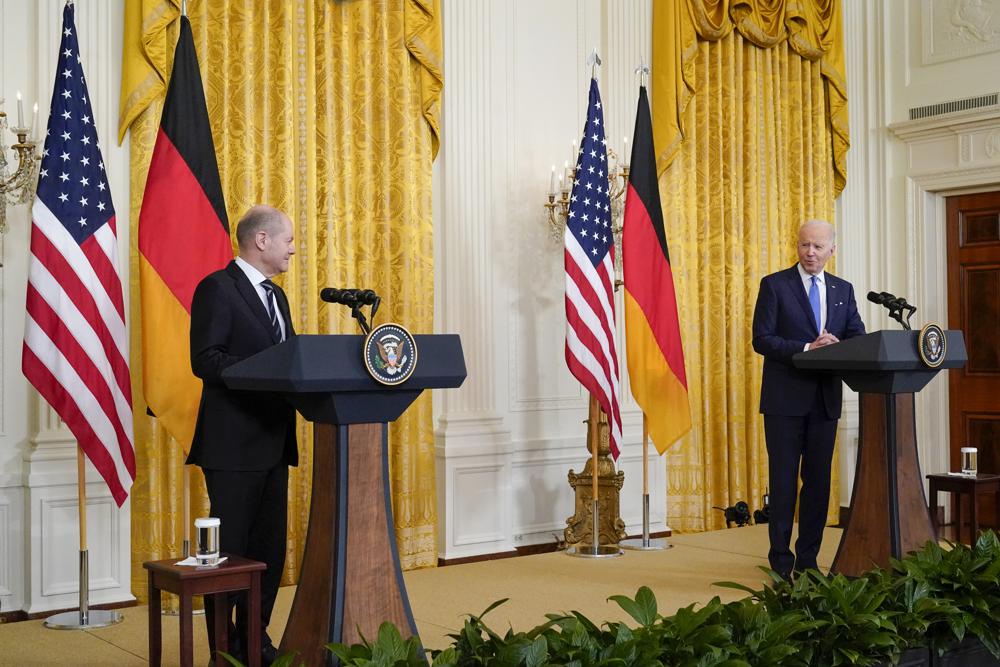 Russia has denied any plans to attack its neighbor but demands that the U.S. and its allies bar Ukraine and other former Soviet nations from joining NATO, halt weapons deployments there and roll back NATO forces from Eastern Europe. Washington and NATO reject those demands.
"If Russia makes a choice to further invade Ukraine, we are jointly ready and all of NATO is ready."

Pres. Biden says he and German Chancellor Olaf Scholz "developed a strong package of sanctions" if Russia "violates Ukraine's sovereignty." https://t.co/uruQ4F4zM9 pic.twitter.com/9jb8m8OiXa

— ABC News (@ABC) February 7, 2022
President Biden also said Monday "there will no longer be Nord Stream 2," a crucial Russia-to-Germany natural gas pipeline, if Russia further invades Ukraine with "tanks and troops."
Speaking at the start of his meeting with Scholz, President Biden said that the U.S. and Germany were "working in lockstep to further deter Russian aggression in Europe." Scholz added: "We are closest allies and we are working intensely together, and this is necessary for doing the steps that we have to do, for instance, fighting against Russian aggression against Ukraine."
Biden says he defines a Russian invasion of Ukraine as "tanks or troops crossing the border." He says an invasion would "bring an end" to the Nord Stream 2 pipeline connecting Russia and Germany.

German Chancellor Scholz says "we will do the same steps" if there's an invasion pic.twitter.com/UytuBvwFH7

— CBS News (@CBSNews) February 7, 2022
Macron, meanwhile, called for de-escalation as he began talks with President Vladimir Putin in the Kremlin. "Dialogue is necessary because that's the only thing that will help, in my views, to build a context of security and stability on the European continent," Macron said, adding that he's ready to "start building an effective response." Putin praised France's role in shaping European security, saying he appreciates Macron's efforts to help ensure "an equal security in Europe" and broker a settlement to the Ukrainian crisis. "I realize that we share concerns about what's going on in Europe in the security sphere," the Russian leader said as he faced Macron across a long table.
It's been more than three hours since Putin and #Macron sat down at the world's longest table for a tet a tet negotiations (and Putin addressed Macron as Ty) #Ukraine's future is on the table. @POTUS is about to speak about #Ukraine with Scholts https://t.co/ATttaw06f0 pic.twitter.com/SfztCdV3NF

— Anna Nemtsova (@annanemtsova) February 7, 2022
President Biden has already deployed additional U.S. troops to Poland, Romania, and Germany. A few dozen elite U.S troops and equipment landed Sunday in southeastern Poland near the border with Ukraine, with hundreds more infantry troops of the 82nd Airborne Division set to arrive.
'To our American friends: We will be united. We will act together and we will take all the necessary steps … together.' — German Chancellor Olaf Scholz delivered this message following a meeting with Pres. Biden on the Russia-Ukraine situation pic.twitter.com/5Pl9ZBJzJh

— NowThis (@nowthisnews) February 7, 2022
At a news conference in Washington, U.S. Secretary of State Antony Blinken and EU foreign policy chief Josep Borrell said the U.S. and Europe defended the increasingly dire Western warnings that a Russian invasion may be imminent. "This is not alarmism. This is simply the facts," Blinken said. "And the facts are that we've seen over the last few months a massive amassing of Russian forces on Ukraine's borders."
US Secretary of State Blinken says:

– US working with partners to support Ukrainian economy
– We've done all through constant coordination
– Whether President Putin chooses to engage path of diplomacy or further conflict with Ukraine, either way US and partners are prepared pic.twitter.com/KEUmAIo1fy

— TRT World Now (@TRTWorldNow) February 7, 2022
[This is a developing and continuing story, please check back for updates]