POTUS Praises Military Commanders For 'Exceptional' Work Arming Ukraine
In an annual tradition that had been put on hold because of the coronavirus pandemic but is now being resurrected, President Joe Biden hosted the nation's top military brass for their first in-person group meeting of his presidency at the White House on Wednesday. During his remarks, the President praised the military officials for their "exceptional" work arming Ukraine as the country continues to fight back against Vladimir Putin's troops.
The President has already approved more than $2.6 billion in military assistance for Ukraine since Russia launched its invasion on February 24th. He is expected to announce additional security assistance, including artillery and ammunition, in the coming days.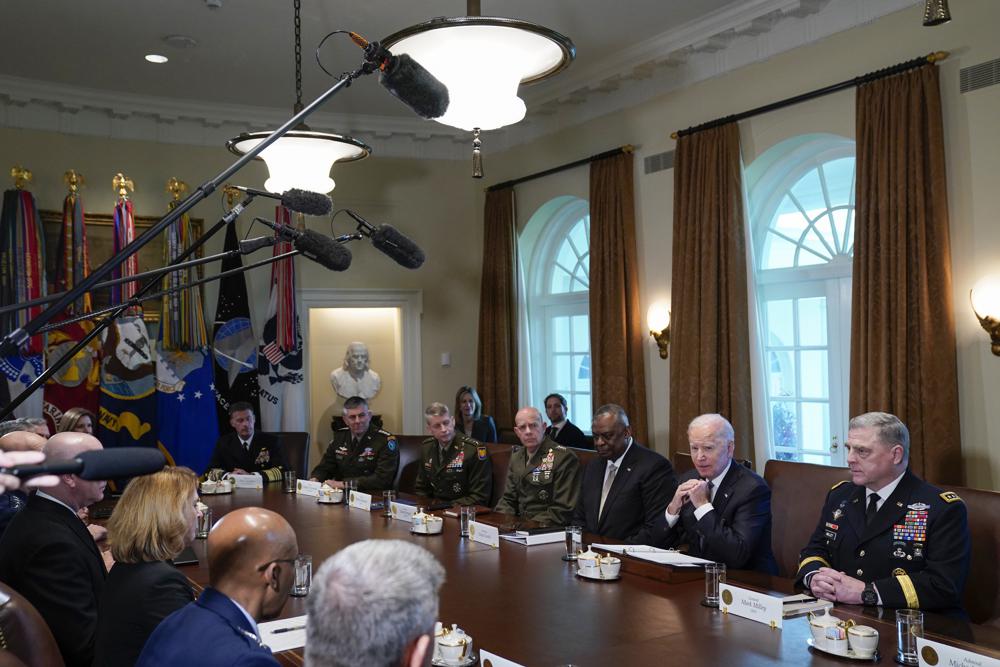 The Pentagon's top civilian and uniformed officials spoke amid the most serious fighting in Europe since World War II. Defense Secretary Lloyd Austin, Deputy Defense Secretary Kathleen Hicks, the Joint Chiefs of Staff, and combatant commanders all accepted the President's invitation to discuss Russia's nearly two-month-old invasion of Ukraine. "I want to thank each of you for your dedication to the service of this country and your members, families, and the longstanding service that you've all put in," President Biden told the military officials. "I want to applaud the exceptional work you're doing to arm and equip brave Ukrainians that defend their nation. I don't know about you, but I've been to Ukraine a number of times before the war. I've spoken to the Rada. I was deeply involved in what was going on in Ukraine. And I knew they were tough and proud, but I tell you what: They're tougher and more proud than I thought. I'm amazed what they're doing with your help, in terms of providing advice and — and weaponry we're providing, along with the rest of NATO."
.@POTUS meets with top military leaders in the White House Cabinet Room. pic.twitter.com/IjDvgh1d1R

— Michael Collins (@mcollinsNEWS) April 20, 2022
"I also want to recognize the groundbreaking nature of this gathering," the President continued. "For the first time in the proud history of the Armed Forces, we not only have a highly qualified woman as Vice President, but as Deputy Secretary of Defense and two women combatant commanders.  And it's an important milestone, I think, that speaks to how we're harnessing the strength and diversity of our country in making sure women succeed in the military and throughout their careers."
REMINDER: While @POTUS is uniting the world to stand strong in the face of Russian aggression, the majority of Senate Republicans voted against military aid for Ukraine. https://t.co/Xk7dJ5tNjH

— DNC War Room (@DNCWarRoom) April 20, 2022
Following the meeting, President Biden and First Lady Jill Biden hosted the military leaders and their spouses for dinner in the White House Blue Room.