POTUS Officially Exploring Expanding SCOTUS
The question that the right-wing media constantly asked of then-candidates Joe Biden and Kamala Harris about expanding the Supreme Court has finally been answered. President Biden signed an executive order on Friday empaneling a commission to examine possible reforms to the Supreme Court and federal judiciary.
The President had first floated the idea of such a commission last fall on the campaign trail following the death of Justice Ruth Bader Ginsburg, whose seat on the high court was quickly filled by Amy Coney Barrett, installing a 6-3 majority of justices nominated by Republican presidents and the third appointed by Donald Trump. Democrats have been hoping for a chance to substantially shake up the court system, including SCOTUS, despite President Biden saying many times that he's "not a fan" of court-packing.
A 36-member commission will be co-chaired by Bob Bauer, who led the Biden campaign's legal team, and Cristina Rodríguez, a Yale Law School professor and former deputy assistant attorney general. The Executive Order comes at the same time Stephen Breyer, the Supreme Court's oldest justice, faces pressure from liberal legal activists to step down during Biden's term so that his successor would be appointed and confirmed while Democrats hold the White House and Senate.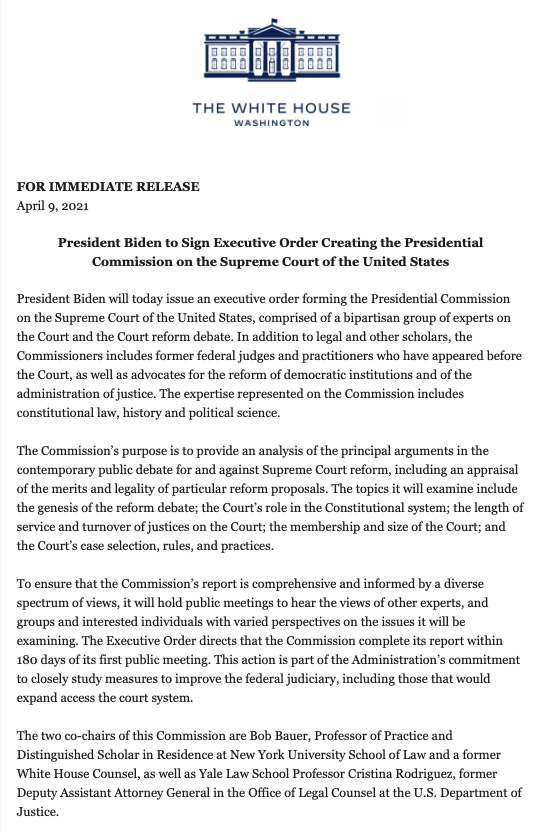 Today, @POTUS acknowledged that it is time to reform the Supreme Court, following the example of Thomas Jefferson, Abraham Lincoln, and Ulysses S. Grant.

The question is no longer if we will reform SCOTUS, but how. https://t.co/GFsSni3LdV

— Rep. Mondaire Jones (@RepMondaire) April 9, 2021
Earlier this week, Breyer issued a warning to advocates of overhauling the Supreme Court that doing so risks eroding the trust in the institution and that they should think "long and hard" about the ramifications in a speech given virtually to Harvard Law School students.
New: Today @POTUS will issue an executive order forming the Presidential Commission on SCOTUS, made up of a bipartisan group of experts on the Court reform debate. Just two days ago, liberal Justice Stephen Breyer warned about the risks of expanding the court.

— Weijia Jiang (@weijia) April 9, 2021
The White House said the commission will complete its work within 180 days of its first public meeting, which it is required to do under federal law.