POTUS Announces Additional Aid to Ukraine Totaling Over $1B
President Joe Biden announced an additional $800 million in military aid to help Ukraine fight back in its strong but increasingly difficult battle against the Russian invasion, but he also warned that Congress will need to approve additional assistance if the U.S. is to keep up its support. The President said the aid will be sent "directly to the front lines of freedom."
The new military package announced Thursday morning includes much-needed heavy artillery, drones for Ukrainian forces, and 144,000 rounds of ammunition, to assist in the escalating battle for the Donbas region of eastern Ukraine. It builds on roughly $2.6 billion in military assistance that President Biden had previously approved.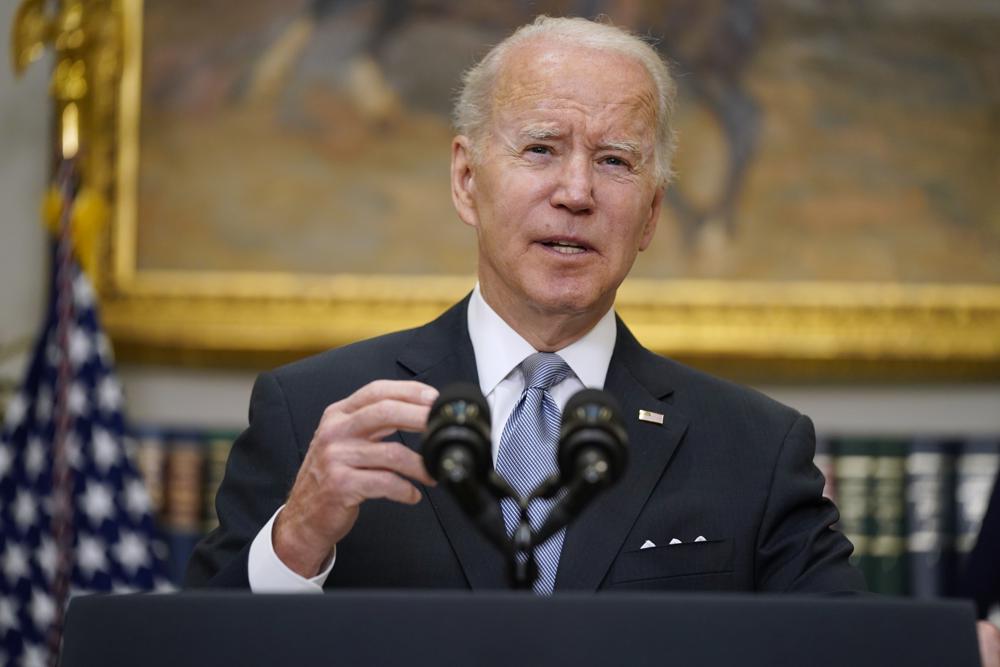 President Biden also announced that all Russian-affiliated ships would be barred from U.S. ports. "Putin is banking on us losing interest," Biden said. The Russian president is betting that "Western unity will crack … and once again we're going to prove him wrong."
Asked how long U.S. can keep up this level of military aid for Ukraine, Pres. Biden tells @karentravers, "We have the capacity to do this for a long time. The question is—are we going to continue to maintain the support of the international community?" https://t.co/CzlbOnGZor pic.twitter.com/e7pnXK1lrJ

— ABC News Politics (@ABCPolitics) April 21, 2022
President Biden spoke about the new assistance, and more broadly about the situation in Ukraine, hours after Russian President Vladimir Putin claimed victory in the strategic city of Mariupol. Putin, however, ordered his troops not to risk more losses by storming the last pocket of Ukrainian resistance in the war's iconic battleground. The President didn't go into detail regarding how much additional funding he would request, adding that he was consulting with defense officials on the matter.
"Today, I'm announcing another $800 million to further augment Ukraine's ability to fight"

President Biden announced additional military aid to Ukraine. Hear what the new package includes: pic.twitter.com/rxUaUmy7r6

— CNN (@CNN) April 21, 2022
Russian troops have besieged the port city since the early days of the conflict and largely reduced it to ruins in some of the fiercest skirmishes of the war. By Russian estimates, about 2,000 Ukrainian forces remain holed up in a sprawling steel plant, even as Russian forces continue to pound the industrial site and repeatedly issue ultimatums for Ukrainian forces' surrender.
Pres. Biden announced another aid package to Ukraine.@DavidMuir and @MarthaRaddatz detail what's in the package.@CeciliaVega explains how the type of aid is shifting to meet battlefield needs.@JamesAALongman reports on the refugee situation on the ground in Ukraine. pic.twitter.com/JskNcF5u8U

— ABC News (@ABC) April 21, 2022
Before departing to the Pacific Northwest to speak about his Infrastructure Bill, President Biden met with Ukraine's Prime Minister Denys Shmyhal. The President told reporters on the press line outside the White House that he finds Russia's claims about Mariupol "questionable."
Biden announces 144,000 artillery shells in latest military aid package for Ukraine.

That's 3x amount in previous package – enough to last Ukraine army for 3 weeks or so at current tempo of fighting.

An important stopgap as fighting intensifies in East. Latest with @jdbalart. pic.twitter.com/77D8Lpk5dZ

— Raf Sanchez (@rafsanchez) April 21, 2022