Police Arrest Two Men in the UK Connected to Texas Synagogue Attack
Two men have been arrested in Birmingham and Manchester, England, as part of the investigation into the Texas synagogue attack by the British national Malik Faisal Akram, who took hostages during the hours-long crisis that ended in his death. All four hostages were released or escaped unharmed. Akram was shot dead by the FBI after a 10-hour standoff on Saturday in Colleyville, near Dallas.
The Guardian is reporting that the two men they apprehended, whose ages have not been released, were "in custody for questioning", Greater Manchester Police (GMP) said, and were held on Thursday morning as part of an "ongoing investigation".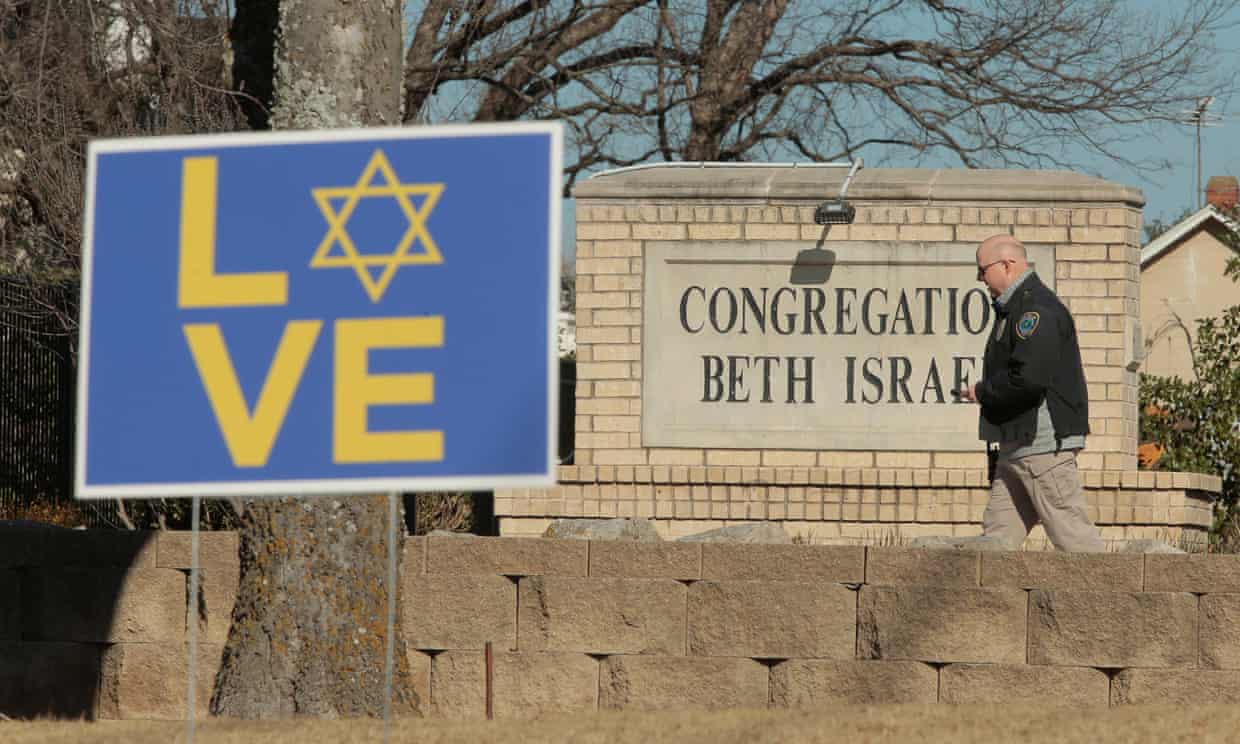 President Joe Biden declared the incident an act of terrorism on Sunday, and the British foreign secretary, Liz Truss, said the UK government condemned "this act of terrorism and antisemitism".
Texas synagogue hostage-taker's antisemitism not taken seriously by the FBI https://t.co/fxAMCxtHvi via @MSNBC

— Wajahat Ali (@WajahatAli) January 20, 2022
President Biden said Akram had been in the US for only a few weeks and had spent his first night in a homeless shelter, adding that he had allegedly bought his gun "on the street". Akram had a criminal record in the UK but no known terror convictions. Investigators and family members say he had a history of mental health issues.
EXCLUSIVE: The JC has obtained a recording of the last phone call made by Malik Faisal Akram during his siege of a Texas synagogue pic.twitter.com/LrMSXxQwFb

— The Jewish Chronicle (@JewishChron) January 19, 2022
Audio footage appeared to show a tense final phone conversation between Akram and his younger brother Gulbar, in which he was urged to surrender by his sibling. In the audio recording, obtained by the Jewish Chronicle from a security source, Akram said he had "come to die" while his brother pleaded for him to stop.
I wrote about the Texas synagogue attack and why so many people still don't understand antisemitism—and the consequences this ignorance has for our entire society: https://t.co/rx3CFDNmi9

— Yair Rosenberg (@Yair_Rosenberg) January 19, 2022
He said: "Why are you doing that, man? What you doing that for, you know? What's wrong with you? Think about your kids, man, these guys are innocent – these guys you've got there are innocent people, man."
The chilling final audio call of the British gunman who took four people hostage in a Texas synagogue has been released.

Malik Faisal Akram, 44, was shot dead by an FBI SWAT team 10 hours into the stand-off, and all four hostages were released unharmed.https://t.co/LaWkJ4tmhB pic.twitter.com/yB39WDJnJU

— Sky News (@SkyNews) January 20, 2022
Speaking from inside the Congregation Beth Israel synagogue during the siege, Akram said he wanted to die a martyr and launched into expletive-laden ramblings in attempts to justify his actions. Officers from Counter Terrorism Policing North West are continuing to work with US authorities, as well as colleagues from other forces, GMP said in a statement.