Poland Offers Fighter Jets to U.S. in Plan to Aid Ukraine
Poland said Tuesday it would give all of its MiG-29 fighter jets to the U.S., potentially advancing an arrangement that would allow the warplanes to be passed along to Ukraine's military as it confronts invading Russian forces. Russia has warned that supporting Ukraine's air force would be seen in Moscow as participating in the conflict and open up suppliers to possible retaliation. It could also weaken Poland's own air force at a time of heightened danger in Eastern Europe.
The Polish Foreign Ministry announced in a statement that Poland was ready to deliver the jets to the U.S. Ramstein Air Base in Germany immediately and free of charge. "At the same time, Poland requests the United States to provide us with used aircraft with corresponding operational capabilities," it said. The Polish government also appealed to other owners of MIG-29 jets to follow suit.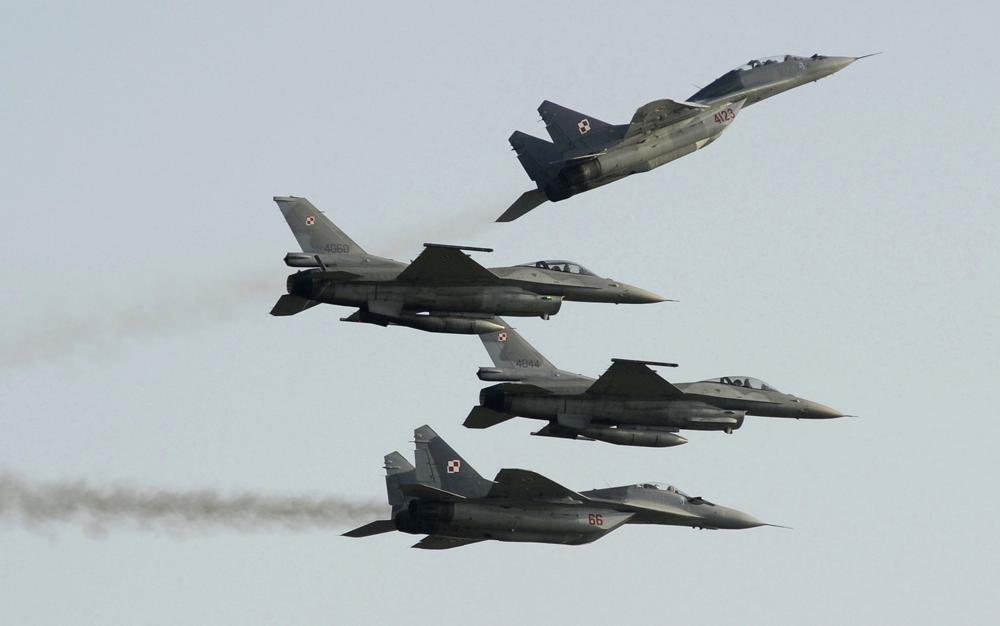 The United States did not immediately confirm the deal, although Western nations have been discussing possible ways to answer Ukraine's appeal for warplanes. The Biden administration has been looking at a proposal under which Poland would supply Ukraine with Soviet-era fighters and in turn receive American F-16s to make up for their loss. Ukrainian pilots are trained to fly Soviet-era fighter jets. Any such decision would be a morale booster for Ukraine as Russian attacks on its cities deepen the humanitarian catastrophe. But it also raises the risks of a wider war.
BREAKING:
🇵🇱Poland hands over all of its Mikoyan MiG-29 jet fighters to 🇺🇦Ukraine via 🇺🇸United States 🔥🔥🔥
Now we're talking!!

— Illia Ponomarenko 🇺🇦 (@IAPonomarenko) March 8, 2022
The Pentagon also had no immediate comment on Poland's announcement, and a senior U.S. diplomat expressed surprise to the Associated Press when asked. "To my knowledge, it wasn't pre-consulted with us that they plan to get these planes to us," said U.S. Undersecretary of State Victoria Nuland, who told lawmakers she learned of the proposal as she was driving to testify about the Ukraine crisis before the Senate Foreign Relations Committee.
⚡️ Poland to supply the U.S. with its entire stockpile of MIG-29 jets, free of charge.

The planes are then expected to be shipped to Ukraine.

The Polish government asked other NATO members to follow the country's example.

— The Kyiv Independent (@KyivIndependent) March 8, 2022
Senate Minority Leader Mitch McConnell said Tuesday that he believed the aid that Congress hopes to approve later this week for Ukraine will include loan guarantees to help NATO allies replenish their air forces after giving MiGs to Ukraine.
Amidst the tragedy and suffering Putin's war has wrought upon Ukraine, I am inspired by the Polish people's welcoming of Ukrainian refugees after seeing it firsthand. The U.S. and Poland will continue to work together to respond to Russia's aggression in Ukraine. pic.twitter.com/smL23Eho0e

— Secretary Antony Blinken (@SecBlinken) March 8, 2022