Plea Deal For Jan 6th Terrorist 'Baked Alaska' Collapses After He Claims He's Not Guilty
A right-wing "influencer" who livestreamed himself storming the U.S. Capitol on January 6th was set to plead guilty to a federal charge on Wednesday as part of a deal reached with federal prosecutors, but the deal fell apart after he declared himself innocent.
Better known as "Baked Alaska," Anthime Joseph Gionet was charged just one day after the Capitol attack and arrested in January 2021. He originally faced charges of entering or remaining on restricted grounds without lawful authority and disorderly conduct on Capitol grounds. He had originally agreed to plead guilty to one misdemeanor count, and would also admit he "willfully and knowingly paraded, demonstrated, and picketed" inside the Capitol. But the deal melted away at a hearing Wednesday when Judge Emmet G. Sullivan asked Gionet if he was pleading guilty because he was, in fact, guilty.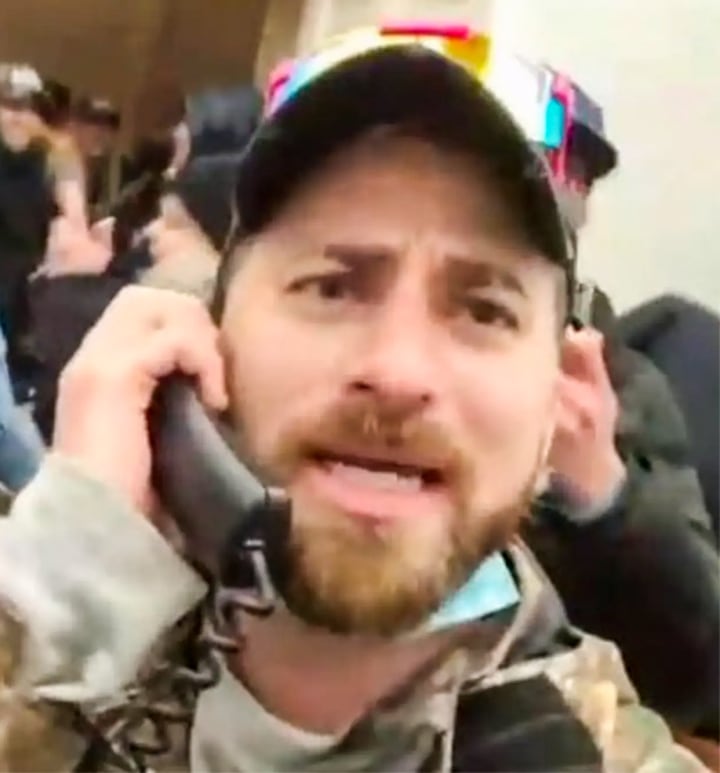 Instead, Gionet talked himself into getting a trial. "I wanted to go to trial, but the prosecutors if I [went] to trial, they would put a felony on me, so I think this is probably the better route," Gionet said. "I believe I'm innocent … but they're saying if I go to trial they're going to hit me with a felony."
Judge Sullivan: Why are you pleading guilty?

Baked: Bc prosecutors said they'd charge me with a felony.

Sullivan: Are you guilty?

Baked: I believe I'm innocent.

Sullivan: Let's pick a trial date!

— emptywheel (@emptywheel) May 11, 2022
Gionet had joined other Trump supporters as they breached the Capitol in support of Trump's efforts to overturn the results of the 2020 presidential election. In prior hearings, Judge Sullivan had strongly condemned the Capitol breach and asked rhetorically how many "law-abiding" Americans "morphed into terrorists" on January 6th.
One of the first things they tell you is that you can keep your mouth shut. And once you get a lawyer, the lawyer speaks for you. If you don't grasp these two concepts, you can f'k yourself. I guess baked Alaska is a moron

— Brian Wise (@BrianWi12260183) May 11, 2022
Judge Sullivan said he'd set a trial date for March 2023. "If Mr. Gionet wants to go to trial, he'll get a fair trial, like anyone and everyone else who has appeared before me, regardless of the charges," Sullivan said. "I'm not trying to trick you. … Don't plead guilty to please me."
Can't help but remember this hilarious self own after Baked Alaska just messed up his own plea deal in federal court pic.twitter.com/88I3a08Mju

— all concerned parents matter (@People4Words) May 11, 2022
Assistant U.S. Attorney Elizabeth Ann Aloi said they would hold the plea deal open for 60 days.