Pence's Chief of Staff Marc Short Met With Jan 6th Committee
Former Vice President Mike Pence's chief of staff, Marc Short, has answered questions from the House select committee investigating the Jan. 6 attack on the Capitol, two sources familiar with the deposition told ABC News.
Short's testimony was given last week, sources said. It was first reported by CNN.
Short has served as an aide to Pence in various roles since the former vice president served in Congress. It was reported in December that the committee had subpoenaed Short for his cooperation with the investigation.
BREAKING: Pence Chief of Staff Marc Short is cooperating with the 1/6 committee. More to come. I'm especially interested in whether he tells the committee about my scoop that Pence's staff had their badges deactivated the morning of the insurrection.

— Mueller, She Wrote (@MuellerSheWrote) December 6, 2021
Short, who was with Pence at the Capitol on January 6, 2021, participated in a "critical" White House meeting on January 4, 2021, and is seen as a potentially crucial witness in the committee's investigation as the panel pieces together the pressure campaign that Donald Trump and his allies waged to try to convince Pence not to certify the presidential election.
RAP Dir. @OliviaTroye discusses what questions she would like to see the Jan. 6 committee ask former Pence chief of staff Marc Short:

"What were the conversations between the Oval and the vice president's office in the days leading up to Jan. 6? What was the dynamic?" pic.twitter.com/baPZiN9ng2

— The Republican Accountability Project (@AccountableGOP) December 7, 2021
Short's decision to cooperate with the House Select Committee, rather than fight the subpoena issued to him like others in Trump's inner circle, is the latest reminder that the public remains unaware that several key players close to Trump are quietly cooperating with the January 6th investigation.
New via CNN: Former VP Pence chief of staff Marc Short testified before the Jan. 6 select committee in-person last Wednesday pursuant to a subpoena

— Hugo Lowell (@hugolowell) January 31, 2022
Trump has repeatedly sought to discredit the work of the Committee, urging his allies and aides not to comply. While some have obeyed his personal demands of them, others have chosen to avoid the same consequences as Steve Bannon, who is free on bond while awaiting trial in July for contempt of Congress charges.
"I think it's important to remind people Marc Short is a firsthand fact witness,"@jamiegangel on exclusive new reporting about key January 6 testimony from the chief of staff to former Vice President Mike Pence. pic.twitter.com/4DrmvQ6p8Y

— The Situation Room (@CNNSitRoom) February 1, 2022
In the six months since it was created, the select committee has interviewed more than 350 witnesses, received more than 300 substantive tips, and issued more than 50 subpoenas for phone and email records, Trump administration documents, witness testimony, and bank records, according to the committee's public disclosures and lawsuits filed by witnesses.
Jan 6 Committee Chair @BennieGThompson on next steps for the committee, after receiving 700+ pages of Trump White House documents: "We'll see if that information leads us to additional individuals to make requests." pic.twitter.com/r2YP5cfgeo

— Face The Nation (@FaceTheNation) January 23, 2022
As recently as this weekend, Trump was still blaming Pence, including in a written statement where he bluntly admitted had been trying to use Pence to overturn the election result. "He could have overturned the Election!" Trump said of Pence.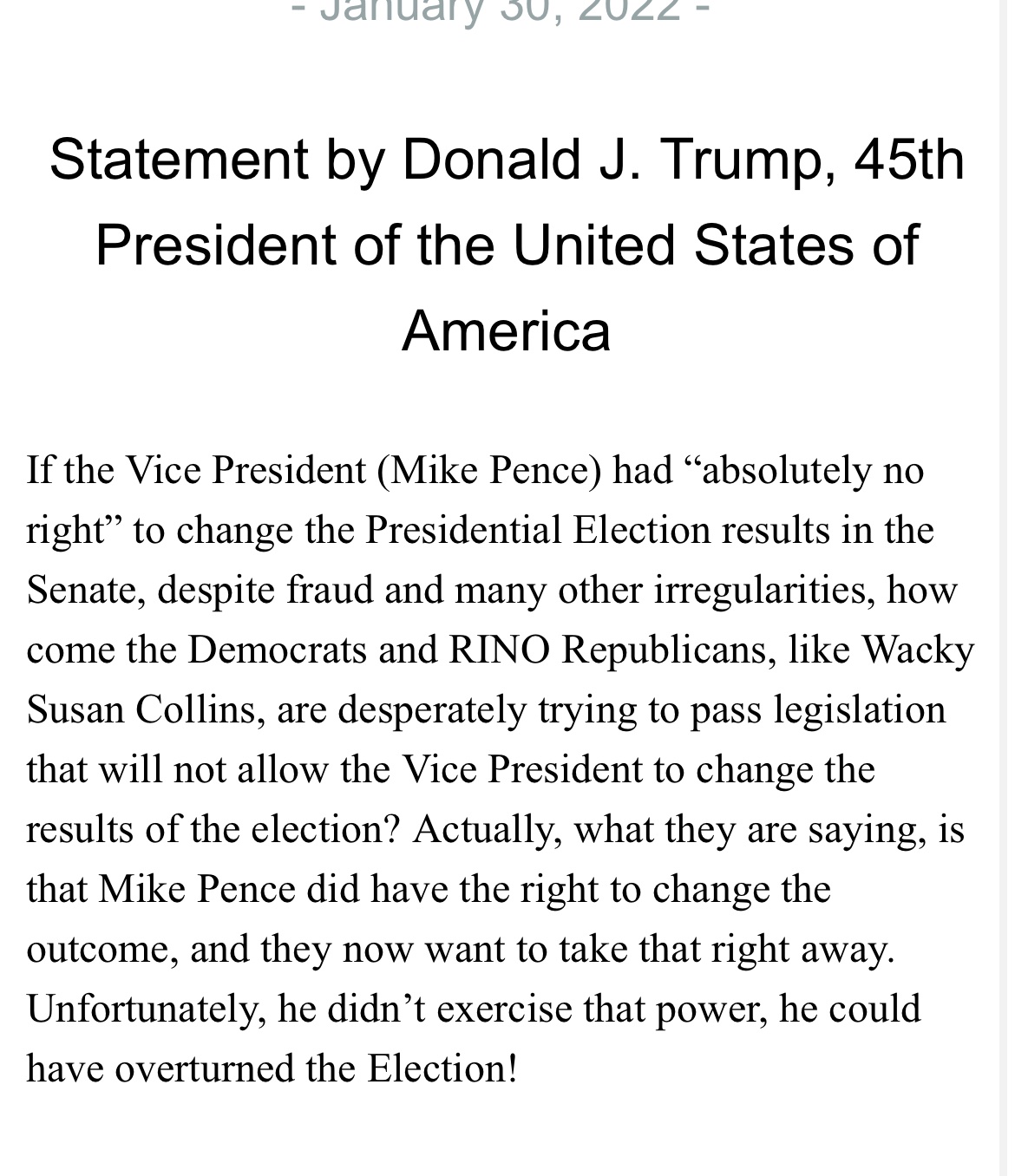 Trump supporters famously chanted "Hang Mike Pence!" as they marauded through the halls of the Capitol. Pence and his staff were inexplicably locked out of their offices, despite their security badges working that morning, and were forced to hide on a loading dock for a period of time during the riot.
Did you forget? They wanted to hang you. pic.twitter.com/eOuFHwg9VO

— JandrewX (@12B_Vet) January 31, 2022