Over 150K Ukrainians Flee Kyiv As Russian Military Rolls In
Terrified men, women, and children sought safety inside and underground amid a 39-hour curfew the Ukrainian government imposed to keep people off the streets as Russian troops closed in on Kyiv and skirmishes flared on its outskirts Saturday. Russia claims its assault on Ukraine is aimed only at military targets, but bridges, schools, and residential neighborhoods have been hit since the invasion began Thursday with air and missile strikes and Russian troops entering Ukraine from the north, east, and south. Ukraine's health minister reported Saturday that 198 people, including three children, had been killed and more than 1,000 others had been wounded during Europe's largest land war since World War II. It was unclear whether those figures included both military and civilian casualties.
Ukraine's leader vowed to continue battling an invasion by a much better-armed adversary. "We will fight for as long as needed to liberate our country," President Volodymyr Zelenskyy promised.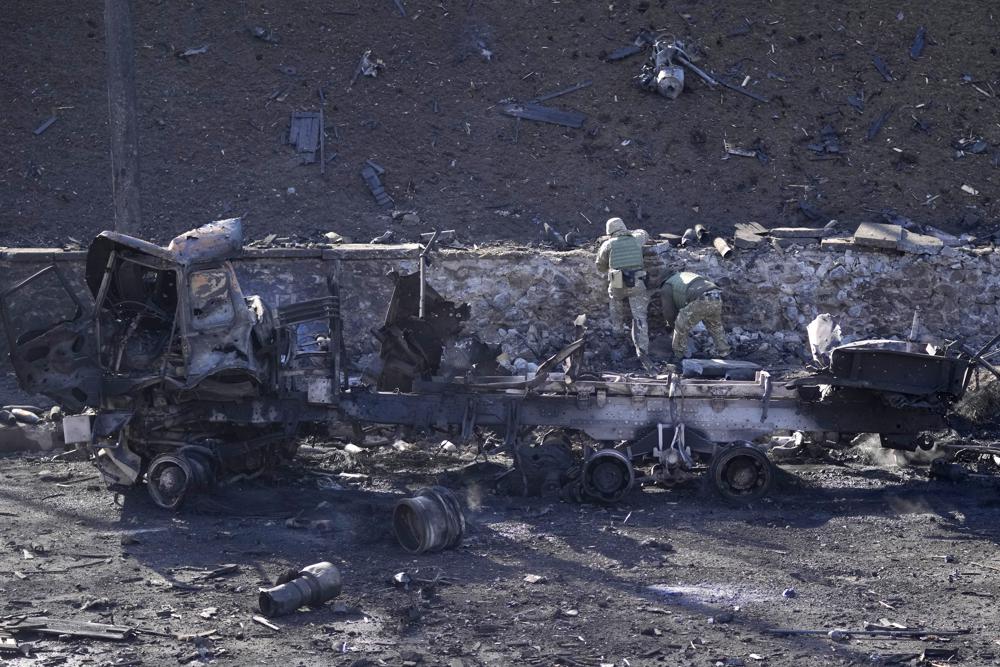 Zelenskyy also reiterated his openness to talks with Russia in a video message Saturday, saying he welcomed an offer from the leaders of Turkey and Azerbaijan to organize diplomatic efforts, which so far have faltered. The Kremlin gave a terse confirmation of a phone call between Russian President Vladimir Putin and Azerbaijani President Ilham Aliyev but gave no hint of restarting talks. A day earlier, Zelenskyy offered to negotiate a key Russian demand: abandoning ambitions of joining NATO.
President Volodymyr Zelenskiy said Kyiv remained under Ukrainian control as Russian forces renewed their assault, pounding the capital and other cities with artillery and cruise missiles https://t.co/qGfZN8huI2 pic.twitter.com/m5xHdrpBjp

— Reuters (@Reuters) February 26, 2022
In Kyiv, a missile struck a high-rise apartment building in the southwestern outskirts near one of the city's two passenger airports, leaving a jagged hole of ravaged apartments over several floors. A rescue worker said six civilians were injured.
If Russia stops fighting, there will be no war.

If Ukraine stops fighting, there will be no Ukraine.#UkraineUnderAttack #UkraineInvasion #UkraineWillResist #StandWithUkraine pic.twitter.com/v4Y9VU4ZFK

— Dr Neil Pender BM MSc FRCP 🏳️‍🌈 (@DrNeilPender) February 26, 2022
The United Nations said more than 150,000 Ukrainians had fled for Poland, Moldova, and other neighboring countries and warned the number could grow to 4 million if fighting escalates. To aid Ukraine's ability to hold out, the U.S. pledged an additional $350 million in military assistance to Ukraine on Saturday, including anti-tank weapons, body armor, and small arms. And Germany also said it would send missiles and anti-tank weapons to the besieged country.
Let me introduce you to Miss Ukraine Anastasiia Lenna. Ukraine has 36,000 women serving in the military. The most women of any military. #UkraineWar #UkraineUnderAttack pic.twitter.com/EvLF40GSWC

— Bob Ossowski (@backwoodsbob1) February 26, 2022
Putin hasn't disclosed his ultimate plans for Ukraine, but Western officials believe he is determined to overthrow Ukraine's government and replace it with a regime of his own, redrawing the map of Europe and reviving Moscow's Cold War-era influence.
NATO has activated its NATO Response Force, marking the first time the alliance has activated the potentially 40,000-person force for "a deterrence and defense" role, according to a NATO spokesperson. https://t.co/mSLyAPWJRI pic.twitter.com/nbrUWluu57

— ABC News (@ABC) February 26, 2022
[This is a continuing and developing story, please check back for updates]