Oregon Rep Called the 'Joe Manchin of the House' Ousted By Progressive
Seven-term incumbent Rep. Kurt Schrader, a Democratic centrist who was endorsed by President Joe Biden, has been ousted in the Oregon Democratic primary by progressive challenger Jamie McLeod-Skinner after the results were delayed more than a week by a ballot-printing issue.
McLeod-Skinner, an out lesbian and rancher, had the backing of the local Democratic parties in all four counties covered by the redrawn 5th Congressional District, which now leans a little less blue. In her campaign, McLeod-Skinner urged stronger action to combat climate change and complained that Schrader was too conservative. She also portrayed Schrader as a politician who had lost touch with his party's base and was in the pocket of large pharmaceutical companies on issues like prescription drug prices, voting for them over the needs of his constituents.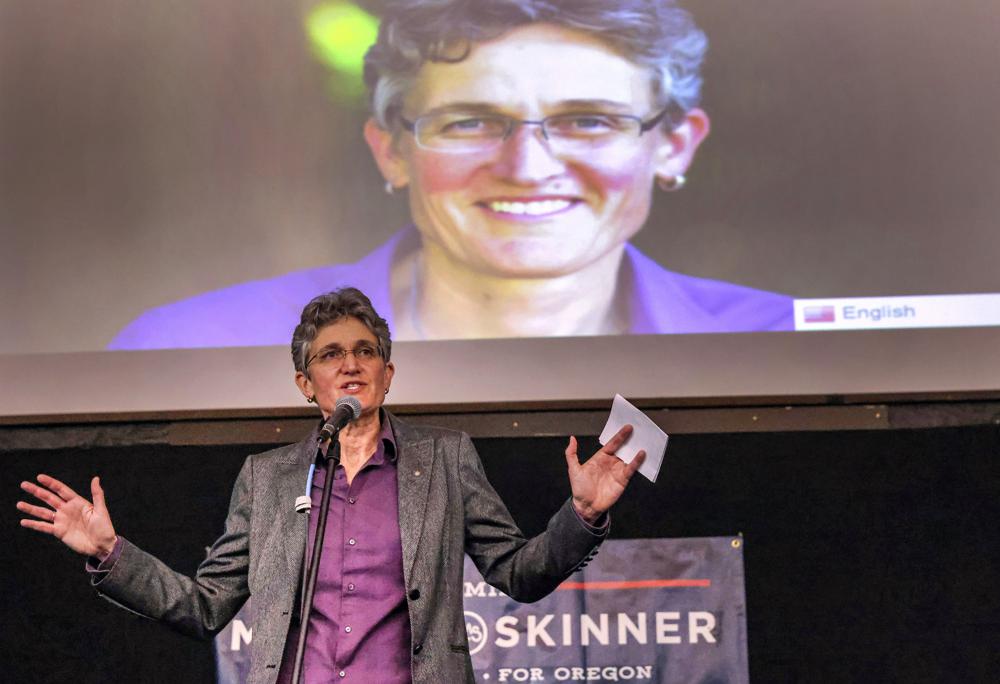 The vote count was slowed because tens of thousands of ballots were printed with blurry bar codes, making them unreadable by vote-counting machines. Workers in Clackamas County, the state's third-largest county, had to transfer votes by hand to fresh ballots so they could be tallied. That process continued Friday for other races yet to be called.
I am SO HAPPY to report that after long-delayed ballot counting, Jamie McLeod-Skinner has defeated Kurt Schrader in the #OR05 primary.@JamieforOregon won because she ran a true grassroots campaign.

She will be an *amazing* US House Rep.

Please RT & follow her! pic.twitter.com/rISUdenDXy

— Nick Knudsen 🇺🇸🇺🇦 (@NickKnudsenUS) May 27, 2022
McLeod-Skinner thanked Rep. Schrader for his years of service and said Oregon Democrats should see the contest's outcome as "an evaluation of our ideas and as a confirmation of our values."
I'm honored to be elected as Oregon's Democratic Nominee for Congress in OR-5.

From Sellwood to Sunriver, Oregonians never stopped believing we can protect our families, our climate and our civil rights.

Oregonians — this is your victory.

— Jamie McLeod-Skinner for Oregon (@JamieforOregon) May 27, 2022
"From Sellwood to Sunriver, Oregonians never stopped believing we can protect our families, our climate and our civil rights," she wrote. "Oregonians — this is your victory."
In retrospect, Oregon Dems' decision to place Bend in #OR05 (vs. #OR03, as in the initial plan) proved fateful, providing Jamie McLeod-Skinner's (D) margin of victory over Rep. Kurt Schrader (D).

FWIW, I think #OR05 would have landed in Toss Up no matter the primary outcome.

— Dave Wasserman (@Redistrict) May 26, 2022
Despite his endorsement, Schrader has voted against some of President Biden's priorities, including a money-saving plan to let Medicare negotiate the price it pays for prescription drugs. A year ago, he was one of only two members of his party to vote against a $1.9 trillion pandemic relief bill because, among several reasons, he did not support including an increase to the minimum wage in the package. He also referred to Donald Trump's second impeachment as "a public lynching."
Now that the race is called, let's talk about why so many folks in OR-05 not only supported @JamieforOregon over Kurt Schrader but also think she's a better bet to hold the seat in November. There's some important learnings nationally here.

— Leah Greenberg (@Leahgreenb) May 24, 2022