Onlookers Cheer As Trump's Name is Removed From 'Sinkhole of Corruption' Hotel in DC
Now that it's been sold to a group of investors, it was time to remove the sign from what was once the Old Post Office Building and then the Trump International Hotel in Washington, DC. The hotel enjoyed a few dubious years of operation as MAGA's Ground Zero near the White House, but had rapidly lost money and occupants in the wake of the January 6th insurrection and the end of Trump's one term, which coincided with his second impeachment trial.
And no one seemed to enjoy it more than Trump's biggest critics on Twitter, who couldn't resist commenting on the visuals representing what was also happening to the man himself at the same time. Except maybe the small crowd who assembled to cheer the removal of Trump's name from the sign.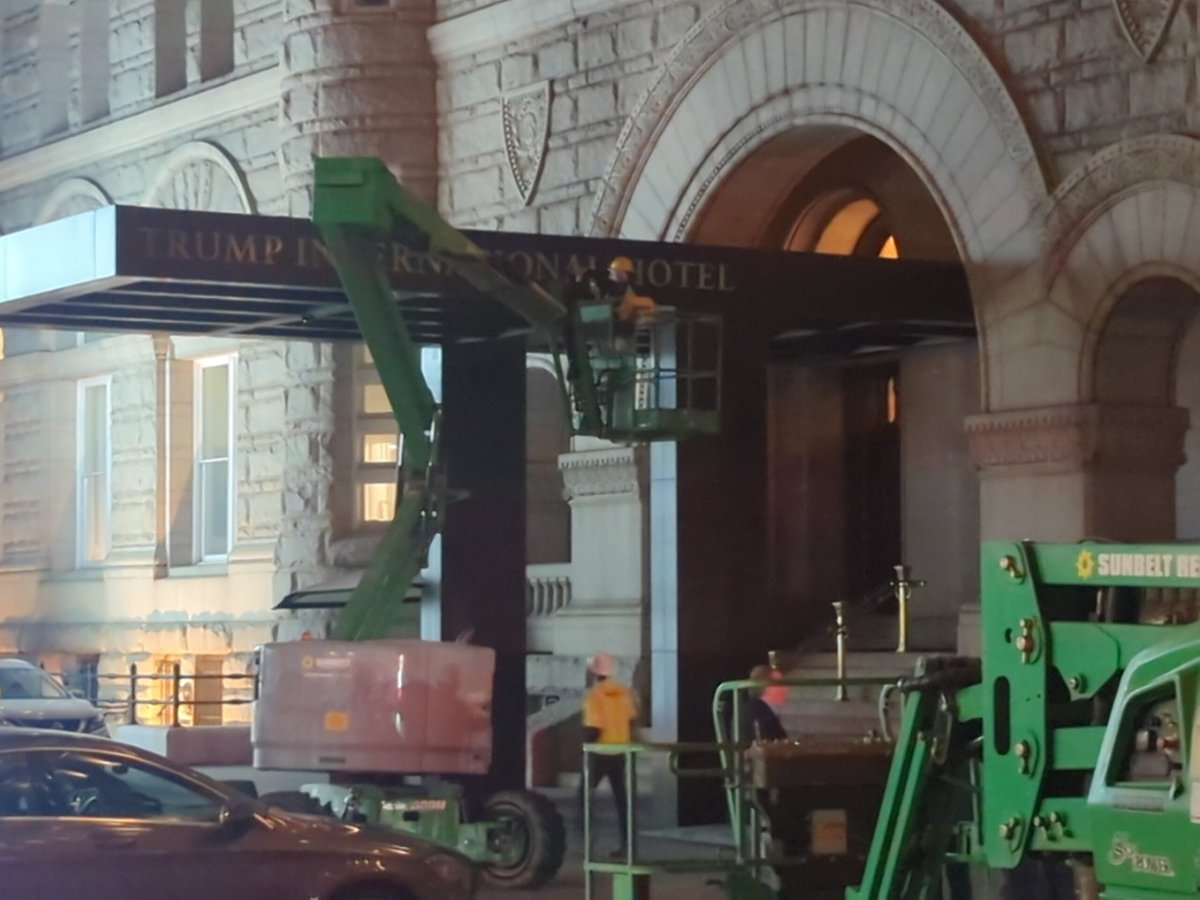 If everything Trump touches truly dies, then it was only a matter of time before the Trump DC was shuttered. As the New York Times first reported, "The Trump International Hotel in Washington is now officially out of business after the Trump family on Wednesday completed its sale to a Miami investor group, which plans to reopen it as a Waldorf Astoria."
Here is a statement from Trump Org. Statement does not include sales price. But I was told again today it was $375 million. pic.twitter.com/FyJuBT4THP

— Eric Lipton (@EricLiptonNYT) May 11, 2022
Live from former Trump International Hotel in DC. Sign comes down. Prep work under way pic.twitter.com/yGR2y3LZnw

— Eric Lipton (@EricLiptonNYT) May 12, 2022
According to the Times, hotel industry executives have said the DC hotel "underperformed" compared with other luxury hotels in the city, particularly since Trump left office, in part because some companies and travelers were reluctant to book rooms or hold events at the hotel given the controversies surrounding Mr. Trump," the newspaper reported. "Those factors most likely contributed to the decision to sell the lease, they said." But Trump still made money on the sale.
The just-shuttered Trump Hotel DC by the numbers—

💰 $73 million: how much money the hotel lost

💰$173 million: Forbes' estimate of the hotel's value

💰$370 million: what the hotel reportedly sold for

💰 $100 million: Trumps' profithttps://t.co/7EtskwEdV2

— Zach Everson (@Z_Everson) May 11, 2022
Twitter critics couldn't help but enjoy watching another Trump project fail.
There were cheers from onlookers yesterday as construction workers used a cherry picker to remove the "Trump International Hotel" sign in DC – for good.
The ethics watchdog org CREW said: "The Trump Hotel in DC is no more. Good riddance to a sinkhole of corruption."

— Duty To Warn 🔉 (@duty2warn) May 12, 2022
The Trump Hotel in DC is no more. Good riddance to a sinkhole of corruption.

— Citizens for Ethics (@CREWcrew) May 12, 2022
No need for Trump to have a hotel in DC anymore now that there's no illegal and unconstitutional foreign emoluments for him to collect.

As Trump's own political adviser explained, the hotel was "America's lobby of corruption." It was "grifters central." https://t.co/NTqMHAt4uX

— Keith Boykin (@keithboykin) May 12, 2022