Next Up in the Capitol Riot Trials: The Ex-NYPD Officer Who Assaulted Metro Police
Body camera video captured a "rage-filled" retired police officer attacking one of the outnumbered police officers trying to hold off a mob of rioters who stormed the U.S. Capitol, a federal prosecutor told jurors Tuesday as the most recent trial in connection with the January 6th insurrection began.
Former New York City police officer Thomas Webster claims he acted in self-defense after a Metropolitan Police Department officer got in the initial punch. Webster's defense attorney said another video from a different angle shows that Noah Rathbun, the officer whom Webster is charged with assaulting with the flag pole, struck first. Defense attorney James Monroe accused Rathbun of using excessive force and provoking Webster by punching him in the face. "In his (Webster's) mind, this is a protest. He's not taking over any Capitol," Monroe said. "He's there to have his voice heard."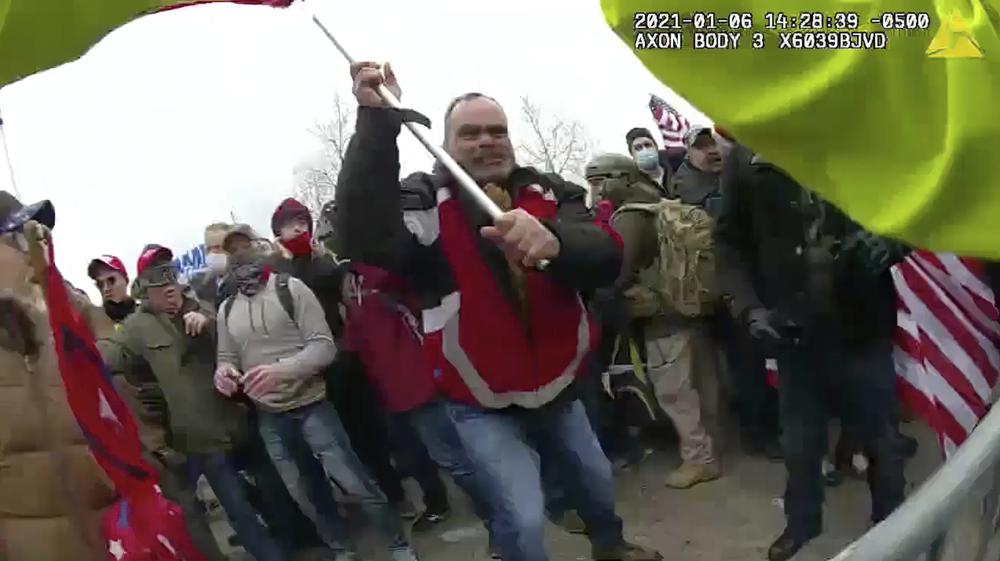 Webster brought a gun when he traveled alone to Washington from his home in Florida, New York, a village in Orange County about 70 miles northwest of New York City. He wore his NYPD-issued bulletproof vest but says he left the pistol in his hotel room when he headed to the January 6th rally where Trump spoke. He now faces six counts, including assaulting, resisting, or impeding an officer using a dangerous weapon. He isn't accused of entering the Capitol on January 6th.
Story to come soon, but cross-examination got heated at times as Thomas Webster's attorney pressed Det. Lauderdale on whether MPD Officer Noah Rathbun instigated the conflict w/ Webster. Rathbun expected to be on the stand for a while tomorrow.

— Jordan Fischer (@JordanOnRecord) April 26, 2022
Jurors saw both videos at the start of Webster's trial, the first among dozens of cases in which a defendant is charged with assaulting police at the Capitol on January 6, 2021. Webster shoved a bike rack at Rathbun before swinging the flagpole at the officer in a downward chopping motion, striking a metal barricade in front of the officer. After Rathbun grabbed the broken pole and retreated, Webster "hunkered down," charged at the officer, and tackled him to the ground, where Rathbun began to choke from the chin strap on his gas mask, Assistant U.S. Attorney Hava Mirell said. She also showed jurors a photo of Webster holding a U.S. Marine Corps flag on a metal pole in front of the Washington monument before the riot erupted.
Hello from the DC federal courthouse, where a jury trial is expected to kick off today for Jan. 6 defendant Thomas Webster, charged with assaulting police on the Capitol grounds. Per filings, this could be an early test of how a self-defense claim plays out. pic.twitter.com/gxnxqrx7YN

— Zoe Tillman (@ZoeTillman) April 26, 2022
More than 780 people have been charged with riot-related federal crimes. The Justice Department says over 245 of them have been charged with assaulting or impeding law enforcement. More than 250 riot defendants have pleaded guilty, mostly to nonviolent misdemeanors.