MSNBC'S Malcolm Nance Has Joined the Fight in Ukraine
https://twitter.com/WUTangKids/status/1516195994911793152
Malcolm Nance, the author and former military intelligence analyst who often appears on MSNBC, surprised his Twitter followers on Monday with an appearance on "The Reid Out" where he told host Joy Reid he was in a "secure location"–in Ukraine.
Nance, dressed in military fatigues and holding a rifle, said he joined Ukraine's international legion about a month ago to offer his "skills" and help fend off what he called Russia's "war of extermination." Nance said he had friends in the Ukrainian army from the Donetsk region — part of the Donbas, where Russia's military is now focusing its campaign — writing that they were under siege and did not expect to survive. "The more I saw of the war going on, the more I thought, 'I'm done talking. All right? It's time to take action here,'" Nance told Reid.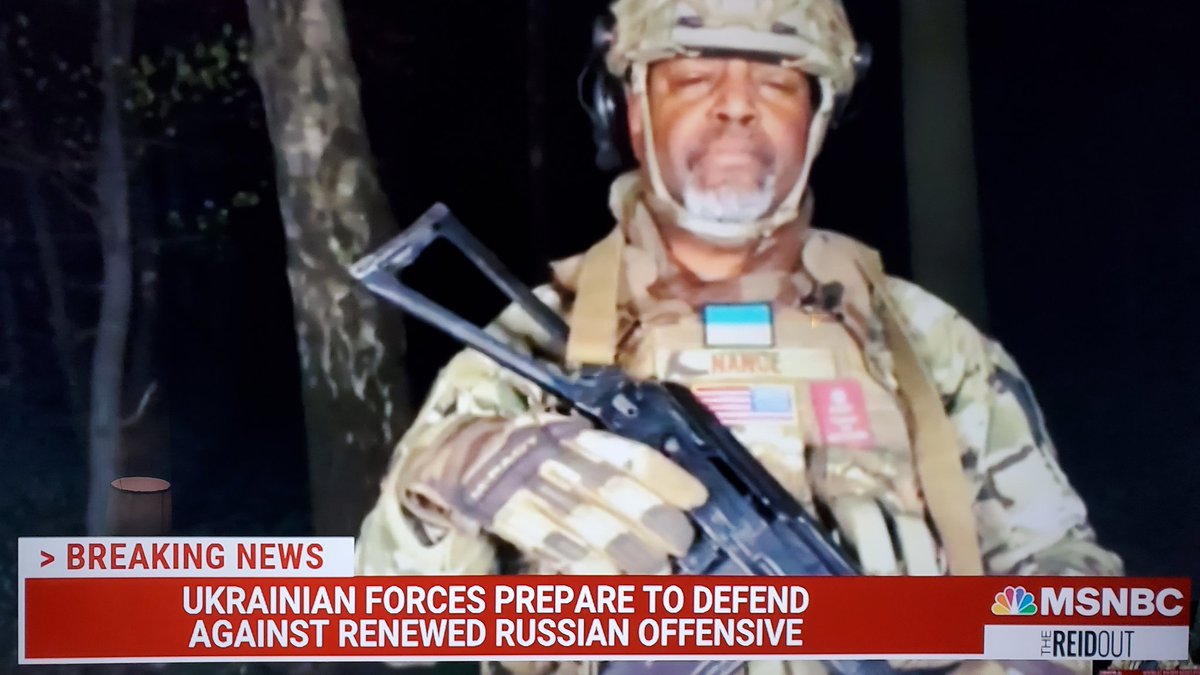 During his interview with Reid, Nance called on the United States to "up the ante" in terms of military aid to counter Russia's long-range artillery, which is described as Moscow's one major advantage, and to protect civilians. In a message to President Joe Biden, he said the U.S. should provide "counterbattery long-range artillery" and multiple-launch rocket systems.
Nance: The more I saw of the war going on, the more I thought I'm done talking… So about a month ago I joined the international legion here in Ukraine… pic.twitter.com/zviTHUm2a0

— Acyn (@Acyn) April 18, 2022
Nance is now one of the thousands of foreign volunteers from countries around the world who have signed up to join Ukraine in its fight against Russian invaders, spurring the Kremlin to issue a dire threat against the members of the international legion. But Nance dismissed the notion that Russian forces might go out of their way to target him because he is black and from the United States. "The war being waged here isn't being waged against everybody," he told Joy Reid. "If we fail here, the Russians, they're here to wipe democracy out in this country," Nance continued, noting that it could cascade to other countries. "This battle is here," he added. "It's going to be fought now, and we're going to win it."
Malcolm Nance is more man than any chickenhawk Republican. With or without their nard-tanning apparatus pic.twitter.com/NTRRldp5n9

— flexghost. Героям слава. (@flexghost1) April 19, 2022
Nance's Twitter fans seemed to all have very similar reactions to seeing him reporting from Ukraine.
Holy shit, Malcolm Nance! pic.twitter.com/wkRFEainqI

— Ron Filipkowski 🇺🇦 (@RonFilipkowski) April 18, 2022
REPRESENT MALCOLM NANCE!!!! THIS is what patriotism looks like, #GOPCowards

Damn, I just love @MalcolmNance 👏👏👏 https://t.co/PazPheeYwA

— Tara Dublin 🇺🇦🌻 (@taradublinrocks) April 19, 2022