More Members Of Congress Join Insurrection Lawsuit Against Trump
The NAACP's civil rights lawsuit against Donald Trump and the insurrectionists he encouraged to storm the Capitol on January 6th is expanding to include new plaintiffs, including more members of Congress.
The lawsuit invokes the 1871 Ku Klux Klan Act to claim that Trump conspired with Rudy Giuliani and other close advisors to deprive the Americans who elected President Joe Biden of their civil rights. Trump and his allies repeatedly spread conspiracy theories that the election was stolen, which was a key motivator for far-right groups to plan their invasion of the Capitol, according to the insurrectionists themselves in their own court testimonies.
Lawyers for the NAACP, which brought the suit early this year on behalf of Rep. Bennie Thompson of Mississippi, filed an amended complaint on Wednesday adding 10 new plaintiffs. Many legal experts have suggested that the suit constitutes a serious threat to Trump, who may be dragged into discovery for years as attorneys attempt to ascertain the exact nature of his role in the riots.
The expansion of the lawsuit comes as Trump's legal problems grow even as his remaining supporters attempt to move on from the January 6th insurrection. Two Capitol Police officers filed a federal lawsuit against Trump in late March over injuries stemming from their service at the U.S. Capitol that day. The two officers, both veterans of the Capitol Police for over a decade, claim Trump "inflamed, encouraged, incited, directed, and aided and abetted" the mob that attacked the Capitol and caused both men's injuries.
New: 10 House members who were in the gallery January 6 have joined lawsuit (first filed by Rep @BennieGThompson & @NAACP) against Trump and Giuliani, accusing them of conspiring with extremist groups the Proud Boys and Oath Keepers to incite the insurrection at the Capitol.

— Jim Sciutto (@jimsciutto) April 7, 2021
The amended lawsuit now details the personal stories of each member, describing how they narrowly escaped the mob, and how some still have nightmares and anxiety months later.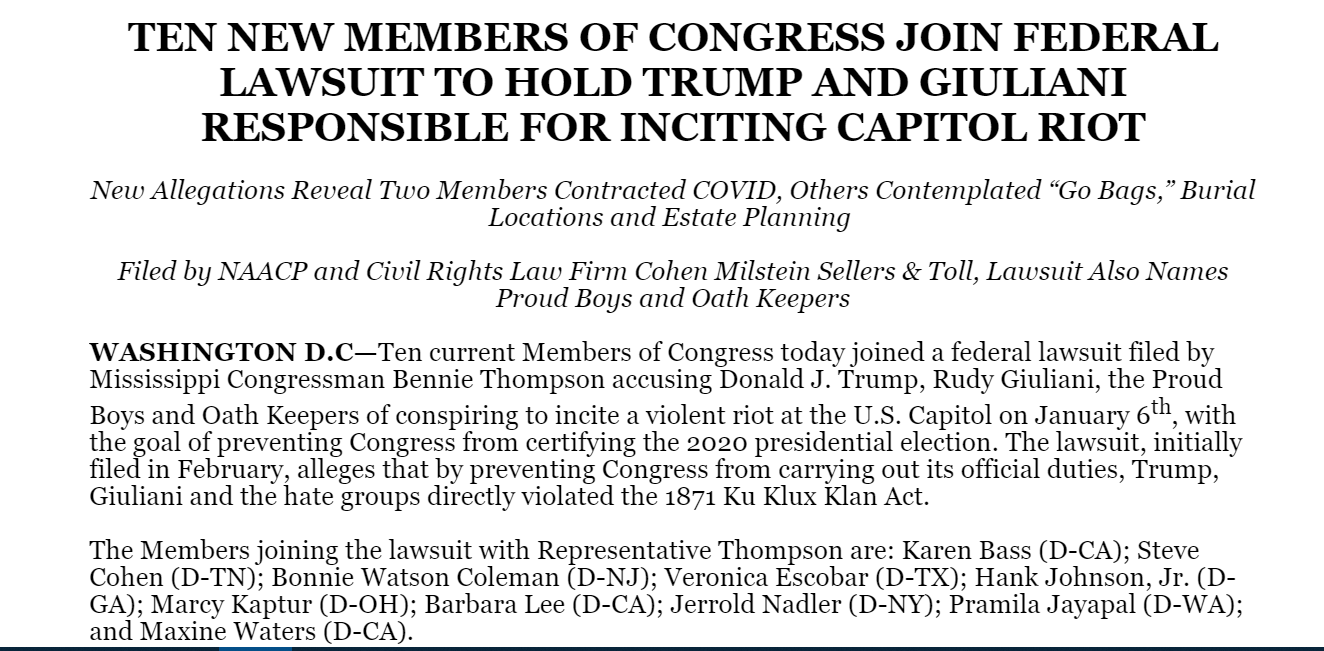 One passage from Rep. Steve Cohen reads: "As I sat in my office on January 6th with rioters roaming the hallways, I feared for my life and thought I was going to die. This invasion was a direct result of Donald Trump's rhetoric and words. His calls to gather in Washington on January 6th and his message to 'be strong' thwarted the functioning of our Constitution." Cohen reveals in the lawsuit that he escaped to his office near the Capitol when the mob invaded it on January 6, sitting with the lights turned off and a baseball bat in his hand for protection for two to three hours."
I send my condolences to the families of #CapitolPolice Officer William Evans, and to the officer injured, due to their heroic acts to protect our Nation. I, along with Members of Congress, will do a thorough investigation to find the cause of this unfortunate incident.

— Bennie G. Thompson (@BennieGThompson) April 2, 2021