Kim Potter Sentenced to 2 Years For Shooting Death of Daunte Wright
The former suburban Minneapolis police officer who said she confused her handgun for her Taser when she fatally shot Daunte Wright, was sentenced Friday to two years in prison.
Kim Potter was convicted in December of first- and second-degree manslaughter in the April 11 killing of Wright, a 20-year-old Black motorist. She was sentenced only on the more serious charge in accordance with state law. Wright's family immediately denounced the sentence as too lenient and accused the judge of giving more consideration to the white officer than the Black victim.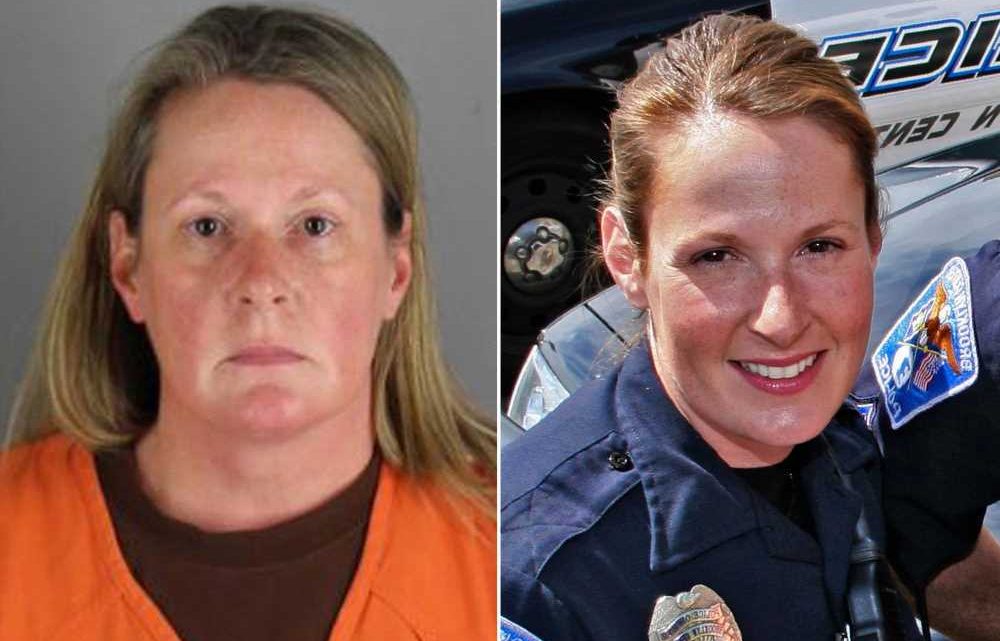 Daunte Wright was killed after officers pulled him over for having expired license tags and an air freshener hanging from his rearview mirror. Civil rights advocates complain that laws against hanging objects from rearview mirrors have been used as a pretext for stopping Black motorists. Evidence at Potter's trial showed officers learned he had an outstanding warrant for a weapons possession charge and they tried to arrest him when he pulled away. Video showed Potter shouted several times that she was going to use her Taser on Wright, but she had her gun in her hand and fired one shot into his chest.
Kim Potter, a white police officer, was just sentenced to less than two years for killing Daunte Wright.

This is the same system that sentenced Crystal Mason, a Black mother of three, to five years for voting when she didn't realize a past felony conviction made her ineligible.

— Robert Reich (@RBReich) February 18, 2022
The shooting happened as Derek Chauvin was on trial in Minneapolis on murder charges in George Floyd's killing, and sparked several days of demonstrations outside the Brooklyn Center police station marked by tear gas and clashes between protesters and police. Coincidentally, Potter and Chauvin were convicted in the same courtroom.
Daunte Wright's mother, Katie, reacts to the verdict sentencing Kim Potter to 24 months for the killing of her son: "Today, the justice system murdered him all over again." https://t.co/6Ojg4lr9sl pic.twitter.com/7yaBadyjhq

— ABC News (@ABC) February 18, 2022
Speaking before the sentence was imposed, Daunte's mother, Katie Wright, said she could never forgive Potter and that she would refer to her only as "the defendant" because Potter only referred to her son as "the driver" at trial. After Potter's sentencing, Wright told the press, "Today the justice system murdered him all over again." She also accused the judge of being taken in by "white woman's tears" after Potter cried during her pre-sentencing statement. Wright said that Potter "murdered my son," adding, "She never once said his name. And for that I'll never be able to forgive you. And I'll never be able to forgive you for what you've stolen from us," said Wright.
Daunte Wright's brother, Damik Bryant: 'I cannot express how painful it was for our family to see the defendant smiling in her mugshot immediately after being convicted of killing my brother' pic.twitter.com/jSf4jhKbW2

— NowThis (@nowthisnews) February 18, 2022
Potter offered an apology to Wright's family, then spoke directly to his mother: "Katie, I understand a mother's love. I'm sorry I broke your heart … my heart is broken and devastated for all of you."
IS SHE REALLY CRYING? DO YOU SEE ANY TEARS?

On Friday, Kim Potter testified at her own trial for the murder of Daunte Wright, saying that she's 'sorry it happened'

Read more: https://t.co/EAkeXXXZW9 pic.twitter.com/uFg59kWiyF 05

— Tomthunkit™ (@TomthunkitsMind) February 18, 2022
Wright family attorney Ben Crump said the family was stunned by the sentence, saying they didn't understand why such consideration was given to a white officer in the killing of a young Black man when a Black officer, Mohamed Noor, got a longer sentence for the 2017 killing of a white woman, Justine Ruszczyk Damond.
We are extremely disappointed that there was not a greater level of accountability for the unjust killing of Daunte Wright! We will continue to fight for equal justice in Daunte's name! #TwoAmericas pic.twitter.com/3mFQBaVmEj

— Ben Crump (@AttorneyCrump) February 18, 2022
"What we see today is the legal system in Black and white," Crump said.