Ketanji Brown Jackson's Path to Confirmation Seems Clear Despite Rough Treatment From Senate Republicans During Hearings
Judge Ketanji Brown Jackson faced a tough and sometimes angry barrage of Republican questioning Wednesday about her sentencing of criminal defendants, as her history-making bid to join the Supreme Court entered its second day. In more than 12 hours of testimony on Tuesday, and long into the day on Wednesday, GOP senators aggressively questioned the federal judge over her rulings on specific cases and attack her "motivations" for pursuing a legal career.
While Democrats kept their comments and questions relevant, mostly sticking to Judge Jackson's interpretations of the Constitution and her successful track record of nearly a decade on the bench, Republicans used their time to hammer the former clerk to retiring Justice Stephen Breyer on the sentences she has handed down to child pornography offenders, her legal advocacy on behalf of terror suspects at Guantanamo Bay, her thoughts on critical race theory, and even her religious views.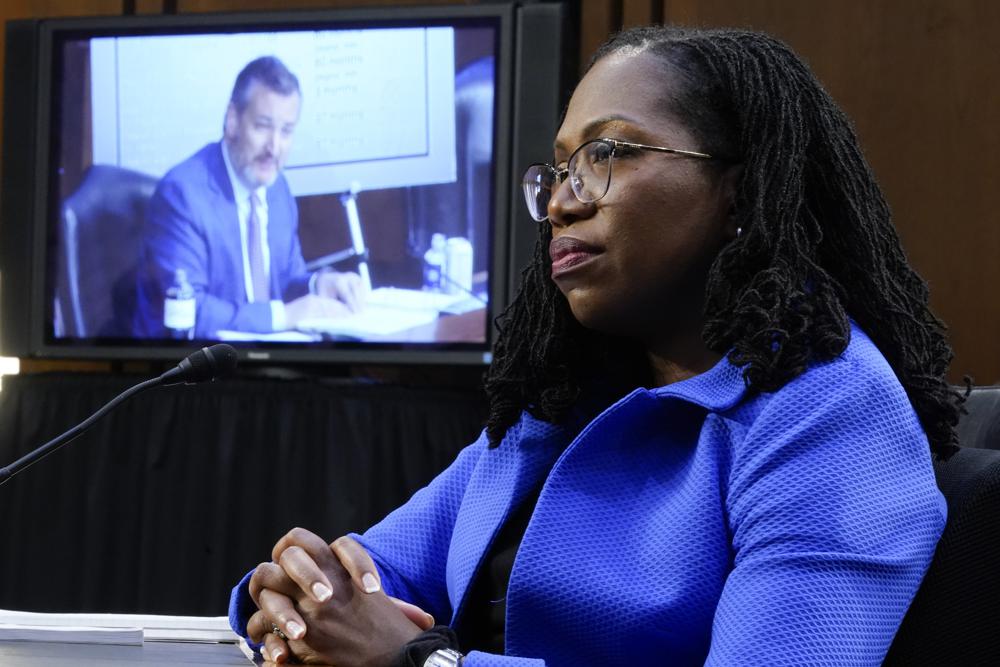 Judge Jackson declared she would rule "without any agendas" as the high court's first Black female justice, rejecting Republican efforts to paint her as soft on crime in her decade on the federal bench. Democrats defended her and heralded the historic nature of her nomination. "America is ready for the Supreme Court glass ceiling to shatter," Sen. Dick Durbin, the chairman of the Senate Judiciary Committee, said in Jackson's second and last day answering questions at her confirmation hearings.
Love how Ketanji's hubby keeps crying. pic.twitter.com/325HWQHOdl

— Renee (@PettyLupone) March 21, 2022
Judge Jackson certainly held her own, even when Sen. Lindsey Graham (R-SC) seemed to take over the proceedings to challenge her on her child pornography rulings, storming out for the second day in a row after exhibiting erratic behavior while seemingly using QAnon conspiracy theories in his questions.
"Senator, I'm not sure, I don't understand the context of the question" — Judge Jackson to Lindsey Graham as he tries to craft another clip for Hannity by whining about Kavanaugh

"Senator, she's had nothing to do with the Kavanaugh hearing," Durbin interjects pic.twitter.com/BFeeNJHWFe

— Aaron Rupar (@atrupar) March 23, 2022
Yes, Yes he did.

Here's Lindsey Graham ONCE AGAIN storming out of the room, this time after Dick Durbin calls him "reprehensible" over his browbeating Q&A session with Ketanji Brown Jackson. https://t.co/KqYvncbpRC pic.twitter.com/tn26lRLRm1

— Justin Baragona (@justinbaragona) March 23, 2022
Sen. Josh Hawley (R-MO) also spent what seemed like an unnecessary amount of time on Judge Jackson's child pornography ruling, repeatedly using the phrase "pre-pubescent" to describe children, which also pops up often in the QAnon conspiracies regarding the sex trafficking of minors.
#KBJ just made Josh Hawley's disgusting and untrue soft on child predators smear backfire on him. pic.twitter.com/DkIuTTNpsB

— Sarah Reese Jones (@PoliticusSarah) March 22, 2022
Tempers rose at Wednesday's hearing as the day wore on, with Durbin slamming down his gavel at one point when Cruz refused to yield after his time expired while he was grilling Judge Jackson on the specifics of cases. "You can bang it as long as you want," Cruz shouted, saying that he just wanted Jackson to answer his question. "At some point, you have to follow the rules," Sen. Durbin snapped at Cruz.
The constant interruption as Judge Ketanji Brown Jackson is attempting to answer and explain is CLASSIC disrespect for women.

— Katie S. Phang (@KatiePhang) March 23, 2022
Asked about abortion, Judge Jackson readily agreed with comments that conservative Justices Amy Coney Barrett and Brett Kavanaugh made about two landmark cases when they were up for confirmation. "Roe and Casey are the settled law of the Supreme Court concerning the right to terminate a woman's pregnancy. They have established a framework that the court has reaffirmed," Judge Jackson said.
Josh Hawley also seems to really be projecting his deep desire to be punished by a Black woman by asking #KetanjiBrownJackson why she doesn't punish bad boys harder #ConfirmationHearings pic.twitter.com/jT4ZolnH8L

— Tara Dublin 🇺🇦🌻 (@taradublinrocks) March 23, 2022
But despite her bumpy path, Judge Jackson's confirmation is all but sealed thanks to the Democratic Senate majority, which includes Vice President Kamala Harris.  Judge Jackson would be the third Black justice, after Thurgood Marshall and Clarence Thomas, and the sixth woman. Her confirmation would maintain the current 6-3 conservative majority on the court.
'I've answered your question' — Judge Ketanji Brown Jackson has had it with Sen. Josh Hawley pic.twitter.com/JrMKeGA59D

— NowThis (@nowthisnews) March 23, 2022