Ketanji Brown Jackson Pushes Back Against GOP Criticisms of Her Record During Testy First Day of SCOTUS Hearings
Supreme Court nominee Ketanji Brown Jackson calmly but fiercely defended her record as a federal judge on Tuesday as she pushed back against Republican assertions that she was "soft on crime" and declared she would rule as an "independent jurist" if confirmed as the first Black woman on the high court. Tuesday's hearing was the first of two days of questioning. On Thursday, the committee will hear from legal experts before an eventual vote to move her nomination to the Senate floor.
Republicans aggressively questioned Judge Jackson on the sentences she has handed down to sex offenders in her nine years as a judge, her advocacy on behalf of terror suspects at Guantanamo Bay, her thoughts on critical race theory, and even her religious views. At one point, Sen. Ted Cruz of Texas read from children's books that he said are taught at her teenage daughter's school despite promising no "antics" during Monday's opening statements.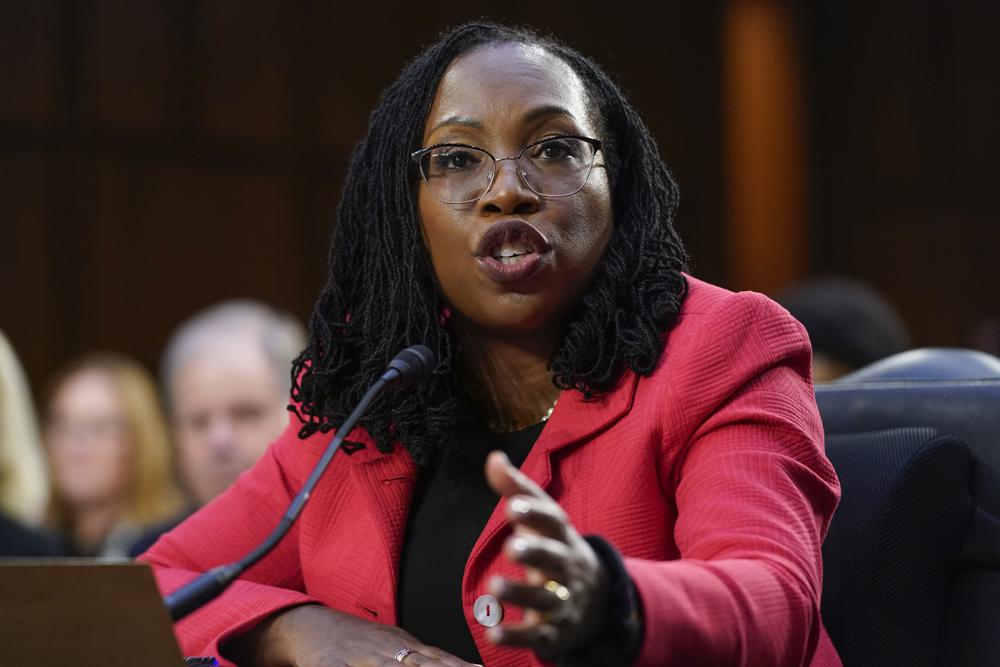 In what Judiciary Committee Chairman Dick Durbin (D-IL) described as "a trial by ordeal," Judge Jackson attempted to answer Senate Republicans' concerns while also highlighting the empathetic style that she has frequently described when she is handing down sentences. The committee's Republicans, several of whom have their eyes on the presidency, tried to brand her, and Democrats in general, as soft on crime, an emerging theme in GOP midterm election campaigns.
Is Josh Hawley going to email Merrick Garland for an update on the Matt Gaetz case… or is Hawley "soft" on crime?
?????

— Elie Mystal (@ElieNYC) March 22, 2022
Responding to Republicans who have questioned whether she is too liberal in her judicial philosophy, Judge Jackson said she tries to "understand what the people who created this law intended." She said she relies on the words of statutes but also looks to history and practice when the meaning may not be clear. Her nomination also "supports public confidence in the judiciary," Judge Jackson said.
Josh Hawley said, Biden's SCOTUS nominee is "soft on sex crimes".
Josh Hawley didn't care that 45 (Epstein regular) had to get his AG to block a DNA release because it would tie him to a sex crime.
Josh Hawley doesn't really care about sex crimes, does he?🙄

— Brown Eyed Susan🇺🇦 (@smc429) March 21, 2022
Sen. Lindsey Graham (R-SC), who voted for Judge Jackson's confirmation as an appeals court judge last year but has openly expressed his frustration after President Biden picked her over South Carolina Judge Michelle Childs. Graham asked Judge Jackson about her religion, and how often she goes to church, in angry comments referring back to what he said was unfair criticism of Justice Amy Coney Barrett's Catholicism ahead of her 2020 confirmation.
Sen. Lindsey Graham (R-SC) used his time to talk about a lot of people who weren't Judge Ketanji Brown Jackson. pic.twitter.com/eetXgCAy0z

— The Recount (@therecount) March 22, 2022
Conversely, Democrats have been full of praise for President Joe Biden's historic Supreme Court nominee, noting that she would not only be the first Black woman but also the first public defender on the court, and first with experience representing indigent criminal defendants since Justice Thurgood Marshall.
"As someone who has had family members on patrol and in the line of fire, I care deeply about public safety." Supreme Court nominee Ketanji Brown Jackson responds to Sen. Patrick Leahy (D-VT) about accusations that she is "soft on crime" because she worked as a public defender. pic.twitter.com/F7LPMJ12pU

— CNN (@CNN) March 22, 2022
Asked about abortion, Judge Jackson readily agreed with comments that Justices Barrett and Brett Kavanaugh made when they were up for confirmation. "Roe and Casey are the settled law of the Supreme Court concerning the right to terminate a woman's pregnancy. They have established a framework that the court has reaffirmed," Judge Jackson said.
One more time for the people in the back. Roe and Casey are settled👏🏾 law 👏🏾: pic.twitter.com/MjhWBJ1RnE

— NARAL (@NARAL) March 22, 2022
Wednesday will see another full day of questioning, and the committee will hear from legal experts before an eventual vote to move her nomination to the Senate floor on Thursday.
Ted Cruz on Monday: "There won't be any antics" in these #SCOTUSHearings

Also Ted Cruz: https://t.co/xZ1m9jwNas

— Tara Dublin 🇺🇦🌻 (@taradublinrocks) March 22, 2022