Jury Selected in Federal Trial For Three Officers Involved in George Floyd Killing
A jury was picked Thursday for the federal trial of three Minneapolis police officers charged in George Floyd's killing, with the judge stressing repeatedly that fellow Officer Derek Chauvin's conviction on state murder charges and guilty plea to a federal civil rights violation should not influence the proceedings.
Legal experts say the federal trial will be more complicated than the state trial, scheduled for June 13, because prosecutors in this case have the difficult task of proving the officers willfully violated Floyd's constitutional rights — unreasonably seizing him and depriving him of liberty without due process.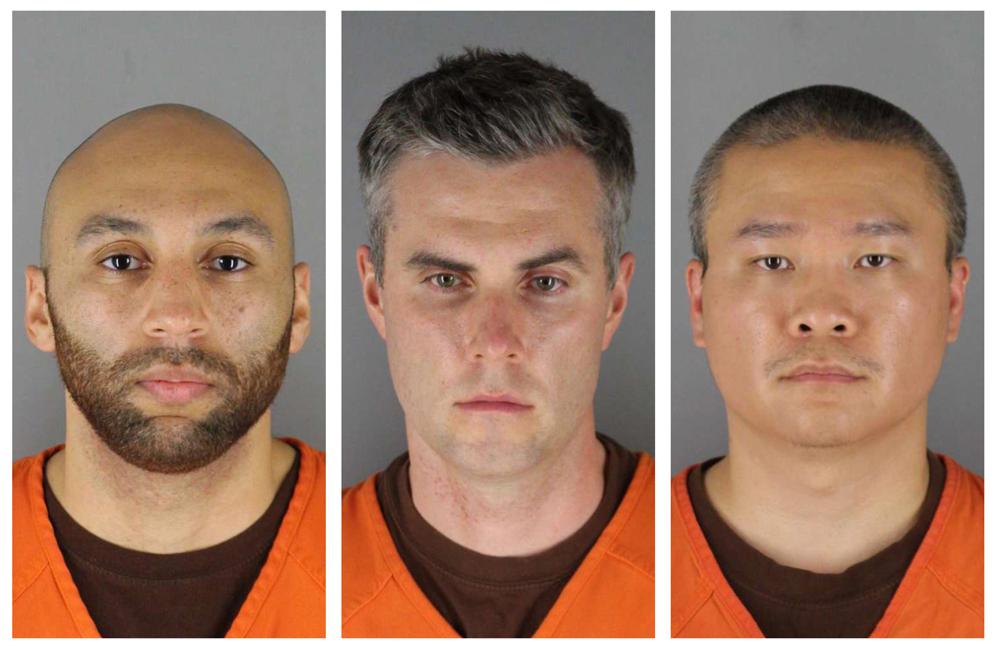 J. Kueng, Thomas Lane, and Tou Thao are broadly charged with depriving Floyd of his civil rights while acting under government authority as Chauvin used his knee to pin the Black man to the street. Separately, they're charged in state court with aiding and abetting both murder and manslaughter in the videotaped killing that triggered worldwide protests, violence, and a reexamination of racism and policing.
Former Minneapolis policeman Derek Chauvin is serving 22 years in prison for the murder of George Floyd. Now the other three ex-police officers on the scene are going on trial for their actions that day — or rather their failure to take action
➡️ https://t.co/bWfI5dM33d pic.twitter.com/DPobTCxrrG

— AFP News Agency (@AFP) January 20, 2022
Floyd died on May 25, 2020, after Chauvin pinned him to the ground with his knee on Floyd's neck for 9 1/2 minutes while Floyd was facedown, handcuffed, and gasping for air. Kueng knelt on Floyd's back and Lane held down his legs. Thao kept bystanders from intervening.
We do NOT forget! #GeorgeFloyd pic.twitter.com/sDDKjiswHf

— Martin Williams (@MartinWilliam95) January 17, 2022
Kueng, Lane, and Thao are all charged with willfully depriving Floyd of the right to be free from an officer's deliberate indifference to his medical needs. The indictment says the three men saw Floyd needed medical care and failed to help him. Thao and Kueng are also charged with a second count alleging they willfully violated Floyd's right to be free from unreasonable seizure by not stopping Chauvin as he knelt on Floyd's neck. It's not clear why Lane is not mentioned in that count, but evidence shows he asked twice whether Floyd should be rolled on his side. Both counts allege the officers' actions resulted in Floyd's death.
So many emotions being at the George Floyd memorial today with the girls. I 🙏 for a better 🌏. pic.twitter.com/mEhDr6159y

— Tamika Dudley (@DudleyTamika) January 20, 2022
U.S. District Judge Paul Magnuson questioned potential jurors in groups to get a pool of 40 people, who had already answered an extensive questionnaire. Each side then used their challenges to strike jurors until they had just 18 people — 12 who will deliberate and six alternates. The jury pool was selected from throughout the state — much more conservative and less diverse than the Minneapolis area from which the jury for Chauvin's state trial was drawn. That jury was evenly divided among whites and nonwhites. The federal court declined a request to provide demographic information on jurors in the civil rights trial, but jury selection took just one day for the federal trial. By comparison, at Chauvin's state trial, the judge and attorneys questioned each juror individually and spent more than two weeks picking a panel.
Jury selection begins Thursday morning in the federal trial of three fired Minneapolis police officers facing civil rights charges in the George Floyd case.

All three officers were present when Derek Chauvin kneeled on Floyd's neck. pic.twitter.com/cIiBjrhteC

— CBS Mornings (@CBSMornings) January 20, 2022
Judge Magnuson excused several jurors, including one man who said he has a problem watching the video of Floyd's murder. Several other excused jurors said they could not be impartial, including a man who said his faith also prevents him from judging a human being.