Josh Hawley Denies Campaign Mug With Raised Fist Image Is 'Pro-Riot'
Of the many indelible images from January 6, 2021, one endures as a symbol that the rioters weren't only invited to the Capitol that day, but they had the support of many members of Congress.
Sen. Josh Hawley (R-MO) was caught raising a fist in support as he passed the crowd before it breached the doors and began marauding through the halls of the Capitol searching for Nancy Pelosi, Mike Pence, and other high-profile lawmakers deemed 'disloyal' by Donald Trump. While Hawley continues to insist he was neither inciting the riot nor supporting it, he hasn't been able to otherwise convince the court of public opinion. And to make matters worse, now Hawley is using the image to fund his re-election campaign.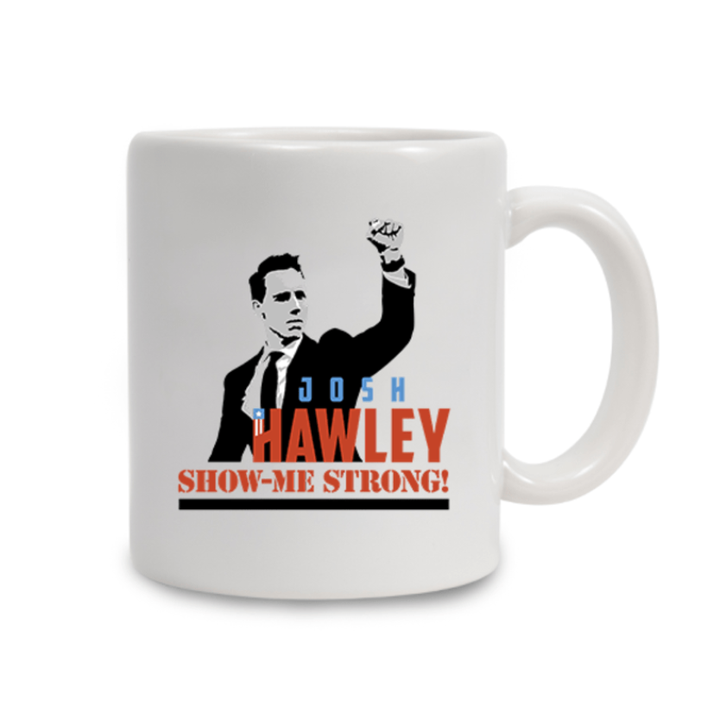 Hawley's campaign is selling a mug with the picture of Hawley raising his fist, which aligns with the Missouri Republican's continued downplaying of the insurrection from the beginning, describing it at the time as "just another example of political violence like the riots that stemmed from protests against police violence in the summer of 2020". He has said anyone who broke the law that day should go to jail, but reserved the term "mob" mainly for his own critics.
It's February 15.

And still not one single Republican member of Congress has been subpoenaed by the @January6thCmte or indicted by the Justice Dept for their role in Jan 6.

Not one.

Hell, Josh Hawley is selling (no joke) Jan 6 coffee mugs.

— Don Winslow (@donwinslow) February 16, 2022
"It is not a pro-riot mug," Hawley told the HuffPost. "This was not me encouraging rioters." Hawley also noted that when he walked across the plaza on the east side of the building, no riot had yet occurred. The Trump supporters lining the police barricades at that time were "peaceful." Hawley claimed that the majority of Trump supporters who came to Washington that day did not participate in the riot ― in which more than 100 police officers suffered injuries and several people died ― but are treated as if they had.
.@glennkirschner2 .@CheriJacobus .@B52Malmet .@JudyPete This is a perfect example of someone who took advantage of the opportunities afforded by our democracy who is now is turning against our democracy. There is blood on Josh Hawley's hands. @HawleyMO pic.twitter.com/mwTSdkQIsT

— ChattJazz (@ChattJazz) February 16, 2022
Twitter users certainly let Hawley know what they thought of him profiting from any January 6th imagery.
Kinda odd @HawleyMO claims he wants tough on crime but then opposes the Jan 6th Committee.

"Let justice be done though the heavens fall." pic.twitter.com/4SPvFXljmG

— 𝕊єẸ ⓣเgEℝ Ⓛєⓐг𝐧 (@SeeTigerLearn) February 16, 2022