Hogg and LeGate Launch "Our Pillow"
What started as a snarky joke in a tweet has now become a real company that will hire formerly incarcerated workers and donate profits to charity. For days, David Hogg and William LeGate teased their new company created to rival My Pillow and its fanatical Trump devotee CEO, Mike Lindell. Lindell has now been suspended from Twitter for his outrageous and unmerited claims of election fraud. My Pillow has been dropped by Kohl's, Bed Bath & Beyond, Wayfair, and other retailers. Lindell now faces a potential lawsuit from Dominion Voting Systems, whose lawyers have accused him of making "false and conspiratorial" claims.
After sharing memes about the idea on Twitter for the past week, Hogg and LeGate are now formally committing in a statement announcing their name to a list of progressive promises, including employing unionized manufacturers and allocating a percentage of profits to charitable organizations chosen by their customers.
Despite overwhelming suggestions to call their company "Our Pillow", Hogg and LeGate announced the new name on Twitter on Tuesday.
ANNOUNCING: Good Pillow

Read an update on the our progress below.
You can follow us @GoodPillowCo

If you would like to sign up to be notified when preorders are available please go to https://t.co/luoM4tJOH1 pic.twitter.com/JcfcA2n4gN

— David Hogg (@davidhogg111) February 9, 2021
Good Pillow is "Soft yet sturdy, loves to cuddle, likes watching movies while you fall asleep" according to its Twitter bio.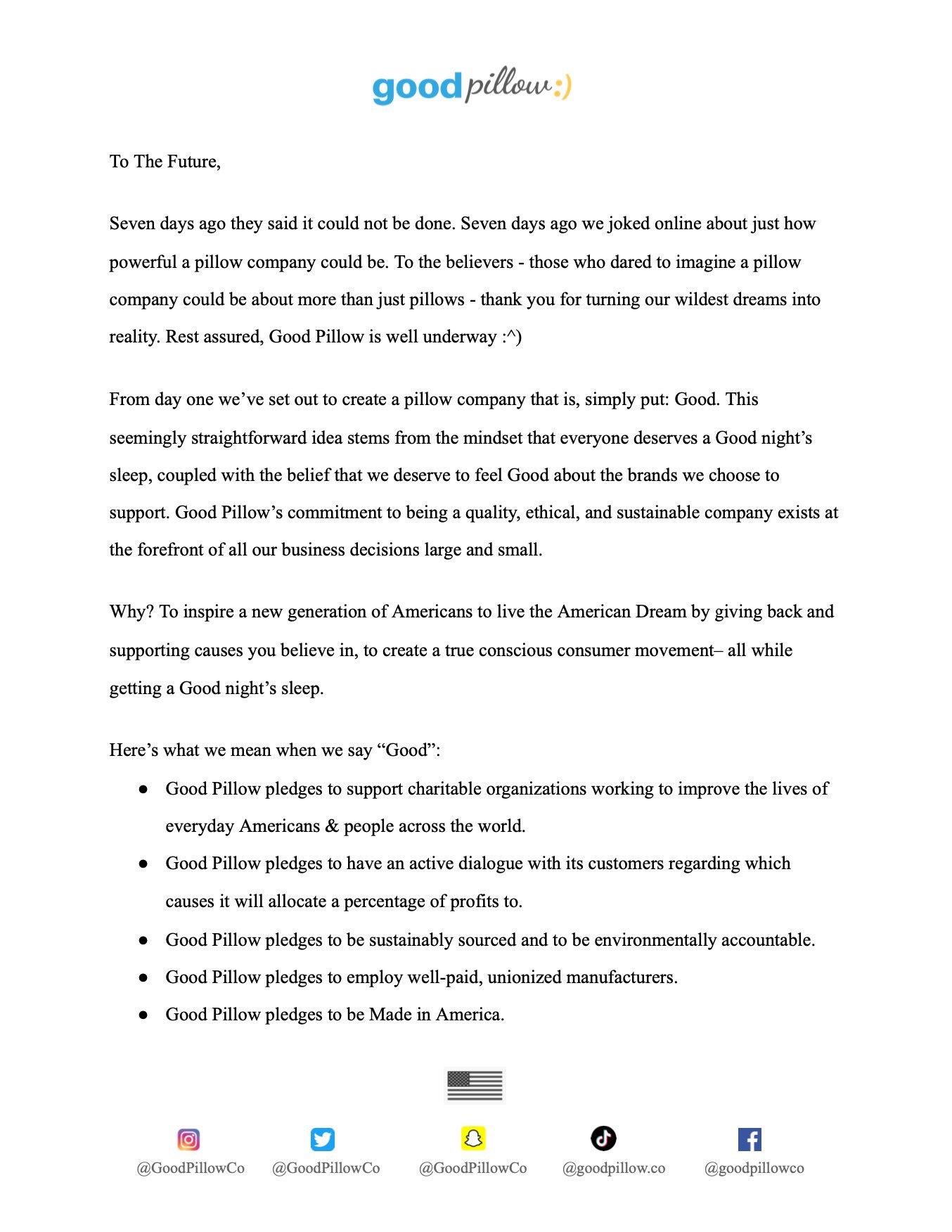 Lindell isn't bothered by the potential competition, as long as the new partners "don't infringe on any copyright laws."
Hogg and LeGate have also used crowdsourcing for ideas, asking followers what pillows they like and what color their pillowcases are. Through tweets, Hogg announced members of an advisory board, including Pulse Nightclub survivor Brandon Wolf, civil rights activist Nadine Smith, and Project Lincoln committee member David Weissman. They promised that the company will also have a celebrity-studded "influencer network" but have not yet released names of those involved.
LeGate, 26, is solely funding the project with a commitment of $100,000. He stepped down Monday from his role as CEO of PredIQt, a decentralized prediction market and a subsidiary of Everipedia, to focus on the pillow company. Twitter users were encouraged to sign up to be notified when they could order their own Good Pillow, resulting in over 10,000 hits.
I'm surprised the #GoodPillow website hasn't crashed yet… like – I prepared it for tons of traffic, but nearly 10,000 on the site literally RIGHT NOW 😮

— William LeGate – ceo, #GoodPillow 🙂 (@williamlegate) February 9, 2021