History Will Be 'Unkind' to Kyrsten Sinema Over Filibuster, Says MLK III
The last state to pass legislation designating Dr. Martin Luther King Jr's birthday as a federal holiday was visited by his descendants on Saturday specifically to criticize a Democratic Senator over her resistance to join with her party to pass comprehensive voting rights legislation.
Martin Luther King III and his family came to Arizona with harsh words for Kyrsten Sinema, whose refusal to change the Senate's Jim Crow-era filibuster rules make it certain that the voting rights bill is unlikely to pass. "History will remember Sen. Sinema, I believe unkindly, for her position on the filibuster," the civil rights leader's eldest son said as the nation prepares to mark the birthday of the Rev. Martin Luther King Jr.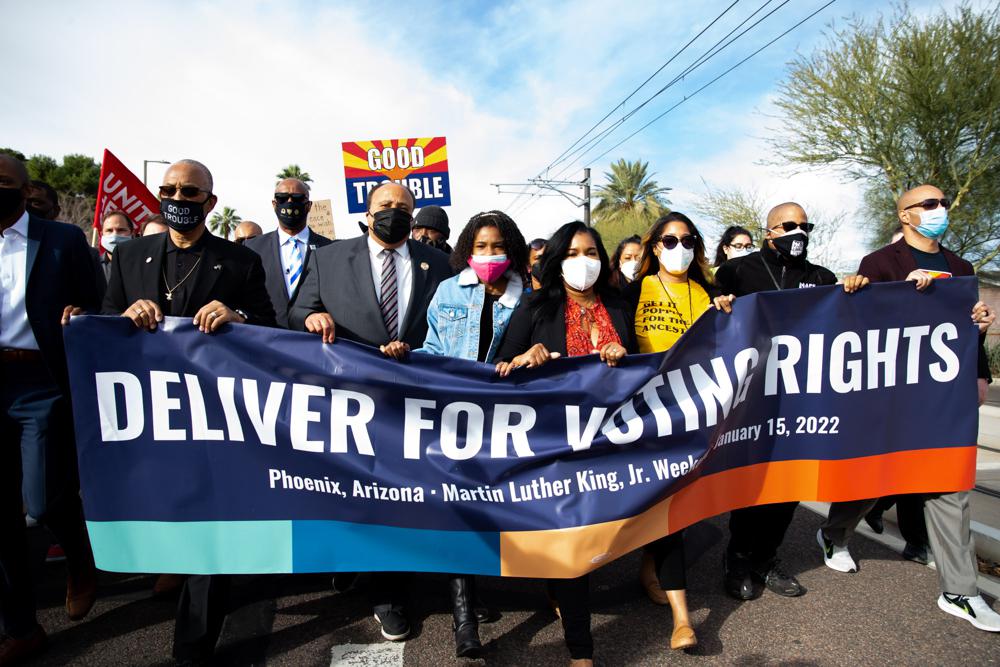 Arizona is one of 19 states that have passed more than 30 state voting laws in the last year — including a ban on giving water to voters in long lines, and stricter ballot signature requirements — that King called "draconian." They make it harder for people to vote, especially people of color, he said. The rally was held at Phoenix's Eastlake Park, which was a gathering place during the decades of segregation for members of the Black community who weren't welcome in other parts of the city.
Passing voting rights legislation isn't about politics.
 
It is about protecting and securing the future of our democracy.

— Senator Reverend Raphael Warnock (@SenatorWarnock) January 16, 2022
The family chose to appear in Arizona to send a message to Sinema. President Joe Biden had implored her and Sen. Joe Manchin (D-WV), to end the filibuster rules that require 60 of 100 senators to pass most legislation. Sinema killed any hope of that idea Thursday, making clear in a self-serving and overly dramatic speech on the Senate floor that while she supports the voting rights legislation, she would not alter filibuster rules so it could move forward. The filibuster, she said, forces bipartisan cooperation. Otherwise, Republicans could just repeal and replace whenever they rise to power.
We are 150+ partners strong, and we expect the White House to put their full weight behind passing voting rights legislation.

Join us in service on Jan. 17th in D.C. for a Peace Walk to demand Congress end the filibuster + pass voting rights legislation: https://t.co/GkyCKhATbl pic.twitter.com/BDAtmRcrSF

— Arndrea Waters King (@ArndreaKing) January 16, 2022
The crowd audibly booed at the mention of Sinema's name after the Rev. Warren Stewart, a locally prominent Black clergy member and activist, said she was among "those … who would hide behind procedure."
See, @SenatorSinema? THIS is how real Senate Democrats support voting rights legislation #MLKDay #MLK @OfficialMLK3 #GoodTrouble https://t.co/K06TfIpxN5

— Tara Dublin, Untapped Writing Goldmine #SignTara (@taradublinrocks) January 17, 2022