HBO Will Air Clooney Documentary About Ohio State Rape Scandal Involving Jim Jordan
HBO has picked up George Clooney's documentary about the Ohio State sex abuse scandal involving Coach Richard Strauss and his then-assistant coach, Jim Jordan, who is now a sitting member of Congress.
Smokehouse Pictures, co-founded by Clooney and his partner Grant Heslov, is collaborating with Sports Illustrated Studios/101 Studios on the documentary, which just began production. The feature includes survivors of Richard Strauss' abuse who tell their stories both in interviews and through dramatic re-enactions of the alleged abusive events. Eva Orner, an Emmy- and Academy Award-winning actor who won an Oscar for "Taxi to the Dark Side," will tell the story through the experiences of the alleged victims of Strauss.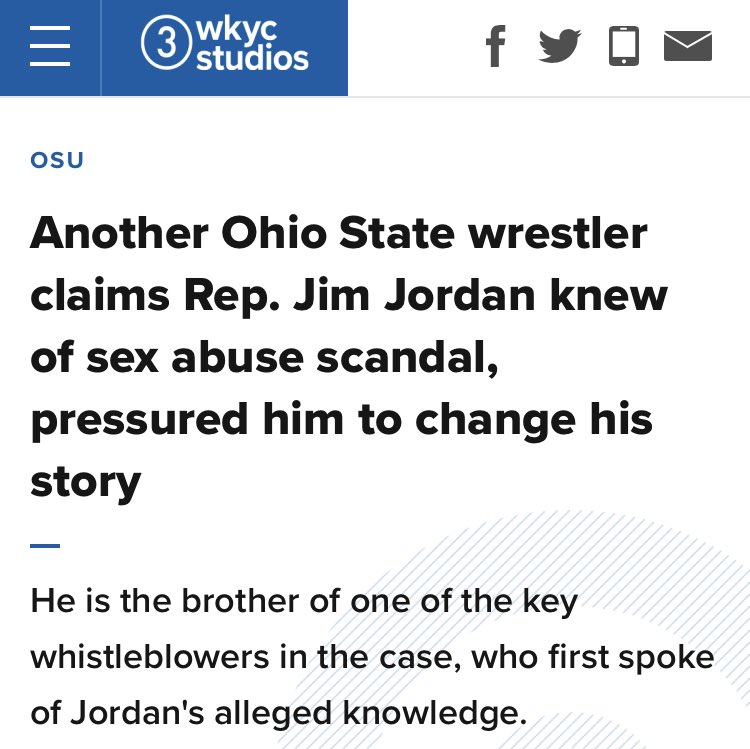 A focal point of the film will be OSU's failure to address the allegations that school officials knew about and Dr. Strauss's crimes and still did nothing, allowing the abuse to go on for years. An independent investigative report released by Ohio State University in May 2019 said Strauss sexually abused at least 177 OSU students throughout his 20-year tenure as an athletics and student health doctor at the school, as reported by The Columbus Dispatch. Investigators found university officials began receiving complaints and had knowledge of Strauss' misconduct as early as 1979, months after the doctor arrived at Ohio State in September 1978.
Former UFC champion Mark Coleman on @Jim_Jordan: "There's no way, unless he's got dementia or something, that he's got no recollection of what was going on [sexual abuse by team doctor] at Ohio State… he knew as far as I'm concerned."

Still no calls for the pervert to resign.

— Ricky Davila 🏳️‍🌈 (@TheRickyDavila) July 6, 2018
The film includes hundreds of male student-athlete victims, including All-American wrestlers and football players, many of whom have not spoken out until this documentary. One voice viewers will hear in the documentary belongs to UFC Heavyweight Champion and OSU alumnus Mark Coleman, who was featured in a Sports Illustrated cover story about the scandal at Ohio State that Clooney optioned for the film.
George Clooney, please release your documentary on the Ohio State and Jim Jordan sexual abuse scandal before the November election. Last week of September might be nice. Thank you.

— W. M. (@Minuteman04) June 2, 2022