Group Requests Ethics Investigation Into Madison Cawthorn's Relationship With Staffer
A political action group is asking for an ethics investigation of freshman Republican Rep. Madison Cawthorn (R-NC), citing his pattern of bringing weapons into banned spaces and a possible inappropriate financial relationship with a staffer.
The group, American Muckrakers PAC, wrote to the Office of Congressional Ethics on Wednesday to ask for an investigation after Cawthorn was cited for attempting to bring a loaded gun through security at the Charlotte Douglas International Airport in North Carolina, but was not charged. The PAC also cited four occasions when he brought a dagger onto North Carolina public educational property, and said that Cawthorn has provided more than $250 worth of free housing and travel to his aide, Stephen Smith, in violation of House rules.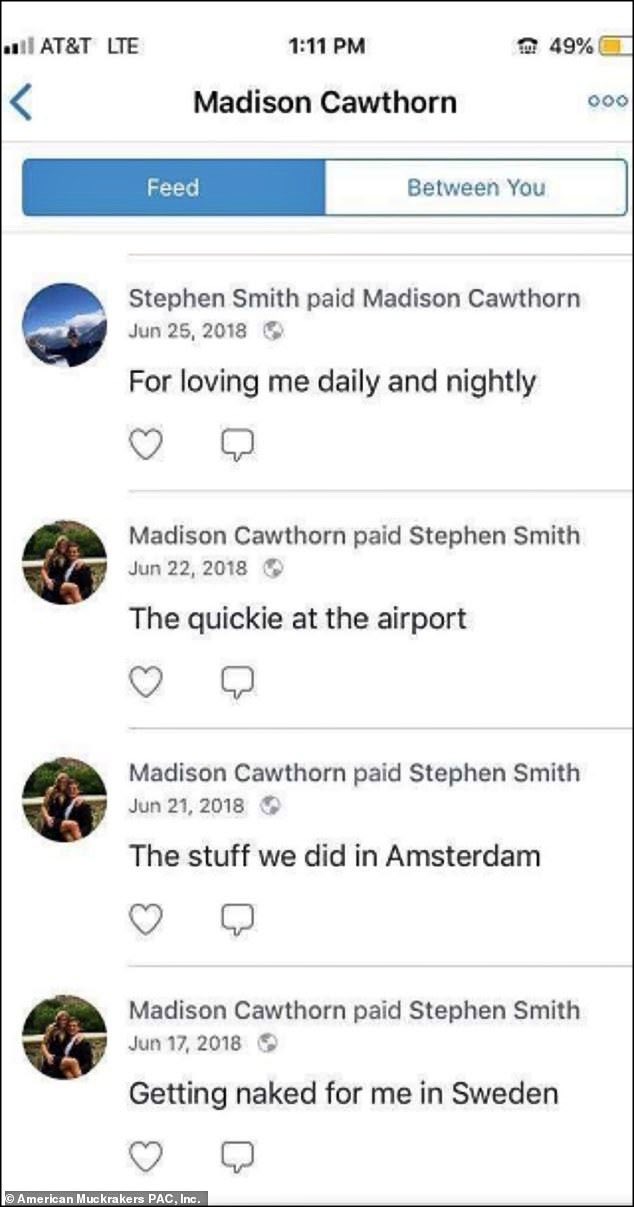 Along with his various infractions with weapons, the Muckrakers PAC complaint focuses on Cawthorn and Smith, a young staffer in his employ. Muckrakers PAC provided documents that appear to show that Smith lives in a house owned by Cawthorn without any repayment. They also suggest the two may have an inappropriate personal relationship, which is prohibited between a lawmaker and a member of their staff. The documents cite that Smith accompanied Cawthorn on his honeymoon to Dubai in April 2021 and a video that appears to show Smith placing his hand on Cawthorn's crotch.
We have one goal: to defeat Madison Cawthorn.

He's peddled Trump's lie about the election being stolen.

He's betrayed our country & helped incite the violent attack on our Capitol.

And now, we're determined to defeat him.

Help fund our new ad→ https://t.co/C2dAmKpsTB pic.twitter.com/n7PNVx89dk

— Fire Madison Cawthorn – American Muckrakers PAC (@fire_madison) June 30, 2021
It's just the latest in a series of scandals for Cawthorn, and many within his party have lost their patience for the freshman Congressman's antics, which have often been compared to those of a college frat boy. His behavior has drawn sharp criticism from his fellow Republicans in the House. House Minority Leader Kevin McCarthy, who rarely admonishes his members in public, said at a recent press conference that Cawthorn was "wrong" to call Ukrainian President Volodymyr Zelenskyy a "thug."
Madison Cawthorn video surfaces showing his male scheduler putting his hand on his crotch. pic.twitter.com/8qPc3N1x0m

— PatriotTakes 🇺🇸 (@patriottakes) April 28, 2022
And less than two weeks later, McCarthy said the scandal-plagued Cawthorn had lost his trust after making "unfounded" claims on a podcast that colleagues in Congress had used drugs and invited him to an orgy, a remark that drew complaints from several Republicans. The minority leader said Cawthorn conceded that some of his claims were exaggerated.
Madison Cawthorn affirms Washington DC is like the movie House of Cards and said people that he's looked up his whole life who are now in their 60's or 70's have invited him to an orgy at their home and others have done cocaine in front of him. pic.twitter.com/iJnWMJ9PIR

— PatriotTakes 🇺🇸 (@patriottakes) March 27, 2022
The Office of Congressional Ethics is an independent, nonpartisan entity established by the House and is charged with investigating any allegations of wrongdoing by members of Congress and their staff. It can refer its investigations to the bipartisan House Ethics Committee, conduct its own investigations, and dole out fines as punishment for violations. Muckrakers PAC published a screenshot of an email from the office confirming that it had received the request for an investigation.
Ethics complaint filed against Madison Cawthorn claims he's provided thousands of dollars in gifts, housing & travel to his aide Stephen Smith, who lives with him. Venmo payments include suggestive messages. Believed Cawthorn having an inappropriate relationship with his staffer. pic.twitter.com/Yp0QnLZTtP

— Mike Sington (@MikeSington) April 28, 2022
House Speaker Nancy Pelosi said on Saturday that it was up to Republicans to punish Cawthorn for any misbehavior. "We have a responsibility to have an ethical standard here," she told reporters. "They have to take care of their own house. If not, there will be ethics complaints. But I'm not spending my time on them in this meeting."