Gov Newsom Proposes New Bill That Would Allow CA Residents to Sue Gun Makers
The State of California has banned the sale and manufacture of many assault-style guns for decades. But last year, U.S. District Judge Roger Benitez overturned that law, ruling it was unconstitutional while comparing an AR-15 rifle to a Swiss Army knife as "good for both home and battle." The ruling incensed Gov. Gavin Newsom, who vowed to "fight back."
Newsom threw his next punch at a news conference just north of San Diego on Friday by proposing private citizens in his state be permitted to sue gun makers to stop them from selling assault weapons, just as Texas lets its residents sue abortion providers to stop the procedures. The California Governor then essentially dared the U.S. Supreme Court to treat both issues the same, saying he thought the Texas law was wrong and the Supreme Court's decision in December to let it stay in effect while it's appealed was "absurd" and "outrageous."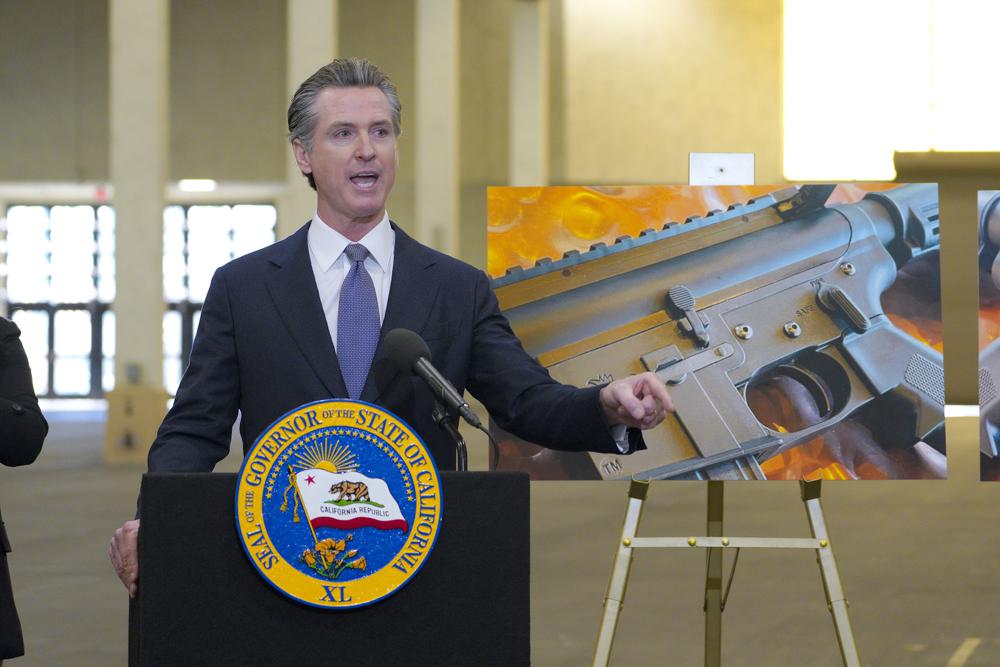 The restrictive Texas law that was approved last year bans all abortions once a fetal heartbeat is detected, usually around the sixth week of pregnancy. The law does not let the government enforce it. Instead, private citizens can sue abortion providers or anyone who "aids and abets" the procedure. "They opened up the door. They set the tone, tenor, the rules. And either we can be on the defense complaining about it or we can play by those rules. We are going to play by those rules," Newsom said. He later added: "We'll see how principled the U.S. Supreme Court is." California law defines assault weapons as semiautomatic rifles or pistols that have a variety of functions.
Gun industry greed has fueled the gun violence epidemic.

We are unveiling new tools to hold gun manufacturers accountable for the deaths their products cause.

Nearly every industry is held liable when people are hurt or killed by their products – guns should be no different.

— Gavin Newsom (@GavinNewsom) February 18, 2022
California's proposed legislation is exactly what gun rights groups feared would happen if the Supreme Court allowed the Texas law to stay in effect. That's why the Firearms Policy Coalition opposed that law at the high court. The group said Friday it would go to court if necessary to block the California proposal, which would let people seek a court order to stop the spread of these weapons and recover a minimum of $10,000 in damages for each weapon, plus attorney's fees.
If you want an example of Dems fighting back, watch Gavin Newsom's latest speech. He's not messing around and more people should take note.

The "Dems have bad messaging" talking point is tired. I'm taking things into my own hands. I hope you'll do the same.

— 𝓣𝓱𝓪𝓽 Sarcastic Pixie 🏳️‍🌈 ✡️ (@carly_dani_) February 18, 2022
Earlier this week the families of nine victims of the Sandy Hook Elementary School shooting in Connecticut announced they have agreed to a $73 million settlement of a lawsuit against Remington, the maker of the rifle used to kill 20 first-graders and six educators in 2012. The case was watched because of its potential to provide a roadmap for victims of other shootings to sue firearm-makers. California Democratic Assemblymember Rebecca Bauer-Kahan introduced AB 2571, which would limit the type of firearms advertising and marketing that can be geared toward children. She and Newsom said the gun industry is using social media and children's books, mascots, apparel, and guns decorated to appeal to kids. "How the hell did they think that's OK?" Newsom asked.
This is VILE.

A skull & crossbones with a pacifier on weapon of war.

Made to look "cute" to appeal to kids.

The manufacturer calls this a "JR-15."

Every NRA-backed politician should condemn this. pic.twitter.com/VmsqaiCuEM

— Gavin Newsom (@GavinNewsom) February 17, 2022