GOP Wants DOJ to Enforce 1950 Law to Prevent Abortion Protesters From Gathering at Justice's Homes
Republicans are calling on Attorney General Merrick Garland to enforce a 1950 federal law that makes it illegal to hold protests outside the homes of judges in order to influence their decisions.
In recent days, protesters have held peaceful demonstrations outside the homes of multiple conservative Supreme Court justices following the publication of a draft Supreme Court majority opinion that would overturn Roe v. Wade. In a statement Wednesday evening, a Justice Department spokesperson said AG Garland was continuing to be briefed on the "security matters related" to the justices and that he had directed the US Marshals Service to provide assistance to the separate police agency that provides security to the Supreme Court.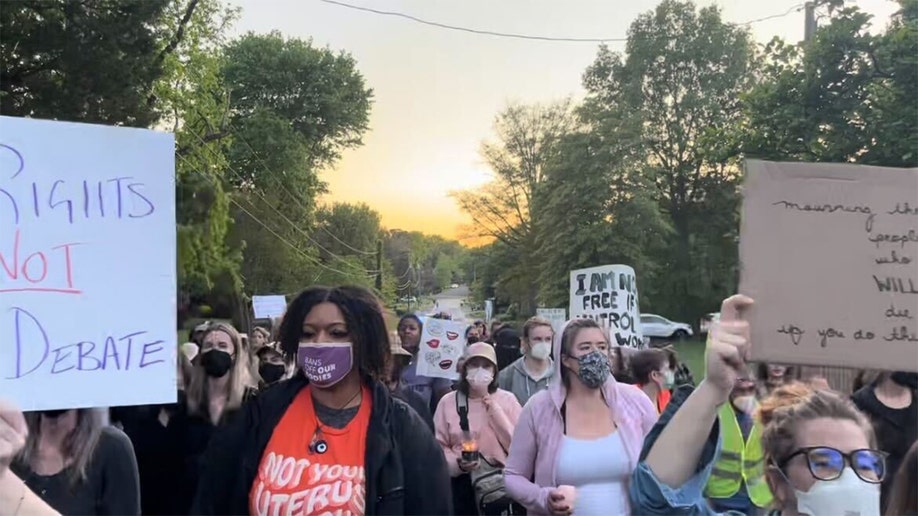 Republicans ramped up the pressure on Garland to enforce the law, while the "appropriateness" of the protests has split Democrats, who are hoping the outrage over an expected Supreme Court decision gutting abortion rights will boost them in the midterms. Both the White House and Senate Majority Leader Chuck Schumer (D-NY) have declined to condemn protests outside justices' homes as long as they stay peaceful, while Senate Judiciary Committee Chairman Dick Durbin called them "reprehensible" on Thursday. The Senate has also approved a new security package for justices and their families, but the bill's prospects in the House are unclear.
Lots of right-wing criticism of protests at houses of Samuel Alito and Brett Kavanaugh. These responses from protesters should clear things up. #RoeVWade #RoevsWade pic.twitter.com/oTB5A5jyqA

— ChuckModi (@ChuckModi1) May 10, 2022
The irony of the Republicans' demands wasn't lost on liberal Twitter users, who mocked the GOP for calling for "privacy" for the justices while women everywhere in America were in danger of losing their own right to privacy.
Here for the protest in front of Supreme Court Justice Alito's house.

When abortion rights are under attack, what do we do? Stand up, fight back! #BansOffOurBodies pic.twitter.com/2pRy3nJlg2

— FederalFelonMouse (she/her) (@LiteraryMouse) May 9, 2022
"The President may choose to characterize protests, riots, and incitements of violence as mere passion," Iowa Sen. Chuck Grassley, the top Republican on the Judiciary Committee, said in a Wednesday letter to Garland. "But these attempts to influence and intimidate members of the federal judiciary are an affront to judicial independence."
'Our bodies, our voice' — Abortion rights activists gathered outside the Virginia home of Justice Samuel Alito to protest his leaked Supreme Court draft opinion overturning Roe v. Wade pic.twitter.com/a82ipfEH6d

— NowThis (@nowthisnews) May 11, 2022
No arrests have been made at this point and the demonstrations so far have been peaceful.