GOP Leadership Is Frustrated By 'Untouchable' White Nationalists Greene and Gosar
Unmotivated by the punishments they've received, right-wing Republican Representatives Paul Gosar of Arizona and Marjorie Taylor Greene are now seen as "untouchable" within their party, according to a new profile from Axios.
Despite criticisms, censures, and loss of committee assignments, both Greene and Gosar continue to get away with racist language and other hate speech. While GOP leadership denounced both for their attendance at the white nationalist AFPAC conference in Florida, their favorite status with Donald Trump has kept them both protected. House Republican Minority Leader Kevin McCarthy has also voiced his own frustrations with both, but Greene has reached a point of defiance where she's now saying he can't do anything to her.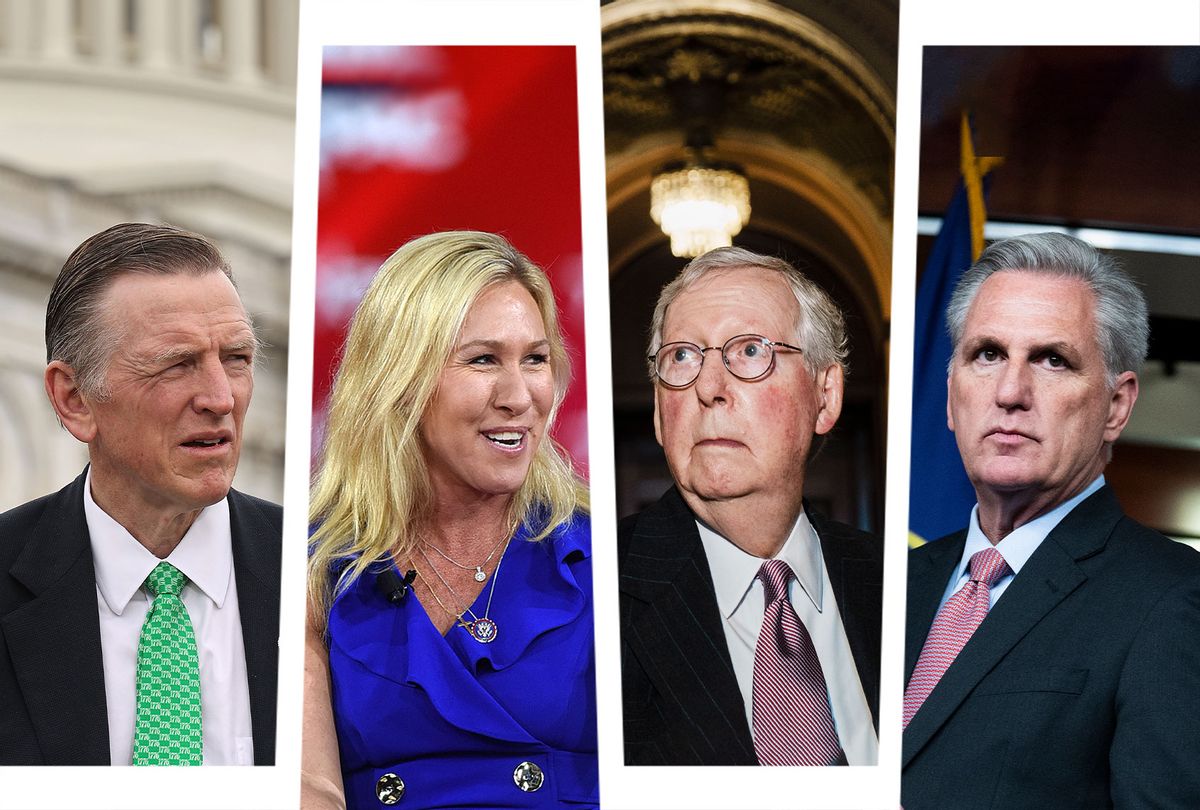 In 2019, GOP leadership stripped then-Rep. Steve King of Iowa of his committee assignments for making comments sympathetic to white nationalists. Now, though, there's nothing available to take away from Greene or Gosar. And there's no chance Greene and Gosar will be expelled from the Republican conference. That would require a two-thirds vote, and they have too much support for that to happen.
Greene brags about using recorded votes to slow down Congress. She says she is the Chairwoman of the committee of the hold: "Let me tell you, Kevin can't do anything about me" pic.twitter.com/4ZBZmJOW4G

— Acyn (@Acyn) February 20, 2022
Their re-election prospects are very different, however. While Greene is independently wealthy and raised nearly $7.5 million last year, Gosar is having a harder time thanks to efforts from his estranged family to make voters aware of his actions on January 6th and his history of erratic behavior and participation in the QAnon conspiracy cult. Gosar brought in just under $350,000 last year, making him vulnerable to several primary challengers.
As Rep Marjorie Taylor Greene and Rep Paul Gosar speak at this white supremacist, anti-Semitic, pro-Putin event, silence by Republican Party leaders is deafening and enabling.

All Americans should renounce this garbage and reject the Putin wing of the GOP now. pic.twitter.com/6fgpV6ohZ8

— Liz Cheney (@Liz_Cheney) February 26, 2022
Rep. McCarthy said earlier this week that Greene's and Gosar's appearances at the white nationalist conference were "appalling and wrong," but he's made clear he won't publicly say anything more about the subject. However, McCarthy has told colleagues he's addressed the matter with Greene in a private conversation, and a source familiar with McCarthy's thinking told Axios he's "frustrated by the constant distractions" from Greene and Gosar.
Paul Gosar joins with two other Republicans to vote no on a resolution supporting the people of Ukraine pic.twitter.com/7WZM4CFyuz

— Acyn (@Acyn) March 2, 2022