Gomez Officially Introduces Resolution to Remove Greene from House
Representative Jimmy Gomez first announced in early February that he would bring a resolution to the House floor to officially expel freshman Rep Marjorie Taylor Greene (Q-Georgia). The announcement did nothing but fuel Greene's attention-seeking behavior after she was removed from all of her committee assignments. Her behavior this past week would have been reason enough for Gomez to petition for her removal, with Greene expressing transphobic hate speech on the floor while explaining her vote against renewing the Violence Against Women Act (even after gun violence had just taken the lives of six women of Asian descent in her state, which she has yet to acknowledge publicly).
Twitter briefly suspended Greene on Friday, the same day Gomez finally brought his privileged resolution to the floor, and of course, Greene immediately created a conspiracy about the convergence of those two events.
Gomez said Friday on the House floor that he was compelled to put forward the resolution because, "I believe some of my Republican colleagues, and one in particular, wish harm upon this legislative body."
"It is what I believed after this chamber was turned into a crime scene just 10 weeks ago," Gomez said, referring to the January 6th insurrection at the Capitol by a mob of Trump supporters.
I believe some of my @HouseGOP colleagues — and one in particular — wish harm upon this legislative body.

I won't watch @RepMTG threaten our democracy and do nothing.

Today, I formally introduced a resolution to #ExpelGreene ⬇️ pic.twitter.com/FBrFJtAbvU

— Rep. Jimmy Gomez (@RepJimmyGomez) March 19, 2021
While Gomez has support for his resolution–76 other Democratic members of the House have signed on to back him–it's uncertain if it will put up for a vote.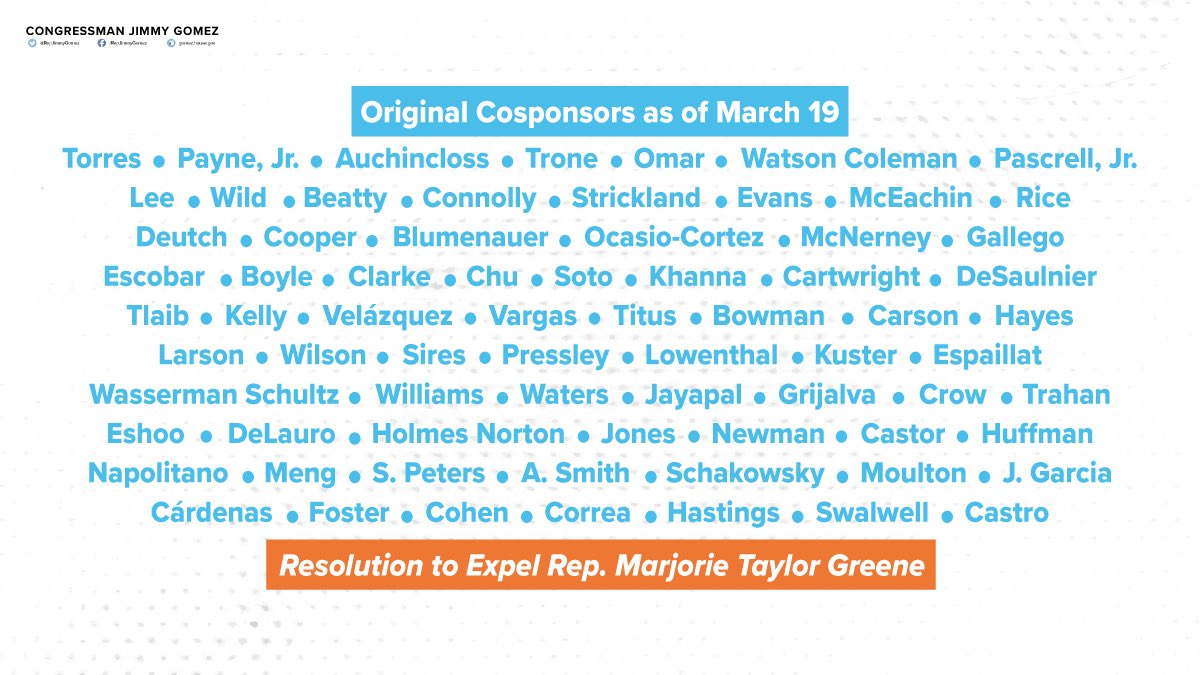 Meanwhile, Greene tweeted her usual QAnonsense with a not-so-veiled threat to Twitter CEO Jack Dorsey.
I was just told @Twitter suspended me for 12 hrs in "error," on the same day Dems introduced a resolution to expel me from Congress.

What a coincidence?

Twitter's little error wasn't resolved until after 12 hrs.@jack which employee made the "error?"

Reply to my email, Jack

— Marjorie Taylor Greene 🇺🇸 (@mtgreenee) March 19, 2021
A spokesperson for Twitter maintained it was an innocent mistake. "We use a combination of technology and human review to enforce the Twitter Rules across the service. In this case, our automated systems took enforcement action on the account referenced in error. This action has been reversed, and access to the account has been reinstated," the spokesperson said.
She planned the insurrection with former guy in the White House. She threatened the Speaker. She's unfit. #ExpelGreene https://t.co/xicri633FA

— Grant Stern is fully vaccinated (@grantstern) March 19, 2021
As for Greene's potential expulsion, House Speaker Nancy Pelosi told reporters at her weekly press conference that Gomez's resolution doesn't reflect leadership's position, but, "members are very unhappy about what happened here and they can express themselves the way they do. What Mr. Gomez did is his own view."