Gap in Trump's Jan 6th White House Call Log Doesn't Show Call From Kevin McCarthy [VIDEO]
As the mob of Trump supporters attacked the Capitol, several broke windows trying to gain access to prevent Congress from certifying Joe Biden's election. Not all of their attempts were successful, most notably when they tried to break through the office window of Rep. Kevin McCarthy (R-CA) who at the time was the House Majority Leader. McCarthy famously called Donald Trump at the White House to beg him to call off the mob, which was first revealed by Rep. Jaime Herrera Beutler (R-WA), who was standing right next to him when he made the call. Herrera Beutler also related her experience in detail during a speech on the House floor, and later voted to convict Trump during his second impeachment trial despite acquitting him the first time.
However, that now-infamous call, which McCarthy has also confirmed, is among others that were made during an 8-hour gap in the White House phone records obtained by the January 6th House Select Committee.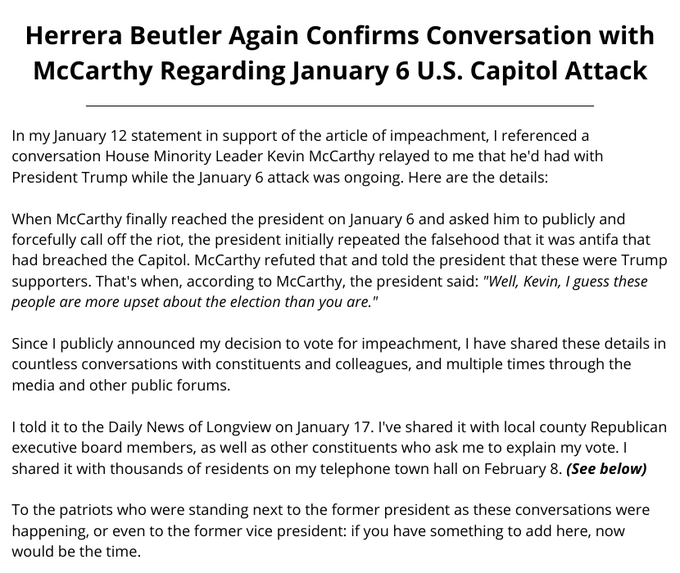 "What I talked to President Trump about, I was the first person to contact him when the riot was going on," McCarthy told Fox News in April 2021. "He didn't see it. What he ended the call was saying — telling me, he'll put something out to make sure to stop this, and that's what he did, he put a video out later."
Reminder: Kevin McCarthy told Rep. Jaime Herrera Beutler that he called Trump on Jan. 6 and asked him to call off the riot. Trump said to McCarthy, "'Well, Kevin, I guess these people are more upset about the election than you are.'" McCarthy has never disputed this account.

— Kyle Griffin (@kylegriffin1) January 13, 2022
McCarthy also issued a threatening statement in August to telecommunications companies that complied with the committee's request for lawmakers' phone records, warning that a future GOP congressional majority would "not forget" their actions.