Fulton County Grand Jury Hears Testimony from Raffensperger In Trump Election Fraud Investigation
Georgia's top elections official appeared Thursday before a special grand jury investigating whether Donald Trump and others illegally tried to interfere in the 2020 election in the state.
Secretary of State Brad Raffensperger received a subpoena to the Fulton County courthouse where the special grand jury has been meeting. Other subpoenas from the grand jury seek documents and testimony from five other people in his office.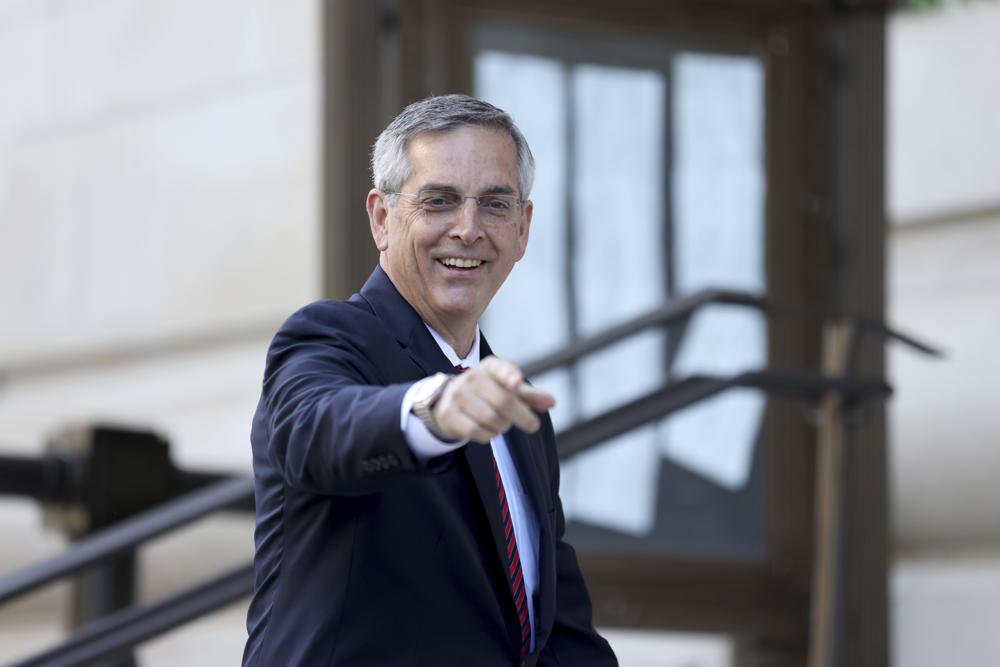 When Raffensperger arrived at the courthouse in downtown Atlanta on Thursday morning, he told a reporter he was looking forward to a "hopefully short day" as he walked up the steps, but Raffensperger left after more than five hours by another exit, avoiding reporters. It's unclear if Raffensperger's testimony concluded Thursday or if he will be called back.
🚨BREAKING: GA Sec. of State Brad Raffensperger, who was on the receiving end of an infamous Jan. 2, 2021, phone call where Trump told him "to find 11,780 votes," will testify under oath Thursday before a special grand jury investigating Trump's efforts to overturn the election.

— Spiro Agnew's Ghost (@SpiroAgnewGhost) June 1, 2022
Fulton County District Attorney Fani Willis said her investigation includes looking into a January 2021 phone call in which Trump pushed Raffensperger to "find" the votes needed for him to win Georgia. Trump has said his call with Raffensperger was "perfect" and that he did nothing wrong. Trump later directed his anger at his fellow Republican after Raffensperger refused to bend to pressure to overturn the votes that gave Democrat Joe Biden a narrow presidential election victory in Georgia. Raffensperger also defeated a Trump-endorsed challenger in last month's Republican primary.
At the Fulton County Courthouse where Secretary of State Brad Raffensperger is inside right now to testify before the special grand jury for District Attorney Fani Willis' Trump election probe. https://t.co/DCqrb03FyY #gapol pic.twitter.com/D90uIPSTJB

— Joe Henke (@JoeHenke) June 2, 2022
Tricia Raffensperger, the secretary's wife, also testified Thursday, leaving the courthouse after less than an hour. She was present with Sec. Raffensperger when he received the Trump phone call. Tricia Raffensperger received death threats during the period after the 2020 election.
Trump's "perfect call" to #Raffensperger echoes his "perfect call" to #Zelenski. The big difference is that the fix was in when the Senate failed to convict him in his first impeachment trial. A fair jury in Georgia will return a verdict of guilty beyond a reasonable doubt. https://t.co/tgwJK7ZqjK

— Laurence Tribe (@tribelaw) May 31, 2022
The special grand jury will not issue indictments, but is meant to further the investigation and make recommendations to the district attorney, who then decides whether to seek an indictment from a regular grand jury. Willis said the special grand jury would be able to issue subpoenas to people who have refused to cooperate otherwise. The jury, including 23 grand jurors and three alternates, can serve for up to a year.