FLOTUS Draws Cheers For Delivering Ketchup to U.S. Soldiers Stationed in Romania
First Lady Jill Biden knows from personal experience that aside from their families, it's the little things our military misses the most when on deployment. So when she made a surprise visit to U.S. troops in Romania, she brought something that was in short supply but in major demand: ketchup.
Dr. Biden flew overnight from Washington and landed just in time to help serve dinner at Romania's Mihail Kogalniceanu Air Base near the Black Sea and about 60 miles from the border with Ukraine. The base is temporarily home to about 1,600 of the several thousand troops President Joe Biden deployed to Eastern Europe in the leadup to the Russia-Ukraine war.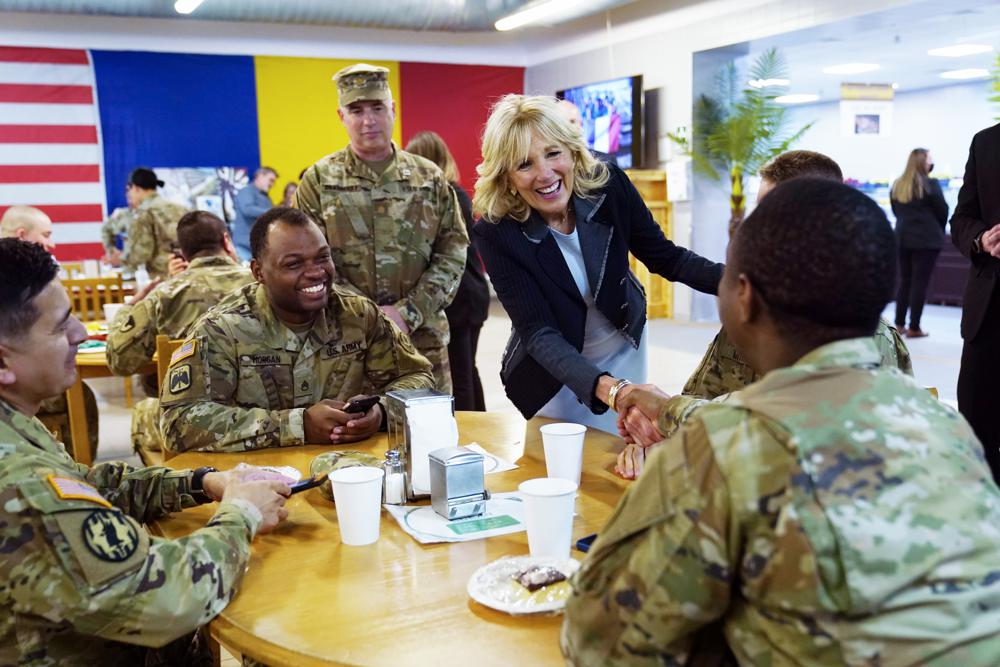 No stranger to hard work, Dr. Biden stood in the food line dishing up macaroni and cheese and baked potatoes, while also encouraging the troops to have some greens along with the starch.
As I'm with troops stationed overseas, my heart is also back home with their loved ones. 

Today is Military Spouse Appreciation Day, and although spouses may not wear uniforms, they serve and sacrifice too. We honor and support you. #JoiningForces

— Jill Biden (@FLOTUS) May 6, 2022
The First Lady also greeted groups of them as they ate at round tables in the dining hall. "I know it's hard on your families," she told one servicemember, referencing her own experience when her son Beau Biden deployed to Iraq. But what cheered them the most was when she revealed she came bearing "gallons of ketchup", a true taste of home which was tough to come by on the base.
Food is love. 💕 pic.twitter.com/1yjBQL4wbH

— Jill Biden (@FLOTUS) May 6, 2022
At another location on the base, the first lady joined Staff Sgt. Sharon Rogers to read the children's book "Night Catch" on videotape for Rogers' son, Nathan, who lives in Texas. Biden thanked the boy for serving his country, too. "When your mom serves, the family serves, too, so thank you for your service," she told Nathan. She and Rogers embraced and Dr. Biden wished her a happy Mother's Day.
Sometimes the little things, like a bedtime story from mom or dad, is what our military children miss the most.

With the help of @UTR4Military, Staff Sergeant Rogers and I recorded a virtual story time for her son, Nathan, back home in Texas. pic.twitter.com/2AonI0ozi2

— Jill Biden (@FLOTUS) May 6, 2022