Florida Trumpers Are Flying Profane Anti-Biden Flags Despite What the Neighbors Think
Profanity-laced flags disparaging President Joe Biden are popping up in a Cape Coral, Florida neighborhood, prompting concern among residents who say the flags' messages are inappropriate for children. But John Strasburger, who is a resident of the neighborhood, said he doesn't care what his neighbors think and put up the flag reading "F*** Biden and f*** you for voting for him!"
The city of Cape Coral's codes do not regulate the content of signs. However, the code does regulate the size and number of signs allowed on private property. But despite complaints from his neighbors, Strasburger isn't taking his sign down.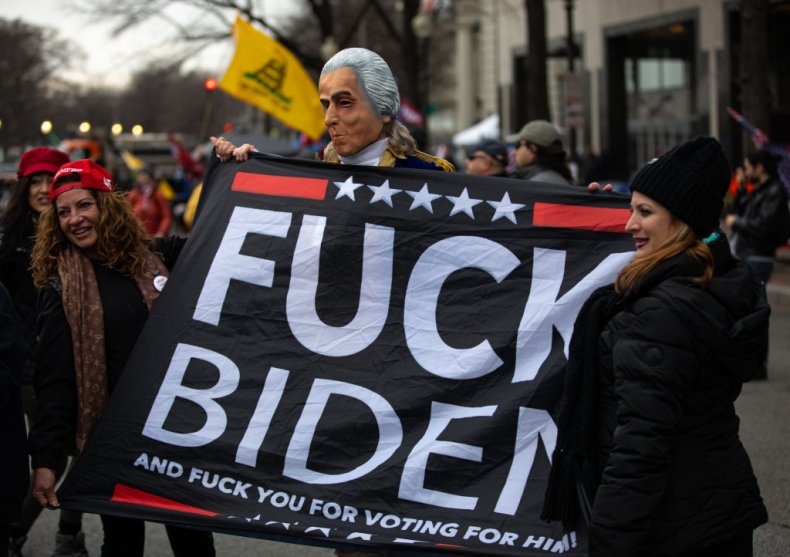 "I feel the election was stolen, I think the evidence was there to prove it," he told local TV station Fox4Now. "Right now, I'm exercising my right of freedom of speech," added Strasburger, who put up the flag earlier this week. He said he had bought it online for $17 and it would stay in place until he was instructed to remove it by city officials.
Claims of voter fraud in last year's presidential election have been emphatically rejected by the courts. Trump and his allies lost more than 60 lawsuits challenging the results in various states, and no evidence of widespread irregularities has been found.
Seen in #swfl Cape Coral, Florida! 😂😂😂 THE FIRST AMENDMENT ROCKS!!!
'Socialism Sucks, Biden Blows & Defund Media!' 🇺🇸🇺🇸🇺🇸🇺🇸🇺🇸🇺🇸 pic.twitter.com/PHpbRiJ15z

— BILL K. (@ar4star) February 26, 2021
Tony Paparone, who lives nearby, is flying the same flag despite some pushback from his neighbors and said a woman had complained that young children would read the profanities.
"Freedom of speech. You're not going to rewrite the constitution," said Paparone.
He added that he had spoken to the woman about her concerns. "I talked to the lady … She said, 'Well, it doesn't really affect me. It's just the fact that I have small kids and they read it.' I'm like, 'Well, sorry.'"
"If there was an ordinance, I would take it down tomorrow. But there's not, so it's going to remain up," he said.