Financial Markets Around the World React As Putin's Invasion of Ukraine Creates Big Risks for Global Economy
It's exactly what a vulnerable world economy didn't need: A military conflict that accelerates inflation, rattles markets, and portends trouble for everyone from European consumers to indebted Chinese developers and families in Africa that face soaring food prices. But the impact of Vladimir Putin's arbitrary decision to declare war on Ukraine is already being felt around the world.
Stocks sank worldwide Thursday after Russia's invasion of Ukraine sent fear coursing through international markets and threatened to push the inflation squeezing the global economy even higher. On Wall Street, the S&P 500 fell 1.1% to continue its dismal start of the year, though it moderated its drop after starting the day down 2.6%. The heaviest losses hit stocks in Europe, after officials called Russia's nearby moves a "brutal act of war," with the German DAX down 4%. Oil prices on both sides of the Atlantic have already jumped toward or above $100 per barrel to their highest levels since 2014, up roughly 5%. As with stocks, prices swung more sharply in Europe than in the U.S. because the continent's economy is more closely tied to Russia and Ukraine. Wholesale prices shot higher for everything from heating oil to wheat to gasoline. The spot price in Europe for natural gas jumped more than 50%.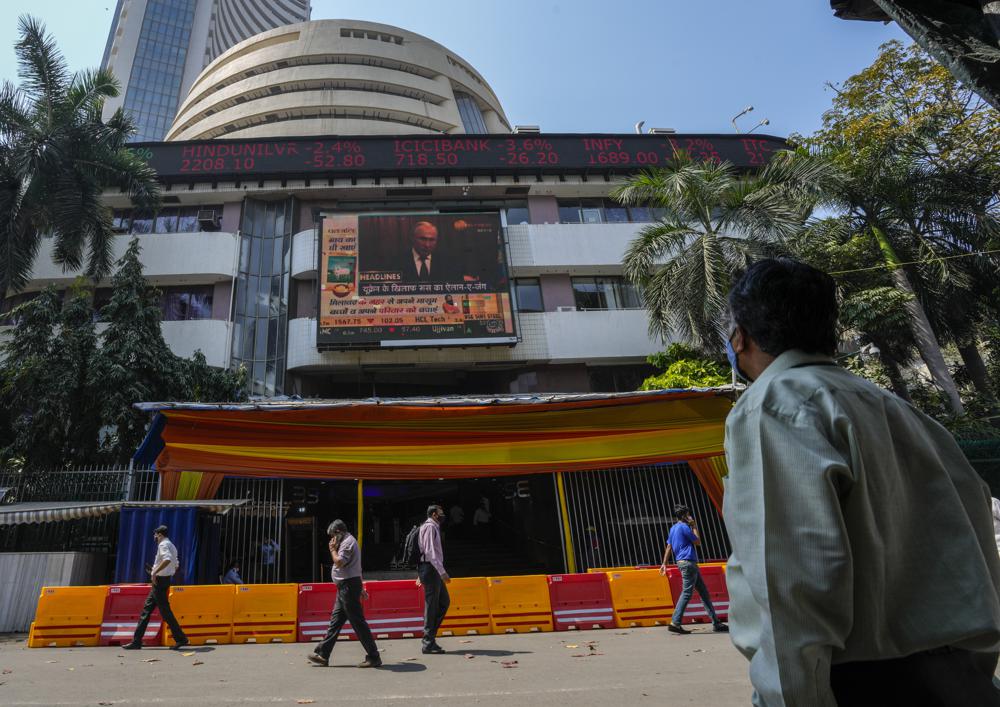 The conflict threatens to inflict severe economic damage on some countries and industries, damage that could mean hardships for millions of people. Russia is the world's third-biggest producer of petroleum and is a major exporter of natural gas. Ukraine's farms feed millions around the world. And financial markets are in a precarious spot as central banks prepare to reverse years of easy-money policies and raise interest rates to fight a resurgence of inflation. Those higher rates will likely slow spending and raise the risk of another downturn.
Secretary General António Guterres says the UN will "immediately allocate $20 million" to support the people of Ukraine. pic.twitter.com/tGlbJFzpmp

— The Recount (@therecount) February 24, 2022
Beyond its human toll, the conflict looks set to send prices rising even higher at gasoline pumps and grocery stores around the world. Russia and Ukraine are major producers not only of energy but also grains and various other commodities. War could upend global supplies, as could sanctions brought by the United States and other allies.
A child sleeps in an armchair as others gather in a shelter during Russian shelling, in Mariupol, Ukraine. https://t.co/moZxml9JMs pic.twitter.com/0xFfLrq4ph

— ABC News (@ABC) February 24, 2022
The threat to farms in eastern Ukraine and exports through Black Sea ports could reduce wheat supplies at a time when global food prices are at their highest level since 2011 and some countries are suffering from food shortages. Ukraine is the world's fifth-largest wheat exporter.
We are in downtown Moscow where hundreds are protesting against the Ukraine invasion. Arrests. A large police presence. It takes a special kind of bravery to protest in Putin's Russia – especially on the day he sends his country to war. pic.twitter.com/zDJEEKU03m

— James Longman (@JamesAALongman) February 24, 2022
But Russia's attack on Ukraine and retaliatory sanctions from the West may not portend another global recession. The two countries together account for less than 2% of the world's gross domestic product. And many regional economies remain in solid shape, having rebounded swiftly from the pandemic recession.
Protests are erupting in several Russian cities tonight against Putin's large-scale invasion of Ukraine, along with attempts from police to forcibly suppress them. Here's his hometown of St. Petersburg. I'll be threading videos below as I find them. pic.twitter.com/B5MyG5E4ou

— Alejandro Alvarez (@aletweetsnews) February 24, 2022
It also remains to be seen how sanctions imposed by the US and other countries will impact Putin's invasion as Russian citizens begin to feel the effects of his singular decision.
Biden is set to slap sanctions on Putin. A tough response should include:

* Blocking all major Russian state-owned banks

* Blocking all offshore wealth of Russian elite

I talked to expert @edwardfishman. He explains how to "wreak financial havoc" here:https://t.co/L27VbPlznk

— Greg Sargent (@ThePlumLineGS) February 24, 2022
[This is a continuing and developing story, please check back for updates]