FBI Arrests Oregon Brothers For Storming the Capitol on January 6th
The FBI of Portland announced Wednesday afternoon that it had arrested two Oregon brothers on federal charges stemming from their alleged involvement in the January 6th insurrection at the U.S. Capitol.
Agents arrested Jonathanpeter Allen Klein, 21, and Matthew Leland Klein, 24, on March 23. Local court records show the older Klein is a resident of Sherwood, a southwest suburb. They are the first Oregon residents to be charged in the riot at the Capitol.
According to prosecutors, Jonathanpeter Klein is a "self-identified member of the Proud Boys." A photo of the pair at the U.S. Capitol shows Jonathanpeter Klein wearing a hat that says "Proud Boys," as well as the group's signature dark button-up shirt with the yellow Proud Boys insignias. Matthew Klein is posing next to him wearing an American flag neck gaiter and holding a large and very frayed "Don't Tread on Me" flag.
On March 19, a grand jury indicted both brothers on charges of conspiracy, obstruction of an official proceeding, obstruction of law enforcement during civil disorder, destruction of government property, entering and remaining in a restricted building or grounds, and disorderly conduct in a restricted building or grounds, federal court filings show.
#FBI agents arrested Matthew Klein, age 24, in Sherwood, OR & Jonathanpeter Klein, age 21, near Heppner, OR on March 23rd. Both face federal charges out of the U.S. District Court for the District of Columbia for their alleged role in the January 6 Capitol incident. pic.twitter.com/BUBelSz9EH

— FBI Portland (@FBIPortland) March 24, 2021
Federal prosecutors allege that Jonathanpeter Klein notified his boss in late December that he needed time off work from Jan. 4 to 8 so he and his brother could attend the "stop the steal rally in D.C."
On Dec. 29, prosecutors allege, Matthew Klein messaged another person on Instagram and asked if they were planning to go to Washington, D.C. The person responded yes and asked Matthew Klein the same, court filings say.
"Yep! Got the time off and am going with one of my bro's. stoked af," he allegedly responded.
NEW: These are the booking photos from the Multnomah County jail of MATTHEW KLEIN (left) and JONATHANPETER KLEIN, the Oregon brothers arrested by FBI agents for their alleged involvement in the Jan. 6 riots at the US Capitol | https://t.co/6ruy8xQNWV from the @KATUNews #LiveDesk pic.twitter.com/MDgKGvdojn

— Evan Schreiber (@SchreiberEvan) March 25, 2021
Prosecutors allege that shortly after 2 pm on January 6th, photos and videos show the brothers standing on top of a wall at the Capitol Building and that Matthew Klein appears to assist others up onto the wall, which is "within the restricted area of the Capitol grounds."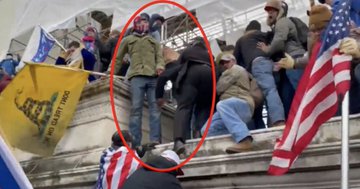 Once inside the Capitol Building at 2:16 pm, prosecutors say, Jonathanpeter Klein "engage[d] in a celebratory exchange with an identified member of the Proud Boys…and displayed a Proud Boys hand signal." At about 2:28, prosecutors say, Matthew Klein exited the building through a window. Meanwhile, at that same time, Jonathanpeter Klein allegedly made his way with a group of insurrectionists into the Capitol's Rotunda. Prosecutors allege that the brothers, with the help of other rioters, were able to forcibly wrench open the door.
"The defendants' actions created a dangerous scenario that directly interfered with law enforcement's efforts to secure the building," prosecutors say. "That they did so as part of a second or third wave of attacks—with knowledge of the mayhem that had already unfolded at the Capitol—shows their reckless disregard for others and the danger posed by these two actors."