Donald Trump Stayed up Late Last Night to Rage About Hearings on Truth Social
Todd Neikirk
Todd Neikirk is a New Jersey-based politics and technology writer.…
On Thursday night, the January 6th committee held another prime-time hearing. This hearing featured testimony from former Trump staffers Sarah Matthews and Matthew Pottinger and embarrassing Trump outtakes.
Many Conservatives missed out on seeing the event as Fox News refused to air it. It seems like Trump himself, however, was able to watch the program. Last night, the former President raged about the hearings on his Truth Social website.
Trump began by complaining about fairness, writing, "1. But Crooked Hillary Clinton, Stacey Abrams, and many others contested their Elections – and for a far longer time than I. 2. How do they know I watched on T.V.? 3. I never said that to Kevin McCarthy, who came to Mar-a-Lago to say hi very early on (the Unselects don't say this). So many lies and misrepresentations by the corrupt and highly partisan Unselect Committee!"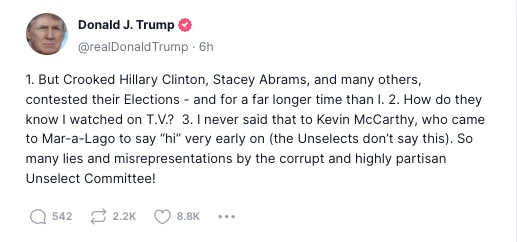 Trump also slammed Mitch McConnell, "Is this the same Mitch McConnell who was losing big in Kentucky, and came to the White House to BEG me for an endorsement and help? Without me, he would have lost in a landslide. A disloyal sleaze bag!" Notably, McConnell won his senate race by nearly 20% points while Trump lost his race by 7 million votes.
Trump closed by whining, "The Unselect Committee refuses to do this because it ends their fake case. Will there by any mention or study by the Unselects of how the Election was Rigged and Stolen? There is sooo much evidence but the Unselects don't want it seen in any way, shape, or form – and for good reason – it would ruin their latest Scam!

Todd Neikirk
Todd Neikirk is a New Jersey-based politics and technology writer. His work has been featured in psfk.com, foxsports.com, and PoliticusUSA. An avid pet lover, he has been known to contribute to Pet Lifestyles Magazine. He enjoys sports, politics, technology, and spending time at the shore with his family.