Deutsche Bank Reverses Decision and Will Now Shut Down Operations in Russia
Deutsche Bank's CFO said Thursday it is not "practical" to close its Russian business, despite similar moves by major corporations seeking to distance themselves from Putin's globally unpopular invasion of Ukraine. Deutsche had resisted pressure to sever ties, arguing that it needed to support multinational firms doing business in Russia. The German bank's chief financial officer defended the decision, saying it hinged on its duty of care to clients that still operate in the country.
But the longtime former lender to Donald Trump reversed course on Friday, announcing that they plan to shut down its business in Russia. Going forward, Deutsche Bank said there won't be "any new business in Russia." The move comes a day after first Goldman Sachs and then JPMorgan Chase revealed plans to wind down their own operations in Russia.
It's not clear what sparked the reversal from Deutsche Bank, which said earlier this week it has "limited" exposure to Russia, with gross loan exposure of about $1.5 billion. That's more than twice the amount of exposure Goldman Sachs indicated it has. "As we have repeatedly said, we condemn the Russian invasion of Ukraine in the strongest possible terms and support the German government and its allies in defending our democracy and freedom," Deutsche Bank said in its statement.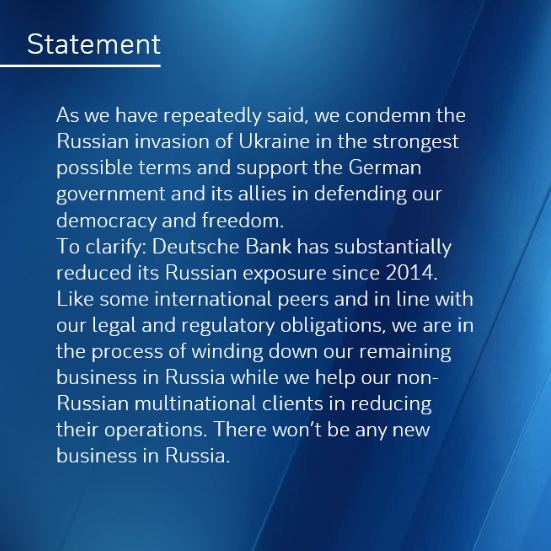 Dozens of companies and industries from airlines to retailers, media, and hospitality have pulled out of Russia since its invasion of Ukraine.
Deutsche Bank said it has "substantially reduced" its Russian exposure since 2014. In early 2017, Deutsche Bank was hit with more than $600 million in penalties over a $10 billion Russian money-laundering scheme that involved its New York, Moscow, and London branches.
Still no answers on what Trump said to Justice Kennedy, whose son worked at Deutsche Bank and arranged loans for Trump when no other bank would. Kennedy suddenly "retired" paving the way for Brett Kavanaugh, who was tasked with legally protecting Trump. pic.twitter.com/moj6rea3E3

— BigBlueWaveUSA 2022 #StandWithUkraine 🇺🇦 (@BigBlueWaveUSA) January 22, 2022