COVID Cases and Death Are Once Again On the Rise In U.S. Nursing Homes
COVID-19 shots and boosters provide strong protection against severe illness, hospitalization, and death, but the sick and elderly are uniquely vulnerable to the virus. Nursing home officials say they are responding to the outbreak by limiting visitors to common areas instead of allowing them into residents' rooms, and by reinstituting social distancing. But COVID-19 infections and deaths are soaring again at U.S. nursing homes because of the Omicron wave, leading to new restrictions on family visits and a renewed push to get more residents and staff members vaccinated and boosted.
Nursing homes were the lethal epicenter early on in the pandemic, long before the vaccines allowed many of them to reopen to visitors last year. But the wildly contagious Omicron variant has dealt them a setback. American nursing homes reported a near-record of about 32,000 COVID-19 cases among residents in the week ending Jan. 9, an almost sevenfold increase from a month earlier, according to the Centers for Disease Control and Prevention (CDC).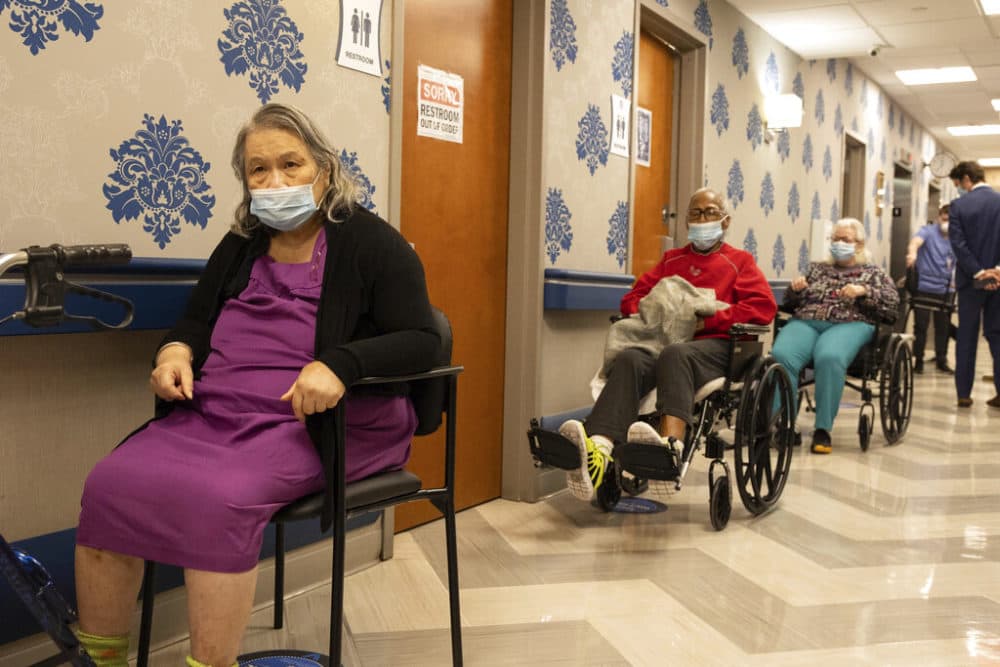 But despite the rising numbers, the situation is not as dire as it was in December 2020, when nursing home deaths per week topped out at about 6,200. Nursing homes are working to drive up vaccination numbers, especially for boosters. Sixty-three percent of nursing home residents nationally have received an extra dose and about 87% are fully vaccinated, according to CDC data. However, booster numbers are much worse for staff members. About 83% are fully vaccinated, but only 29% have gotten an extra dose.
We ain't a "math" country. https://t.co/kykqsXJLcE

— Titus (@TitusNation) January 15, 2022
Vaccines are just one of the many tools that should be used to defend the elderly against omicron, said Eric Feigl-Ding, an epidemiologist and senior fellow at the Federation of American Scientists. He also recommended testing of visitors, mandatory boosters and the use of medical-grade masks like N95s and high-efficiency air filters.
Dark day… Virginia's new governor @GlennYoungkin, within hours of being sworn in, issued executive orders: 📌rescinding vaccine mandate for state employees & 📌let parents to send their kids to school without masks—all while kids #COVID19 hospitalizations at records nationwide! https://t.co/YScsIbVhgw

— Eric Feigl-Ding (@DrEricDing) January 15, 2022
"We need to build a Fort Knox around protecting nursing homes, but we're not doing that right now, and that's why cases are surging," Feigl-Ding said Thursday. "We're going to have exponential numbers of hospitalizations and deaths."
Just a Rutgers epidemiologist and the Chief of Infectious Disease at University of Buffalo reminding people that it's possible to get omicron twice.https://t.co/hy1Xw1LaKr pic.twitter.com/QvakrZZY5q

— Swaggering Toward Bethlehem (@KindAndUnblind) January 14, 2022