Confirmation Hearings Set for SCOTUS Nominee Ketanji Brown Jackson
Put in on the calendar: Confirmation hearings for the Supreme Court nomination of Judge Ketanji Brown Jackson will start on Monday, March 21st, the Senate Judiciary Committee announced Wednesday.
The hearing announcement was made while Judge Jackson was on Capitol Hill for a series of meetings with Senators, spending the morning first with Democratic Senate Majority Leader Chuck Schumer and later, Republican Senate Minority Leader Mitch McConnell. The bipartisan talks signal the first steps in a historic nomination process as Democrats work quickly to confirm the first Black woman to the nation's highest court.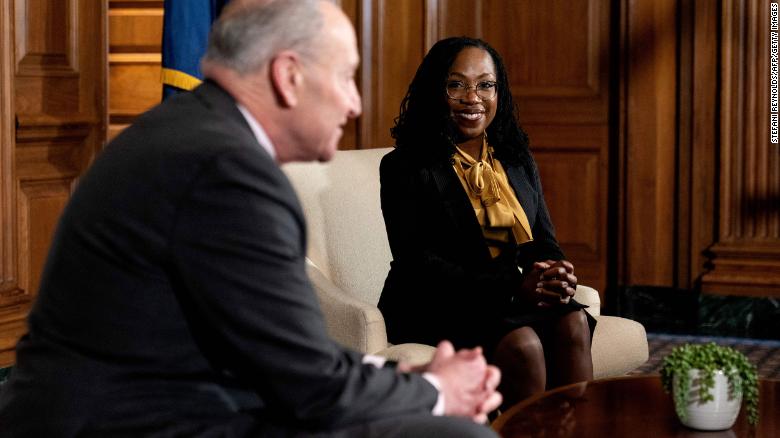 Senate Judiciary Chairman Dick Durbin of Illinois said that Judge Jackson will be formally introduced on March 21st. There will be two days of questioning on Tuesday, March 22nd, and Wednesday, March 23rd. Additional witnesses will testify on Thursday, March 24th.
Judge Ketanji Brown Jackson is brilliant.

She is beloved.

And she belongs on the Supreme Court. pic.twitter.com/A9JhQw4AlD

— Chuck Schumer (@SenSchumer) March 2, 2022
Sen. Schumer told reporters, "I said she was brilliant and beloved. I'd add a third B — belongs. She belongs on the court." He continued, "She reminds me in certain ways of the, of [Justice Stephen Breyer], who she clerked for, that she is so thoughtful and even-handed and tries to look at both sides."
Today, Judge Jackson, President Biden's Supreme Court Nominee, will go to Capitol Hill to meet with Senators Schumer, McConnell, Durbin, and Grassley.

Read more about Judge Jackson here: https://t.co/upDFdTCl3y

— The White House (@WhiteHouse) March 2, 2022
Asked about the timeline to confirm Jackson, Sen. Schumer reiterated that he wants this finished by April 8th. Sen. Schumer also expressed hope that she could gain some Republican support as she meets with more senators. "I am hopeful that a good number of Republicans will vote for her, given who she is, and when they meet her they will just be wowed, as I was," he said. "She's an amazing person."
Just announced from @JudiciaryDems: Hearings to consider the nomination of Judge Ketanji Brown Jackson to the Supreme Court will begin on Monday, March 21, and will last four days. Let's go! #ConfirmJackson pic.twitter.com/tLEosmRInF

— Andrew Weinstein (@Weinsteinlaw) March 2, 2022
While it's common for Supreme Court nominees to meet with the leadership of both parties and Judiciary Committee members, President Biden has promised all senators that Judge Jackson will conduct one-on-one interviews with any who wish to meet with her.
Democratic leadership is pushing to have Judge Jackson's confirmation ahead of the Senate's April recess, with her officially sworn-in after Breyer's retirement in early summer.
Promises made. Promises kept.

Judge Ketanji Brown Jackson will become the FIRST Black Woman to serve on the Supreme Court.

She will not be the last. Thank you @POTUS  #JusticeforAll #ConfirmJackson #WomensHistoryMonth pic.twitter.com/aMU1tEoOhK

— Justice Seeker 🗽 ~ Keep moving forward (@tizzywoman) March 2, 2022