[COMMENTARY] White Supremacist Pal of Trump's AZ Senate Pick Arrested on Warrant in Mesa
Ethan Schmidt, a friend of Arizona MAGA candidate Kari "KKKari" Lake, was arrested on an outstanding warrant on Sunday in Mesa. Schmidt showed up at a March For Our Lives rally with an assault weapon. Then, he found out what happens when you show up at an anti-gun rally with an assault weapon.
This is the same fine person who said he'd be "hunting 'LGBT supporters" at Target stores during Pride Month and also has been filmed harassing Black Lives Matter protesters. Schmidt also has a history of making right-wing extremist short videos including a harassment campaign against an Arizona wig shop that serves cancer patients and has also filmed himself harassing people waiting to get COVID vaccines.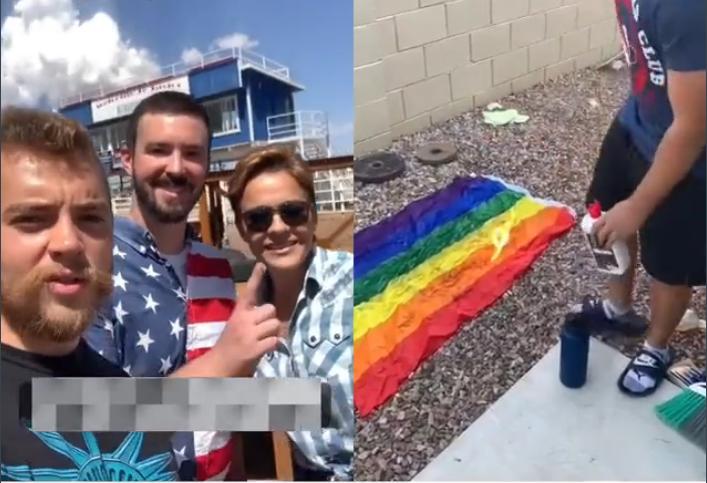 His association with the Trump-endorsed Lake has continued despite his criminal profile, and they have been photographed and filmed together repeatedly, with Lake seemingly delighted to be seen with a fellow white nationalist. Another Arizona Antisemite, Wendy Rogers, who blocked me on Twitter forever ago for calling her a white supremacist, also loves Ethan. Wow, his parents must be really terrible!
Kari Lake appeared in a video promoting Ethan Schmidt's account.

Kari Lake refuses to publicly denounce Ethan who is now stating he will "hunt LGBT supporters" at Target and across Phoenix. pic.twitter.com/FB9Ue831G9

— PatriotTakes 🇺🇸 (@patriottakes) May 21, 2022
Ethan's Sunday started out fine for him, but ended with him finding out.
Ethan posted videos with what appeared to be militia members.

One man said, "restoration is coming by ballot or by bullet." pic.twitter.com/AecMkt0hOU

— PatriotTakes 🇺🇸 (@patriottakes) June 12, 2022
But then the long arm of the law finally caught up to ol Ethan, who lost his cool pretty fast.
Ethan Schmidt was arrested after harassing people at the March For Our Lives rally in Phoenix. pic.twitter.com/SofYObVcBi

— PatriotTakes 🇺🇸 (@patriottakes) June 12, 2022
It's pure entertainment to watch someone who thinks his white male privilege extends farther than it actually does taken down a peg. Not that Ethan is going to suffer any real consequences. I'm sure his terrible parents have tons of cash and will bail him out in enough time to harass more cancer patients and LGBTQ people just living their lives.
Ethan Schmidt being arrested for a warrant in Mesa. pic.twitter.com/QVfhwY4OPM

— PatriotTakes 🇺🇸 (@patriottakes) June 12, 2022
As always, thanks to our pal Patriot Takes for finding the absolute bottom of the bottom dwellers for us.